Driving down Interstate 10 in Arizona, you might be able to spot one of TuSimple's bright green, self-driving trucks. Though the company's big rigs still have a driver and a safety engineer in the front seats, TuSimple says it's made significant mileage toward developing trucks that can drive themselves.
Founded in 2015 by California Institute of Technology graduate Xiaodi Hou, San Diego-based TuSimple has multiplied its headcount — and funding — in the past two years. In 2017, after the company had gained approval from the California DMV to begin testing its self-driving trucks, TuSimple had 30 employees in San Diego, and had raised $20 million in funding.
Now, TuSimple has more than 500 employees worldwide, including a little over 180 in San Diego. The company also has offices in Tucson, where it runs most of its tests on the highways, and in Beijing, where co-founder and CEO Mo Chen is based.
TuSimple's UTC headquarters has taken over three floors of office space at 9191 Towne Center Drive, where it moved in two years ago. To date, the company has raised a total of $298 million, with major investments from Chinese technology company Sina Corp. and Beijing-based alternative asset management firm CDH Investments.
The company will need all of it to realize its mission of developing a fully-autonomous truck.
Current Fleet of 50 Trucks
Vivian Sun, senior director of business development for the company, said the company hopes to expand its efforts nationwide. The company currently maintains its own fleet of more than 50 Peterbilt and Navistar trucks equipped with its technology, running between Phoenix and Tucson. With a recent oversubscribed Series D funding round of $215 million, the company is looking to expand that route to Texas.
"We believe once we can establish a good testing effort along the I-10 corridor we will be able to expand nationwide in the coming years," Sun told the San Diego Business Journal.
Costly Research
Building a self-driving trucking system is an immense technical challenge, and a costly one, too. In addition to maintaining a fleet, the company also has to account for the cost of developing its technology.
TuSimple has said it currently has 18 contracted customers, including logistics giant UPS, which recently took a minority stake in the company. In May, the company also ran a pilot with the United States Postal Service, making five round trips between USPS' distribution centers in Phoenix and Dallas. TuSimple Director of Public Affairs Robert Brown said the company has been able to offset testing costs by charging market rates for its services.
Long Road to Commercialization
Competitors in the autonomous vehicle space also face a long road to commercialization. Morgan Stanley analysts slashed the valuation for Waymo, Alphabet Inc.'s self-driving car division, by 40 percent last month.
"We're still very early in the development and deployment of it. The technology is so complex that the more engineers working on it learn about it, the more they realize how much they don't know," said Sam Abuelsamid, a principal analyst for Navigant Research. "There are still a lot of challenges to commercializing this technology."
TuSimple said the process for its trucks will be easier, since they only drive depot-to-depot, meaning most of the route is highway. The company uses 10 cameras mounted on the tractor to view obstacles up to 1,000 meters away, giving the truck roughly 36 seconds to react. That's much more room that radar- or lidar-based solutions, which can "see" about 150 meters away.
But there are some still unique challenges to working with cameras. For instance, insects
With a camera-based system, it's especially important to keep the lenses clean. And bug bits, dust and snow can all cloud the images interpreted by the software.
"It doesn't seem like a very high-tech problem to keep the sensors clean, but it's crucially important to keep it right," Abuelsamid said.
Another challenge with long-range cameras can be image stabilization.
"If you've ever used a camera with a long telephoto lens, it can be challenging to hold it steady," Abuelsamid said. "They're engineering challenges. They can be overcome. It just takes time."
Brown said he tries to ride in one of TuSimple's trucks roughly every month. Since he joined the company, he said, the truck has been able to make unprotected left turns, change lanes and drive in heavy rain, all of which are complicated interactions for autonomous vehicles.
One change he's noticed is that the truck is starting to act less passive when merging on the highway, as a human driver would. TuSimple's trucks have had about 1,200 of those types of merging interactions, he said.
"I get proud of the truck. I like to see the progress that the truck's making," he said.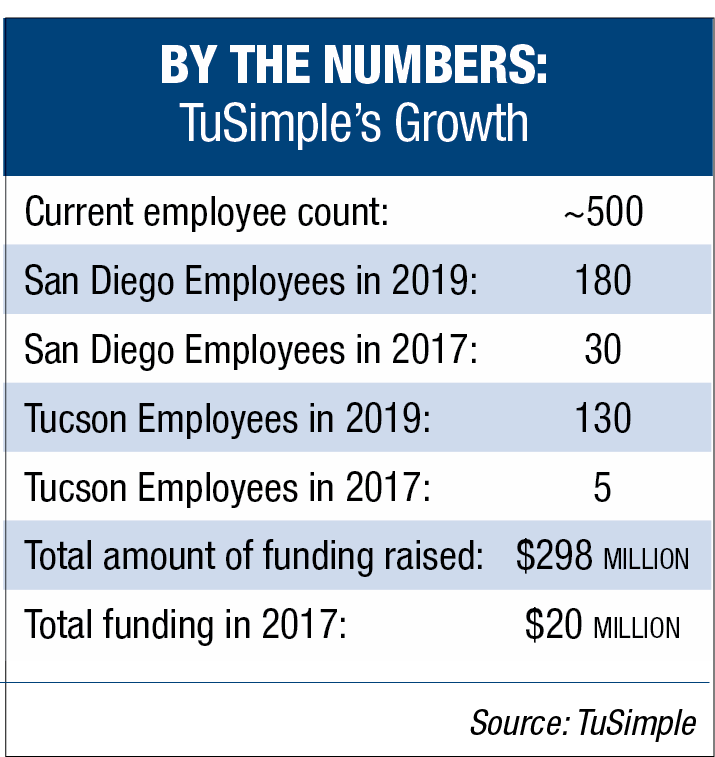 Looming Driver Shortage
Sun said her goal was to have TuSimple run one million miles per month starting in 2020. All of that data will be needed for the company to develop its technology and convince regulators of its ability. With a looming driver shortage in the U.S., — and in other countries — TuSimple has piqued the interest of logistics companies and truck equipment manufacturers.
"They want to grab the opportunity. It's been a good relationship," Sun said.
Technology-wise, companies are most of the way there. Tesla, Uber, Waymo, and other companies working on autonomous vehicle technology are collectively investing billions into research and development, Abuelsamid said. But the last 10 percent of progress will take the most effort. Companies still have to test the technology in other climates than sunny Arizona, and to make it profitable, will have to be able to run the truck without a driver.
"For testing purposes, you need to have a driver in the cab. You can do that at a small scale when you have relatively few vehicles," Abuelsamid said. "To commercialize the technology, and start making money off of it, you need to take the driver out."