In September, Little Italy opened the doors to its $89 million, 16-story luxury lifestyle Carte Hotel, a Curio Collection by Hilton property. Its interior design was led by two local women that, on a whim, launched their own design firm back in 2013.
"We went to school together at The Art Institute of California – San Diego for interior design and that is how we met," said Jessica Fichtner of partner Joanna Conrad, founders of Manchette Studio LLC, the small, women-owned interior design firm that specializes in hospitality. "We graduated in 2011 and there weren't any interior design jobs out there, not good ones, at least.
Joanna was working in reception at an architectural firm and, while there, made a contact with a hotel developer. That's when we thought, 'well, let's give it a try and start our own thing.'"
Since then, the company, headquartered in Mission Hills and with only the two as employees, has worked on over half a dozen projects, including its very first contract, a "small Holiday Inn renovation in West Covina," said Conrad, 29, who grew up in the Philippines. The Carte Hotel is the duo's first design job in San Diego County; they were recently hired for a small renovation in National City as well, according to Conrad. Manchette Studio's revenue is projected to increase 55% to 60% by 2020, according to the company.
"The architect started with the exterior and wanted it to look and feel like waves and sea and sunset," said 36-year-old Fichtner, originally from Connecticut, of Carte. "So, we started there. We wanted something that was reflective of San Diego culture, like water, but nothing too overdone, like seashells everywhere. We kind of knew from the beginning that we wanted to use a monochromatic blue palette, and then add hints of gold and copper to represent the sunset."
'Wow' Design
Ried Floco, owner of the Carte Hotel, said Manchette Studio was able to bring his vision to life with its modern and high-end design approach.
"They have the unique and valuable ability to interpret our vision and passion to deliver an upscale 'wow' design and experience to our guests," said Floco. "Most every item you see and touch within the hotel and other venues is custom and unique to Carte. We are very proud of the custom designed metals, woods and bars found within the lobby that tie directly back to Little Italy and San Diego."
Aside from their design aesthetic, it is their work ethic that binds Fichtner and Conrad together professionally. Conrad describes Fichtner and herself as go-getters, adding that the two go above-and-beyond with all of their projects and all aspects of design, including onsite management and drawing. Fichtner said, at any of their given contracted properties, the persons that are most likely the most present day in and day out, aside from the general contractor, is usually the two of them.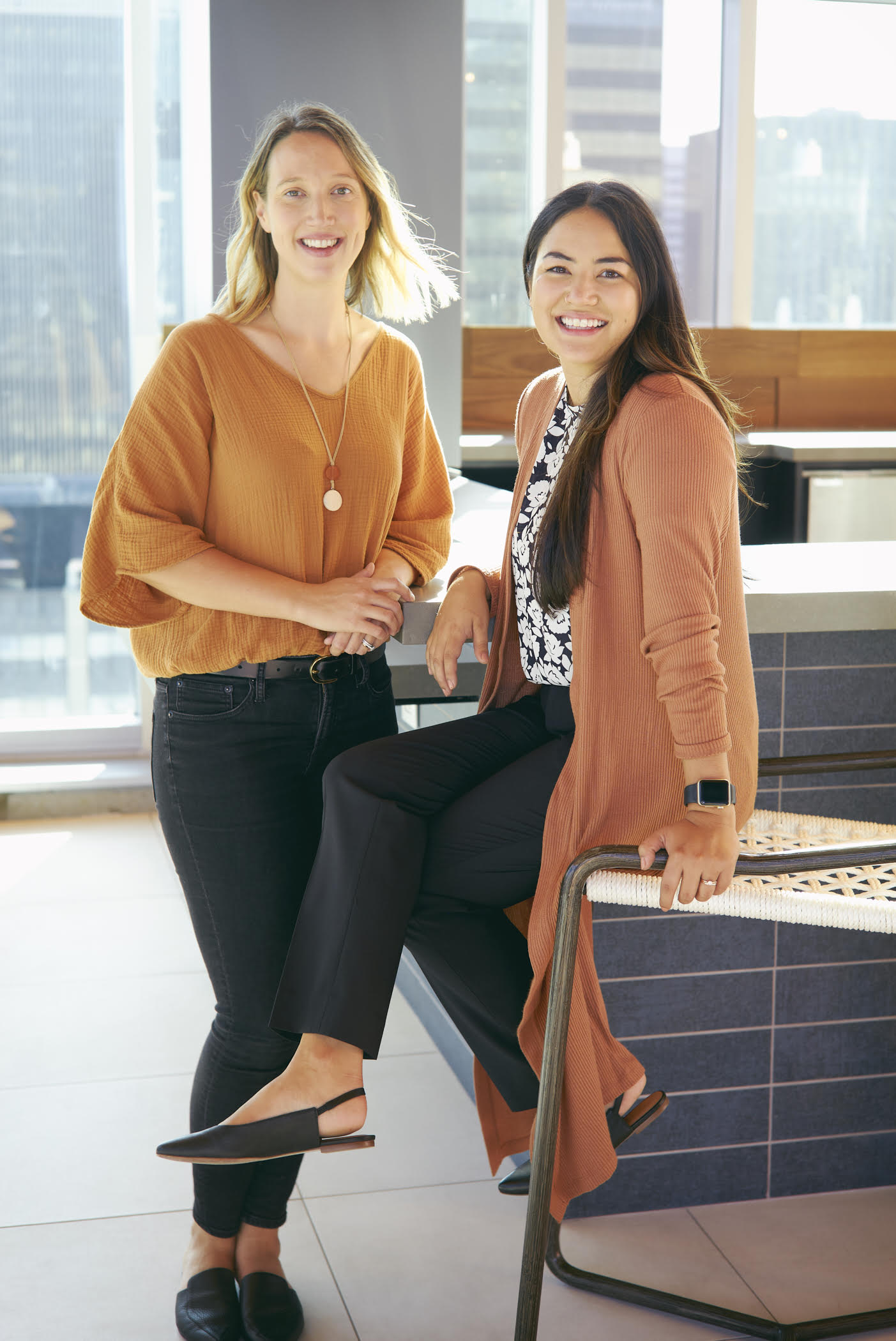 "At the hotel we are working on now, I think… we were there every day during the construction aspect, making sure every detail was taken care of," said Fichtner, jokingly adding that she and her partner are "control freaks." "We love what we do and we are passionate about it," Conrad said.
The process for Fichtner and Conrad usually begins with a product, maybe a piece of fabric or a tile, that both tend to gravitate toward. It is usually the same thing that speaks to both women within each project, said Conrad, "which is really good. It just means our design aesthetic is pretty similar," she said, describing their design approach as modern.
While both hoped to work in hospitality eventually, neither imagined they'd launch their careers in the sector, said Fichtner, although they are grateful for the instant plunge.
"There is a lot of opportunity to be creative and to create a fantasy environment for the people staying (at a hotel)," she said about why they prefer hospitality. "There are so many spaces involved, not just the guest rooms, but fitness centers, meeting rooms and lobbies — all these other aspects we get to create."
Working Mostly With Same Vendors
Fichtner and Conrad said they mostly work with the same vendors, some of whom are based in San Diego. They said they keep their overhead cost low by employing just the two of them and using basic equipment like their computers. They also said they enjoy the work of Jules Wilson Design Studio, another San Diego-based interior design firm that is woman-owned and has a modern approach as well.
Steady growth aside, it hasn't been easy for Fichtner and Conrad to climb the ladder in a male-driven industry, they said. Fichtner said, because they weren't very experienced when they started, and because they are two young women, people doubted their abilities at one point. But, their desire to learn and explore their potential is what kept them motivated, Conrad said.
'Gained the Respect'
"It's taken a while, but we've gained the respect from others and the experience," said Fichtner. "Our opinions matter, and we are usually right."
Manchette Studio recently worked on a Hilton Garden Inn in San Marcos and is currently designing two new constructions in San Diego. In the future, Fichtner and Conrad said they would enjoy designing restaurants and small retail shops, as well.