There are plenty of traditional yoga studios in San Diego to choose from, but if you search for studios that use vibration plates as part of their practice, you will only find one.
VibeFlow Yoga, which uses vibration plates that claim to help with blood flow, joint pain, balance and coordination, among other benefits, according to founder and CEO Billy Borja, opened at One Paseo in Carmel Valley midsummer. Placed on the floor/under the user's feet, the plates vibrate between 20Hz to 60Hz, or three levels (beginner, intermediate and advanced). Yogis are provided noise cancellation headphones that play music and the instructor's voice, as well as help minimize the sound of the plates' vibrations on the floor, Borja said. Classes cost $30/hour and there are membership options based on attendance frequency that range from $9 to $20 per session.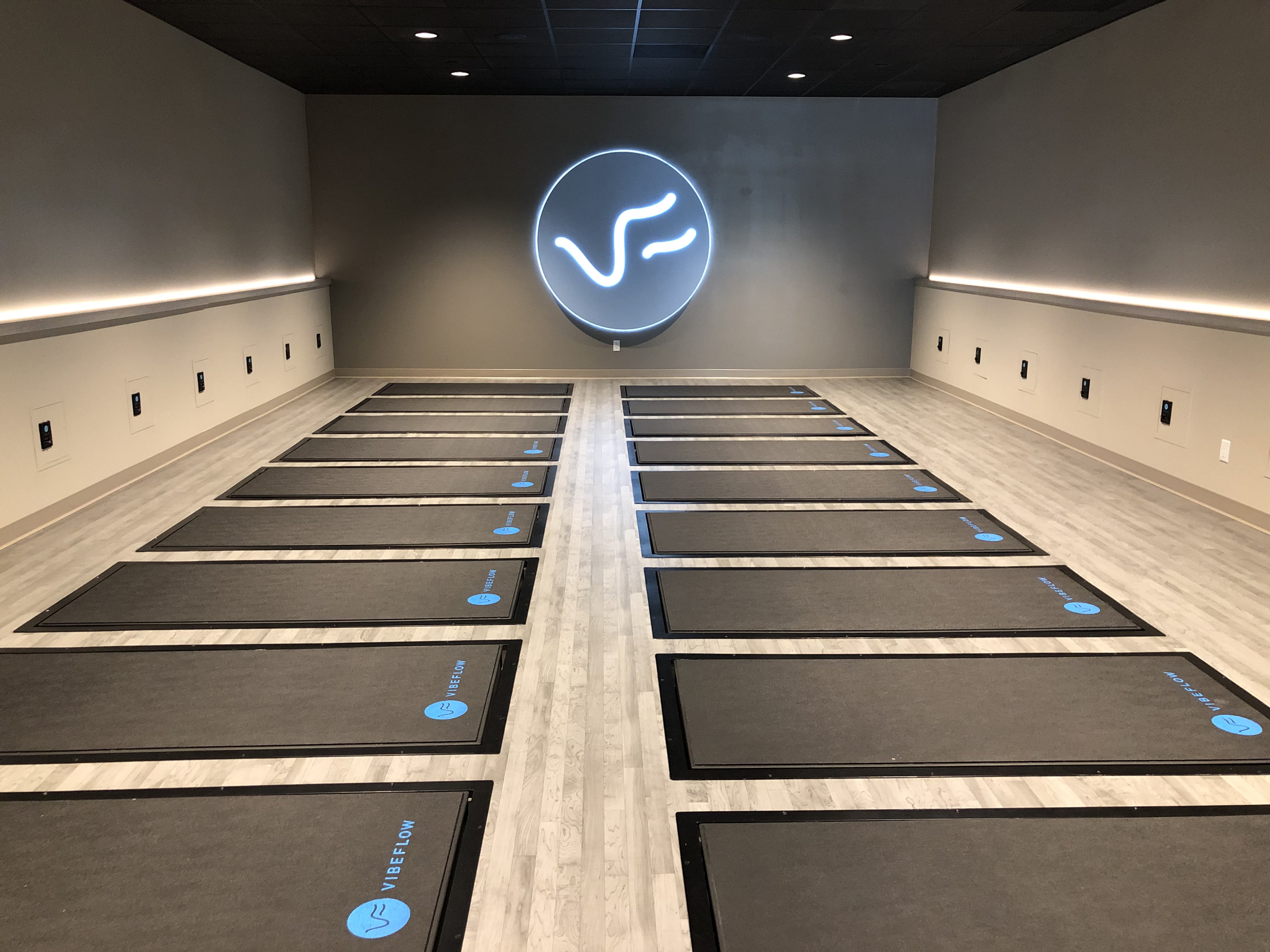 Finding Balance
Borja, a 30-year veteran in the fitness industry who owns three local Orangetheory Fitness clubs, said he first encountered vibration plates about 10 years ago, which he used to warm up pre-workout and to aid in post-workout recovery. Back then, Borja said he also witnessed the vibration plate being used to stretch on, but not much else. A description on the Vibe Plate website, a company that sells vibration plates, says "yoga vibration training not only strengthens your muscles and improves your brainpower, but it also boosts your lymphatic system."
It wasn't until 2017, when a friend who is also in the fitness industry told him he was working closely with the vibration plates, that Borja's interest was piqued again. He decided to do his own research and realized the vibration plates of the past were now more technologically advanced and were being used for a variety of things and by a mix of demographics (not just gym buffs). The uses included for athletic performance and strength training, physical therapy in rehabilitation centers, and with the older population for arthritis and osteoporosis, among other ailments.
"When I look back at the origin of when (the vibration plates) came into use from a beneficial standpoint, it was during the space race between the former Soviet Union and the United States," said Borja. "The challenge was that astronauts couldn't stay in space long without losing muscle mass and bone density. Research showed that when these astronauts were on vibration plates, it would result in increased bone density and they would maintain lean muscle mass."
Borja said, as a result of implementing the vibration plates, the astronauts were able to stay over 400 days more in space.
Expansion
Before opening the One Paseo shop, Borja said he tried the vibration plates during his own yoga practice for six months and noticed health improvements like better sleep. He then did a one-year lease at a location in La Jolla and held about 100 sessions there for friends, family members and other yogis, all of which he said confirmed there was a demand, a noticeable health benefit and an audience for it.
Borja said he hopes to open five or six more locations throughout San Diego County in the next year or so, and then some more locations will be opened by two of his four business partners in Los Angeles. Orange County is another market Borja hopes to tap soon. After, Borja plans to expand to markets like New York, Florida, Texas, Washington, D.C., Oregon and Chicago, among others, through licensing and franchising options.