In the last two decades, San Diego's wine industry has been exponentially growing.
According to the San Diego County Vintners Association, there are currently 155 licensed wineries operating in San Diego County and, in 2017, local wineries generated $50 million in economic impact.
Although the wine scene hasn't quite reached craft beer industry status as of yet — craft beer kicked off about 10 years prior and had an economic impact of $1.2 billion in 2018 — winery owners are focusing their energies on gaining repeat business not just through traditional wine tastings, but via well thought out and highly executed wine clubs in order to continue to grow the sector.
Repeat Business Is Best
Ed Embly, president of the Vintners Association and owner of Hungry Hawk Vineyards in Escondido, said wine clubs are integral to the winery business.
"Wine clubs are a very important part, especially to boutique wineries," he said, adding that 95% of all wine is sold through direct to consumer sales in his tasting room and 75% of all customer base for local wineries comes from repeat business. He also said that about 75% of all local wineries run membership programs.
Eric Van Drunen, president of Charlie & Echo, founded in 2007 and headquartered in Miramar, said his current wine club started in June 2017 and accounts for between 19% to 29% of the winery's total annual revenue.
"It operates differently than most wine clubs," said Van Drunen, explaining that, in general, wine clubs are based on a certain number of bottles purchased every three or six months. "Ours is more like a subscription service."
Members pay $25 per month to be in the Charlie & Echo club, and in return they receive a number of perks, including $25 worth of discount points each month that roll over; 20% off everything the winery sells; a glass of wine for the member and a guest once a week; a tasting party on the member's club anniversary for up to 20 guests; and exclusivity on certain wines and events.
Club Flourishes With Flexibility
Van Drunen, who is also vice president of San Diego Urban Wineries, adds that membership for Charlie & Echo has
doubled in the last year.
"It works well for us since, as an urban winery, most of our customers are local and can visit often," he said. "Because of this, they really enjoy the flexibility they have in how they can spend their discount points. Many prefer to drink wine in the tasting room or attend an event rather than take bottles home."
For Keith Rolle, winemaker and managing director at Gianni Buonomo Vintners in Point Loma, the winery's entire business model since being founded in 2010 has been predicated on subscriptions. As a result, wine club sales are expected to contribute 70% of the company's income on an annual basis, he said.
"This method has been working for not only urban wineries, but also estate wineries for many years," said Rolle. "For us, we only produce 1,700 cases per year. That means that we cannot afford to sell through a three-tier system where distributors are involved. We give our percentage discount to our wine club members instead of a retailer or distributor. Also, we are able to cultivate personal relationships with our members at the exclusive events."
One Approach: Multiple Levels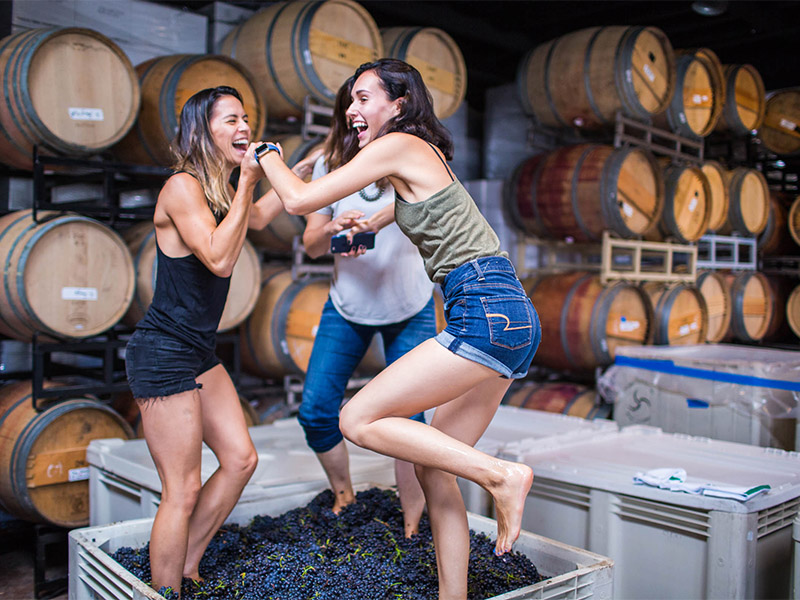 At Gianni, the wine club is called the Fedora Family and is broken down into three levels. The highest level is the Gold Band Club, through which members get two cases of wine (with 12 bottles per case) twice per year and get complimentary tastings at the winery. The second tier, and the most popular, is the Fedora Club, which allows members to receive allocations of six bottles three times a year, and a limited number of complimentary tastings. And then there is Club Gianni, through which members get one bottle of wine a month.
Rolle said Gianni Buonomo Vintners currently has just under 400 subscribers and growing.
Carruth Cellars Urban Winery, with locations in Solana Beach, Carlsbad Village and Little Italy, has implemented a wine club since launching in 2010, but reorganized it in 2012 to take better advantage of the accessibility it has to its visitors.
"(We) decided to emphasize the fact that we are an urban winery, that our potential wine club members would be mostly locals and they would come in more often than your typical member would visit a winery up in Sonoma or where have you," said Heather Newman, sales and marketing director at Carruth. "So we created a monthly wine club and made being a member less about the bottle of wine you get every month and more about the perks you get when you come in to incentivize repeat business, like complimentary tastings or glasses for you and a guest, discounts on purchases, first to know about happenings at the winery and VIP access to events.
"We like to think of our winery as a place for neighbors to get to know one another and our wine club is just that — it's a community."
Newman said Carruth currently has around 2,500 wine club members and, on average, they visit a Carruth location at least twice a month.
Strength in Numbers
In addition to wine clubs, in order to continue to grow the industry, Embly suggests wineries become members of their local organizations, including the Vintners Association. He said the group is constantly putting out information on its members throughout Southern California, placing brochures at airports and different visitor centers. He said there is also a website, sandiegowineries.org, that provides information to those searching for information on the winery options in town and is continually updated. Lastly, he encourages strong social media presence as well as advertising through smaller, localized organizations in the winery's area. n