Artem Sharoshkin wanted something dramatic and different for The Boxing Club in downtown San Diego.
"Let's go crazy with this," were his instructions to designer Marianne Berg of Mbee Studio.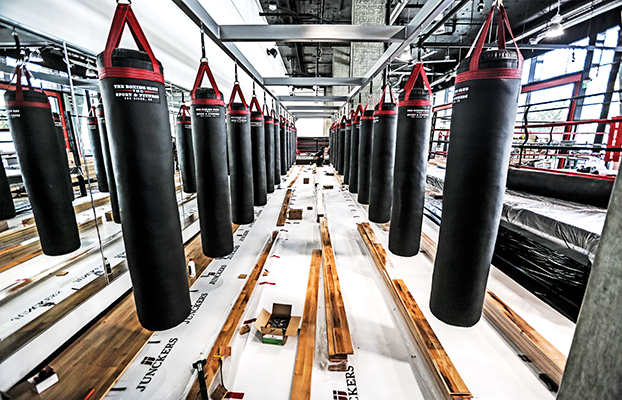 The location alone cries out for something dramatic — the bottom floor of Shift, the 21-story red-and black apartment tower designed to stand out and reflect the bohemian nature of its East Village neighborhood.
The Boxing Club also is just down the street from the former Colisium Athletic Club, an old-school boxing venue that has been transformed into the Punch Bowl Social restaurant, which combines dining with social get-togethers and a wide assortment of games from bowling to vintage video games. 
Adding ground-floor fitness centers where they're highly visible is a growing trend and a way to attract tenants, especially downtown, said Rachel Parsons, a first vice president of the commercial brokerage firm CBRE in San Diego.
Co-owners: Artem Sharoshkin and Patrick Van Schoote
Revenue: $1.7 million in 2016, $2 million in 2017; $2.2 million projected for 2018 (downtown club not included)
Number of local employees: 24
Headquarters: San Diego
Year founded: 1999
Company description: The Boxing Club was created with a belief that fight arts can be an effective and fun platform for overall fitness and health.
'Activating' Feature
"I like the whole gym concept on the first floor. It's very activating. I think we'll see a lot more of that," Parsons said. "The Boxing Club is a huge retail tenant for downtown and it's really exciting that they're coming to East Village.
EMMES Group of Cos. added a Pure Indoor Cycling studio to the first floor of its 1 Columbia Place building two years ago to help attract tenants, said Christine Takara, EMMES director of marketing and customers' experience.
"It's something we mention on tours of the building. We showcase their space," Takara said. "It's definitely a plus for tenants looking to offer perks to their employees." 
In designing The Boxing Club, Berg took Sharoshkin's admonition to "go crazy," and ran with it, starting with the crystal chandelier hanging above the reception desk at the front door and a second crystal chandelier over the main boxing ring at the center of the club.
Turn to the right, and there's a giant mural of Muhammad Ali by local street artists Kyle Boatwright and Kelcey Fisher taking up an entire wall.
Around the corner is the heart of the club — a 10,000 square foot room with a 22-foot-tall ceiling and with a regulation size boxing ring at the center.
Running along the east wall are rows of about 40 heavy boxing bags hanging from an 85-foot-long metal rack.
Not Just Boxing
The north end of the large room is filled with exercise equipment including treadmills, rowing machines, step machines, elliptical training machines, and stationary bikes.
"People assume that we are just a boxing gym," said Sharoshkin, co-owner of the business. "We actually have state-of-the-art exercise equipment, just like a regular gym."
The west wall of the club is all floor-to-ceiling glass windows, which were among the attractions the drew Sharoshkin to the Shift building. 
Passers-by get a full sense of what the club does as they walk by Shift from one end to the other.
"The (window) glass line basically tells the story," Sharoshkin said. "You see every element of The Boxing Club."
To one side of the center boxing ring inside is a training area where boxing and martial arts classes are offered, and a smaller boxing ring.
At the far south end is "a room within a room" of about 800 square feet with five-inch thick foam mats covering the floor for martial arts practice sessions.
Sharoshkin added a mezzanine at the east side of the main room. The mezzanine has separate studios for Pilates, yoga and Spin bicycling classes.
Berg said she knew little about boxing or martial arts when she signed up to design The Boxing Club.
"I've seen "Rocky," Berg said.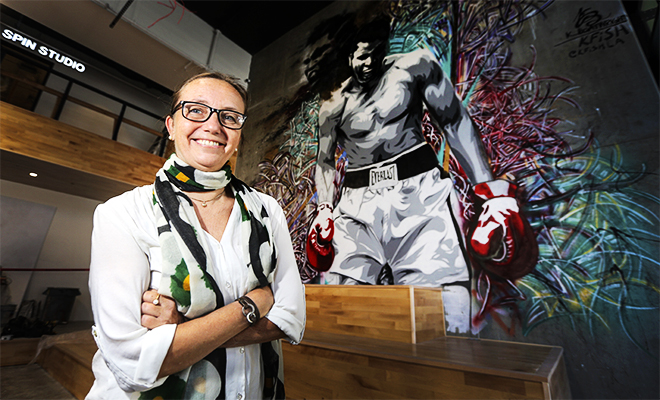 Design Inspiration
She'd also seen "Fight Club," a 1999 movie starring Edward Norton and Brad Pitt that became Berg's inspiration for designing The Boxing Club after she saw it again.
"I'd seen the movie years ago. I was inspired by it just because it's normal people fighting and a guy really fighting with himself," Berg said.
There's even an eight-foot-by-eight-foot painting of a battered Norton mounted on the wall between the men's and women's locker rooms.
"He looks completely beaten up, but you see he's smiling and happy," Berg said.
Berg said she tried to capture that mix of opposites, what she calls the "yin and yang" of boxing, martial arts and strenuous training in her design offset by softer elements.
In the case of the Norton painting, "When you've done a really hard workout and you see him, you say, 'I'm happy," Berg said.
The Boxing Club itself has those contrasts running throughout it.
The flooring and some of the walls are made of beech wood, which is commonly used for sports flooring, such as basketball courts.
It's a polished surface, and in The Boxing Club, it stands out in stark contrast to the unfinished concrete columns and other portions of the walls.
Aside from the tan beech wood and unfinished concrete, the general color scheme is white with black and red trim, which blends in with the colors of Shift.
'Bling Sort of Thing'
The chandeliers at the front entrance and over the main boxing ring are meant to add a touch of elegance in contrast to the roughness of a boxing match, Berg said.
She got the idea from watching how championship fights are often staged in fancy hotel ballrooms.
"There's always a chandelier over them," Berg said. "It's pretty common when you do boxing matches that you have some bling sort of thing." 
As a sport, boxing has an enthusiastic following in San Diego, with 60 gyms throughout the county and growing, said Jim Wyatt, publisher of sportofboxing.com.
"There's just more gyms every day," Wyatt said. "People are interested."
Aside from the fitness benefits, a boxing workout is a good stress-reliever.
"If you hit that heavy bag, you're taking it out on the bag," Wyatt said.
Among the San Diego gyms that focus on boxing, The Boxing Club is "the elite," Wyatt said.
"It's the ultimate as far as gyms go," Wyatt said. 
When it comes the boxing part of the club, Sharoshkin, 32, is the expert.
Trained in Muy Thai — a form of kick boxing — Sharoshkin was a welterweight champion until he stopped fighting professionally in 2013.
Immigrant Story
A native of Russia, Sharoshkin immigrated to the United States in 2004.
"I came here to this country not speaking the language, not knowing many people, aside from my sister," Sharoshkin said.
He found his passion after his sister, Irena Boostani, gave him a membership in The Boxing Club as a birthday present.
"From the moment I joined The Boxing Club, that gave me a sense of family. The Boxing Club changed my life."
The Boxing Club was formed in 1999, and at one point had multiple locations, including the University City club in Costa Verde, which remains open.
While training at the Costa Verde club, Sharoshkin was offered a job as the club janitor.
Over time, he became a trainer, then a training director, then in 2014, he became a co-owner with Patrick Van Schoote of the UTC club and now, the East Village club.
Michelle Chen, a three-year Boxing Club member training in MuyThai, said the new club was "amazing."
"Traditionally, when you think of a boxing gym, it's a hole in the wall that smells," Chen said. "This is definitely not that."