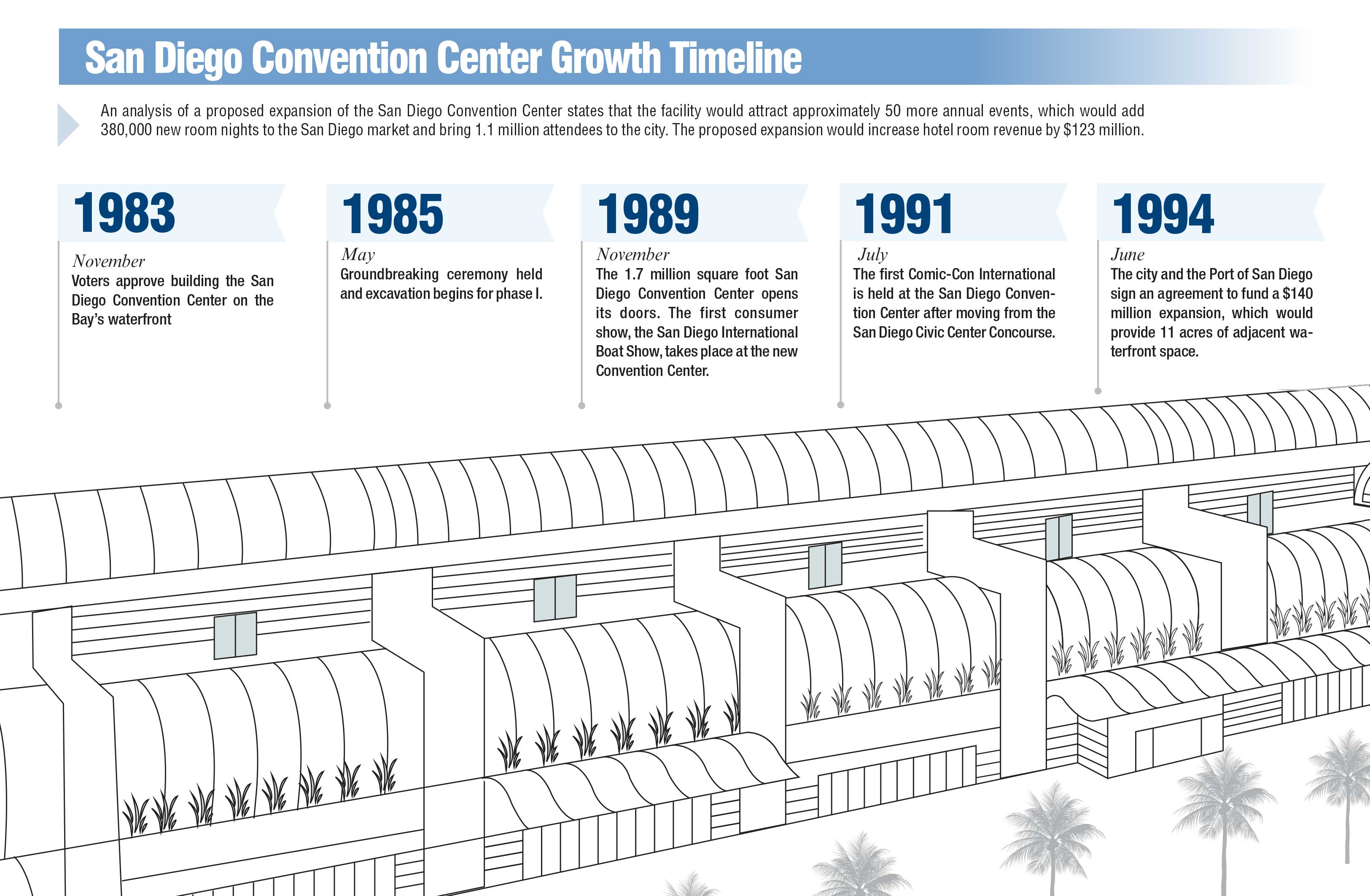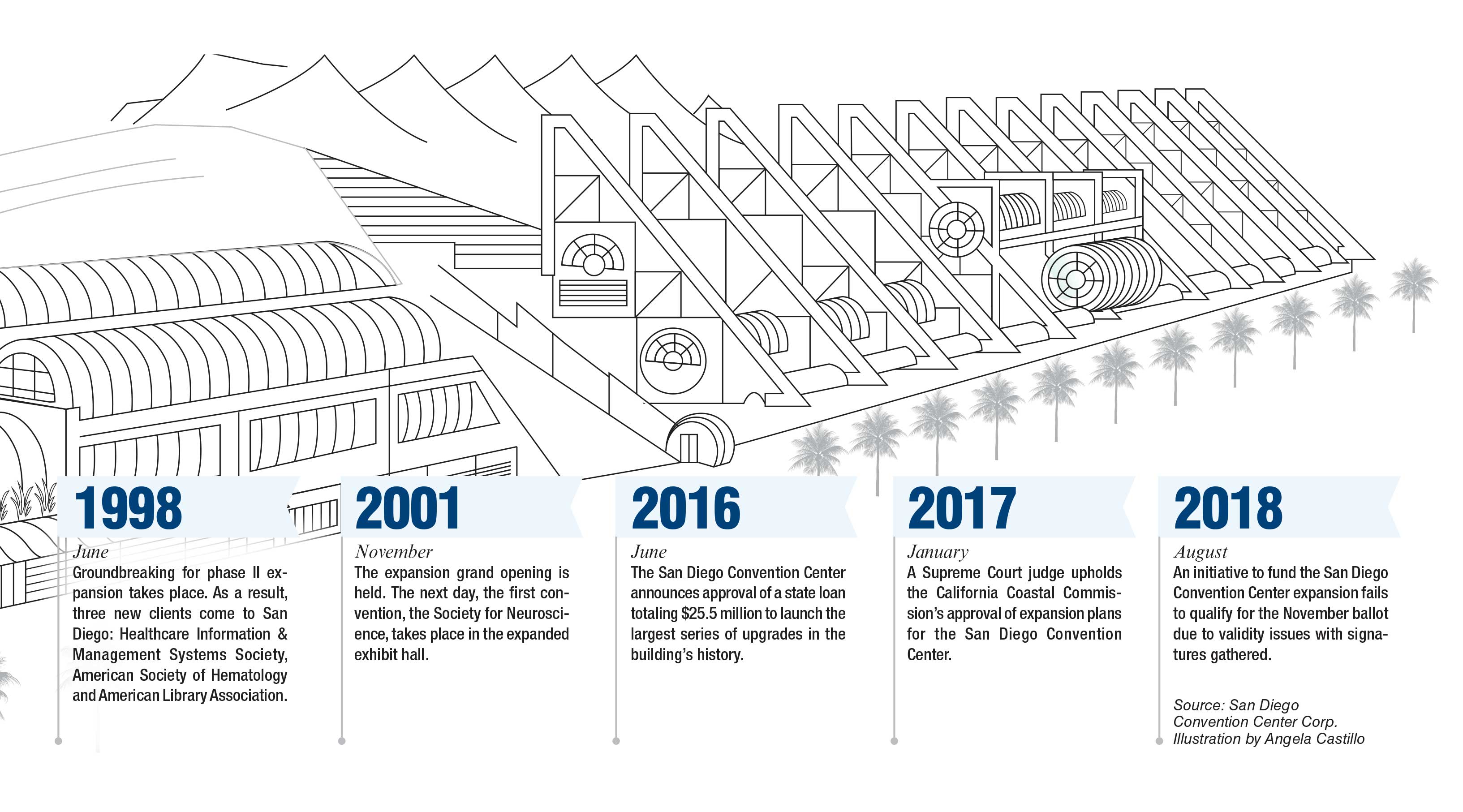 An ophthalmology organization, a pharmacists group and an architectural and commercial lighting trade show and conference want in. They would bring tens of thousands of people with spending power of millions of dollars and a capacity to book thousands of room nights.
But they say they won't come unless the San Diego Convention Center is expanded, which is why despite a recent political setback the San Diego Tourism Authority and the Port of San Diego and others continue to insist the $685 million investment will be well worth it.
"We have a tremendous amount of demand for the building, but don't have the available space," said Joe Terzi, president and CEO of the San Diego Tourism Authority. "We currently book about a million rooms a year with the current convention size. If we expand as originally contemplated, we would book about 400,000 more annually."
According to an analysis provided by the San Diego Convention Center Corp., an expansion would allow the facility to attract approximately 50 more annual events which would add 380,000 new room nights to the San Diego market and bring 1.1 million attendees to the city. The proposed expansion would increase hotel room revenue by $123 million.
Countering naysayers, supporters contend that not only would the expansion benefit San Diego's staple Comic-Con International, which has been held in the county for 49 years, there are other companies, ranging in size, length of commitment and economic impact, that are eager to bring their respective conventions to San Diego once expansion occurs.
Terzi says there are three categories of potential convention center contracts pending expansion: those by companies that have used the space before but have outgrown the current convention space; those that are currently hosting their conventions in San Diego but whose conventions will probably outgrow the current space in the near future; and larger conventions that have not been in San Diego but have expressed interest in coming if the expansion happens.
After a preliminary count of petition signatures failed to qualify the $685 million convention center expansion on the November ballot, a full verification of voter signatures by the county Registrar of Voters is underway to determine if the initiative could be placed on a future ballot.
Additional Conventions
Debra Rosencrance, vice president of meetings and exhibits for the San Francisco-based American Academy of Ophthalmology, says if the city goes through with the expansion, the company would make San Diego its West Coast option. Its annual convention, which has an average attendance of 24,000 with an average stay of 4.5 nights and 13,000 hotel room bookings, has a projected regional impact of more than $70 million.
"We would need about 800,000 square feet of exhibit space plus eight general session rooms, with seating for 500 to 4,000, 41 breakout rooms, and then an additional 20 rooms for offices and lounges," said Rosencrance, adding that the American Academy of Ophthalmology convention, which has never taken place in San Diego, would come to the county every four to five years due to its rotating schedule. "The previous (expansion) plans did appear to have enough space for us."
Other companies interested in bringing their conventions to San Diego include newcomer American Society of Health-System Pharmacists, located in Bethesda, Maryland, which has a regional impact projection of more than $60 million, with 20,000 attendees and 9,000 peak rooms required and Lightfair International, based in Atlanta, which has 23,000 attendees and books an average of 5,687 rooms on peak nights and a total of 22,843 room nights per convention.
Lightfair held its 2016 convention in San Diego but cancelled its 2020 event due to space concerns. Similarly, Fairfax, Virginia's Specialty Graphics Imaging Association was booked for 2021, with 3,500 rooms on peak, 13,500 total room nights and 23,000 attendees, but had to cancel due to projected growth of their exhibit floor. The latter has also verbally committed to a return to San Diego post-expansion.
West Coast Expansions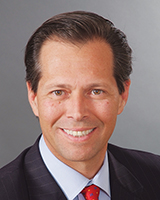 San Diego ranks No. 22 nationally in convention center space and would move up to No. 13 if the expansion occurs. In the past year, Anaheim opened 200,000 square feet of new convention space, San Francisco's facility is undergoing a $560 million expansion that will increase its capacity by 20 percent when it opens in January and Los Angeles is planning to add 350,000 square feet to its convention center.
The true appeal for coming to San Diego, according to Terzi, is what the city has to offer its visitors, from walkability to entertainment, close proximity to the airport and a plethora of hotel options.
"This is one of the most attractive destinations: the convention center is located 10 minutes from the airport and San Diego offers one of the best hotel packages after Las Vegas, with over 11,000 rooms downtown. The Gaslamp area is attractive, and the accessibility is attractive," said Terzi.
Miro Copic, a marketing professor at San Diego State University, agrees.
"We have a great infrastructure supporting a very desirable place. The hotel ecosystem around downtown is fairly robust, so people can find hotels of a lot of budgets, as close as they want to the convention center," said Copic. "Anaheim is challenging because you can't fly straight there. If it is 120 degrees in Las Vegas, it is way more pleasant weather-wise in San Diego. New York, you've got the Jacob Javits Center in the city, but to get to La Guardia airport or John F. Kennedy airport, that is a honking ride. If I had a convention between October and April in Boston or Chicago, I wouldn't think twice about moving to San Diego. If we have an expansion, it just becomes that much more attractive."
Economic Driver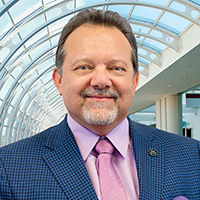 Clifford "Rip" Rippetoe, CEO of the San Diego Convention Center Corp., which operates the facility, points out the expansion will also create new jobs.
"I see power in creating jobs," Rippetoe said. "If you look at downtown 30 years ago and look at it now, it is considerably different. That's because they created a destination that includes entertainment, Petco Park, and then hotels came. The convention center is part of all that – it is part of the genesis of the tourism industry downtown and has been really good for San Diego."
According to Rippetoe, the industry average for convention center occupancy is about 50 percent. Once above 60 percent, a center is operating close to full capacity and may begin to turn away significant amounts of business. He said the SDCCC will be close to 76 percent occupancy in 2018.
For now, it is a waiting game, as the Registrar of Voters will decide if the initiative to fund the convention center expansion, along with providing homelessness solutions and road repairs, will make a future ballot.