When Claude Jones expanded Walmart Labs' new Carlsbad office, he knew the company would need to attract talent quickly. The company had just moved from a 70-person office to a new space, where the company planned to add 120 employees.
Claude put the company's new offices to use, hosting an event to showcase San Diego's tech talent to Walmart Labs executives and bring in promising technologists. During the event, he walked around the room, asking people what they thought about San Diego as a tech hub. Could the region compete with San Francisco, Dallas and Seattle?
To his surprise, many people said no.
"That struck a chord with me. I thought, 'That's not right,'" Jones said. "We have talent. We can collaborate and network as well as other cities."
That led Jones to start San Diego Tech Hub last December, a group focused on creating opportunities for tech professionals and helping support the local community. Thirty people showed up to the group's first meeting.
Since then, more than 100 people have attended the group's meetings to date, and 300 communicate regularly on its channels. The group fills an important gap in San Diego, providing a place for people to meet in North County, and bringing together tech workers, employers and startups across the region.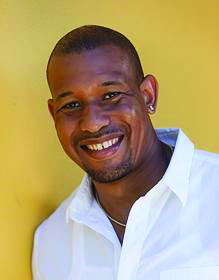 "Traditionally, when you think of networking groups, they have this stigma that it's just people pushing cards, or pushing for an agenda," Jones said. "When you think about the type of people coming to a San Diego Tech Hub meeting, it's professionals looking for jobs, employers looking for talent, businesses looking for clients and startups looking for resources. We've also started attracting people that want to do social good, and are donating their time and resources just to give back to people in need."
For Jones, the idea of giving back and helping others launch their career is especially important. A self-taught developer, Jones worked hard to break into the software field.
"Growing up I did not have the opportunities that others might have had. I had to come up with innovative ways to get into the field that I went into," Jones said.
He remembered going through the interview process at his first tech job.
"I got every single question wrong. I had no idea what he was saying with the acronyms he threw at me," Jones said.
After Jones admitted to the hiring manager that he didn't know what he was saying, he was hired. He asked why. The interviewer said, "You're self-taught, you're honest, and I know you can do anything you can put your mind to."
"He saw something deeper within me and said I'm going to give this person an opportunity. Can you imagine if every one of us did that?" Jones said. "If I can pay it forward, that's what I'd like to do."
After that experience, Jones worked for Yahoo for nine years, serving as a senior engineering manager at the company's San Diego offices. When Yahoo announced plans to close the San Diego office, Jones found 13 people who agreed to stay in Carlsbad to start a new Walmart Labs office there. Since then, the team outgrew its former office.
With San Diego Tech Hub, Jones' goal is to transform San Diego's tech education opportunities, the region's startup ecosystem, and tech companies' hiring mindset. He hopes to help bring students apprenticeships and technical experience, and help build more opportunities for self-taught developers, transitioning military, and others that might bring something new to the tech workforce.
"The more we work together as a community, the more change we can make in the lives of others," he said. "That's what a true tech hub means, in my mind. we are now being innovative to transform San Diego from a personal perspective."