Qualcomm Inc. and Apple Inc.'s all-out patent war faces a legal crossroads next year.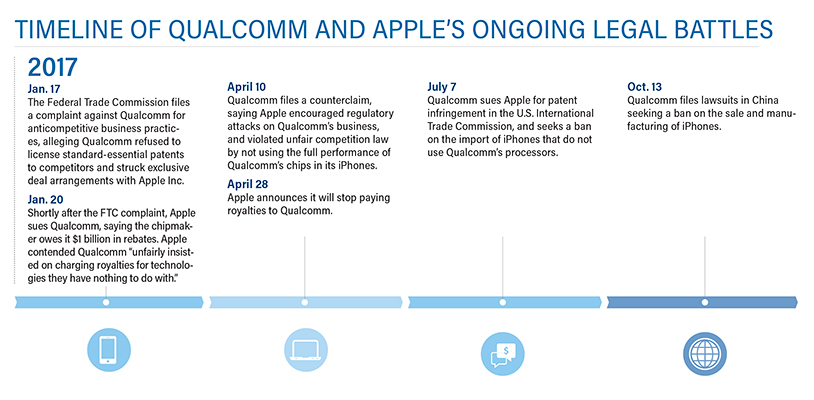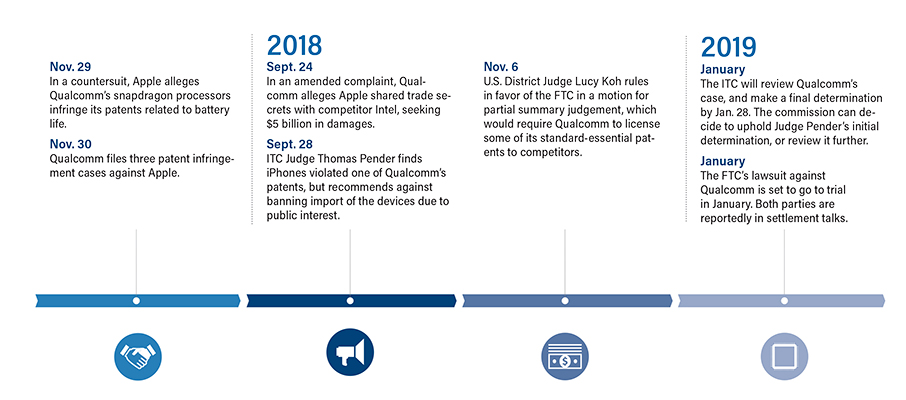 Though it might feel like there's no end in sight, investors and experts are watching for key legal decisions in 2019 that could have big ramifications for the dueling tech giants.
Both companies have billions of dollars at stake across roughly 50 lawsuits worldwide, and are unlikely to relent without a fight.  
For Qualcomm, its ability to collect licensing fees, a core piece of its business model, is at stake. In addition to selling the fingernail-sized processors that power smartphones, the San Diego-based chipmaking giant charges up to 5 percent of the handset's cost in royalties for using its technology.
For its part, Apple is waging a war against what it claims are unfair licensing costs. But the iconic phone-maker could find itself at a significant loss if judges uphold Qualcomm's requests to ban the sale of iPhones that violate its patents.
'Scorched Earth Battle'
Both are very real possibilities, said Jim Wodarski, an intellectual property attorney, with Boston-based Mintz Levin. "This is an absolute scorched earth battle," he said. "It's interesting to me that each of them has an event that could substantially leverage it in their favor. … At a certain point in the future, either those events, or 5G rollout, position them to have a serious dialogue in the next 12 months."
Faced with recent reports that Apple and Qualcomm were far away from a settlement, Qualcomm CEO Steve Mollenkopf maintained the two companies were in discussions to try to reach a resolution.
"…We remain focused on driving the appropriate value for our stockholders, either through settlement or litigation," he said in a Nov. 7 earnings call.
Two Big Decisions
Two big legal decisions could bring Apple and Qualcomm to the table in the next year. The first stems from a case filed by the Federal Trade Commission in 2017, alleging Qualcomm stifled competition by forcing phone manufacturers to pay elevated royalties to buy its chips, offering Apple a reduction in royalty rates in exchange for exclusivity, and refusing to license standard-essential patents —the technologies needed for a phone to communicate across a network — to its competitors.
Just three days later, Apple filed its own lawsuit against Qualcomm, claiming the chipmaker "unfairly insisted on charging royalties for technologies they have nothing to do with." Apple also claimed $1 billion in unpaid rebates.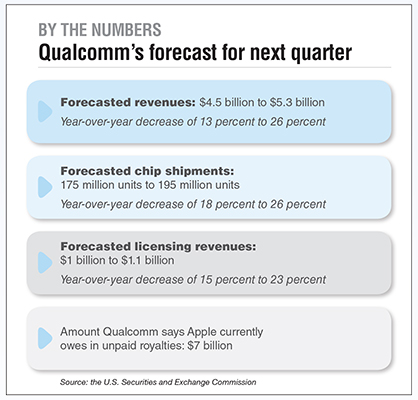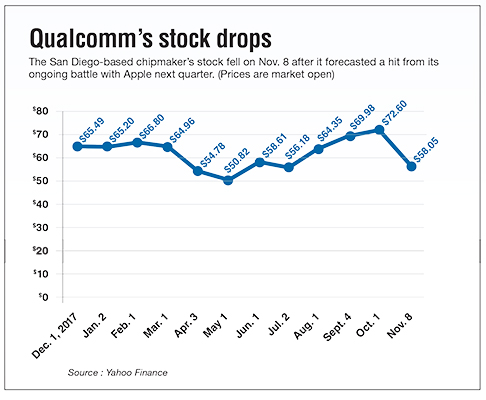 "I think the dispute is just about the fact that traditionally, Apple feels like it's paid too much for access to that technology," Wodarski said. "I think that's going to become more acute as (Apple) tries to stay competitive in the 5G market."
The FTC case is set to go to trial in January. Though not final, an initial ruling by U.S. District Judge Lucy Koh spells trouble for Qualcomm. Her Nov. 6 decision would require Qualcomm to license its standard-essential patents to competitors, though it does not specifically prevent Qualcomm's longstanding practice of collecting licensing fees as a percentage of retail costs.
"For (standard-essential patent) holders, that's a troubling change in what's been a standard practice," Wodarski said. "I wouldn't be surprised if it would be fully appealed and litigated at the appellate level."
Both Qualcomm and the FTC have also expressed interest in reaching a settlement, which Mollenkopf said was a "focus here in the near term." He added there was nothing in Koh's order that would complicate or prevent a settlement.
Interest in a Settlement
The other lawsuit, brought by Qualcomm against Apple in the U.S. International Trade Commission, could have nasty consequences for Apple. Filed in July of 2017, the lawsuit alleges Apple's devices violated six Qualcomm patents, and Qualcomm wants the ITC to ban the import of iPhones that don't include its modems.
In September, ITC Judge Thomas Pender found Apple had violated one of Qualcomm's patents, but did not recommend banning import of the devices, due to public interest. His word is not final; the case will go in front of the entire commission next year, with the ITC targeting Jan. 28 to complete its investigation.
"Qualcomm has continued to unfairly demand royalties for technologies they have nothing to do with to protect their monopoly," Apple wrote in a statement after the decision. "We're glad the ITC stopped Qualcomm's attempt to damage competition and ultimately harm innovators and U.S. consumers."
'Very Significant' Finding
Though it might sound like another loss for Qualcomm, Wodarski said Pender's finding that Apple violated one of Qualcomm's patents was "very significant." That means there's still a strong argument for the commission to consider banning the offending iPhones.
"Judge Pender has asked (the ITC) to expand the notion of what the public interest means. It would be challenging for the commission to embrace that argument," Wodarski said.
He added that an ITC exclusion order would have a significant impact on "any company, no matter how large."
"Apple would be no exception to that."
Qualcomm is also seeking similar terms in Germany and China, including a manufacturing ban of devices that violate its patents in China — which could take a big bite out of Apple's business.
Donald Rosenberg, Qualcomm's general counsel, said in an earnings call that he was optimistic about the results of those cases.
"China, unlike some other countries, actually will issue even preliminary injunctions and not wait through a full trial for permanent injunction. But they also have a parallel process where the patent office reviews patents for validity, and we've been very successful so far there," he said. "So as soon as we get an infringement judgment in our favor, there is a real chance of injunctive relief there."
CEO: Steve Mollenkopf
Revenue: $22.7 billion in 2018; $22.3 billion in 2017
Net income or loss: Net loss of $4.9 billion in 2018; net income of $2.5 billion in 2017
No. of employees: 35,400 (11,800 local)
Headquarters: Sorrento Valley, San Diego
Year founded: 1985
Stock symbol and exchange: QCOM on Nasdaq
Company description: Qualcomm is best known for manufacturing the modem chips in smartphones. The company also licenses out its technologies.
In addition to the patent cases, Qualcomm is watching for one more legal development next year. The company expects a trial date will be set early next year for its breach-of-contract lawsuit against Apple, Qualcomm spokeswoman Yelena Tebcherani wrote in an emailed statement.
A Costly Fight
Litigation aside, Qualcomm's extended battle with Apple comes at a big cost. That alone might be enough motivation for the companies to strike a deal.
Until recently, Apple was one of the chipmaker's largest customers, exclusively using Qualcomm's modems until the launch of the iPhone 7 in 2016. Next year, Apple doesn't plan to use its chips in any of its newest line of smartphones. The company also stopped paying licensing fees last year, which Qualcomm claims total up to more than $7 billion in unpaid royalties.  
Those losses are expected to hit Qualcomm's next quarter the hardest. Qualcomm's stock fell 8.3 percent to $57.96 after it forecast double-digit decreases in chip sales and licensing fees, primarily driven by the loss of Apple and slowing smartphone sales in China.
Specifically, Qualcomm forecasted a year-over-year decrease in chip shipments between 18 percent and 26 percent, and a year-over-year decrease in licensing revenues between 15 percent and 23 percent.
Qualcomm Chief Financial Officer George Davis said Apple's switch to Intel would account for a decrease of 50 million to 55 million units in the quarter ending Dec. 31. Reaching a deal with Apple could potentially return between $2.5 billion and $4 billion in revenue to the company's coffers.
CEO: Tim Cook
Revenue: $265.5 billion in 2018; 229.2 billion in 2017
Net income or loss: Net income of $59.53 billion in 2018; net income of $48.35 billion in 2017
No. of employees: 132,000
Headquarters: Cupertino, California
Year founded: 1976
Stock symbol and exchange: AAPL on Nasdaq
Company description: Apple manufactures smartphones, laptops and other consumer electronics products.
"We expect the Apple share reduction to be most impactful in our first quarter," Davis said in an earnings call. "The key thing is going to be resolution with Apple, and then of course, the various implications of that resolution."
Resolution in 2019?
Most analysts hope the dust will settle by the end of 2019. Ross Seymore, a managing director with Deutsche Bank, said he expects Qualcomm will face fewer headwinds as soon as the second quarter, when companies begin ramping up sales of 5G smartphones.
"…We believe licensee settlement probabilities improve as a number of court cases are heard," he wrote in a research note. "We continue to assume litigation resolution by the end of (calendar year) 2019."
Chris Caso, an analyst with Raymond James, wrote in a research note that he expected higher earnings "post an Apple settlement, and in the meantime, (Qualcomm) is buying back nearly one third of the company."
To date, Qualcomm has spent $542 million since it announced its $30 billion share repurchase program in July.
"But while the buyback provides time to improve the fundamentals, we don't expect investors to remain patient," Caso cautioned.