Jim Cable is back for another go-round as chief executive of PSemi Corp., the semiconductor unit of Japan-based Murata Manufacturing Co. Ltd.
The company is on a growth tear. It is hiring. Revenue in the most recently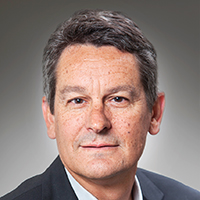 CEO: Jim Cable
Revenue: Undisclosed
No. of local employees: About 500
Investors: PSemi is a subsidiary of Murata Manufacturing Co. Ltd. of Japan
Headquarters: Miramar area
Year founded: 1990
Company description: Semiconductor maker.
ended quarter was 15 percent higher than any quarter in the history of the company.
PSemi's microchips, combined with parent Murata's electronic filters, are part of Apple Inc.'s iPhone.
Turnover at the Top
Despite the growth, however, there its turnover at the top. And as the company loses its chief executive, Cable is stepping in for the interim and searching for a successor.
Cable spent 15 years as CEO and stepped aside in March 2017 to be PSemi's chief technology officer and Murata's global R&D director. His handpicked successor, Stefan Wolff, came aboard in March 2017.
Wolff stepped down on Oct. 1 after 18 months on the job. Wolff, a former executive with Intel Corp., is spending two months as a strategic adviser to PSemi and plans to return to his native Germany in December.
Cable said Wolff was leaving for personal reasons and did not elaborate.
"There were family issues. He made the right decision. And I got volunteered to go back to my old role," Cable said.
CEO Pro Tem
In a recent interview, Cable said it was energizing to be in the CEO's chair again. Actually, his new title is CEO pro tem. He now has 17 people reporting to him, up from five earlier this year.
For the last 18 months his job has been technical. He has also been handling acquisitions for Murata, and talking with startups, which he enjoys. "It reminded me of when we were a startup," he said.
PSemi bought a Massachusetts company called Arctic Sand Technologies in March 2017 for undisclosed terms, and a second, unnamed company since then. Cable said the second acquisition was never announced, describing it only as a local semiconductor firm.
New acquisitions went into an internal "incubator."
"You can't buy zero-revenue startups and have it not clobber your P&L," or profit and loss, Cable said, so the incubator has its purpose. "We kind of got forgiven for the P&L impact because it was not in the core business."
PSemi started life in 1990 with technology developed at the local U.S. Navy labs. The business was originally called Peregrine Semiconductor. Cable became chief executive in 2002. During a relatively short span of time between 2012 and 2014, Peregrine stock traded on the public markets.
Benefits of Private Company
"Being CEO of PSemi right now is a lot better than being CEO of Peregrine as a public company," Cable said. "I don't take investor calls anymore, or shareholder calls."
Today, the pressure to get good quarterly results is not as great as the pressure other public U.S. companies face. And by Cable's account, Murata is a patient investor. "They're perfectly willing to take on R&D projects that may not get you to a product for seven [or] eight years — which would be unheard of in the U.S."
PSemi does not report its quarterly results. Cable said they are not material to the parent company's results; Murata is just so much bigger than PSemi. However, Cable went on to say, the San Diego division's products are valuable. PSemi makes integrated circuits that go into the modules that Murata sells into iPhones.
Business is good, Cable said. In fact, PSemi is turning work away. Murata gives the company plenty of projects, and once that internal customer is served, there doesn't seem to be enough staff to serve external customers.
Turning Away Work
Just what is PSemi turning away? Work on components for wireless base stations, for one thing. "There are some automotive opportunities that we turn away," Cable added. "And it's kind of painful. When you look at it y ou go, "Gosh, there's just so much more here,'" he said with a laugh. "But you just can't do everything."
Turning work away seems to be against a business person's better instinct, the CEO said, but experience tempers that instinct. "Usually you learn — after you've been punished for it — that there's a downside to overcommitting."
PSemi has about 600 employees, with the bulk of them in San Diego. Cable said the business could hire an additional 100 people within two years. PSemi has design centers in Austin, Chicago, Boston and the United Kingdom.