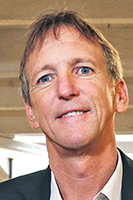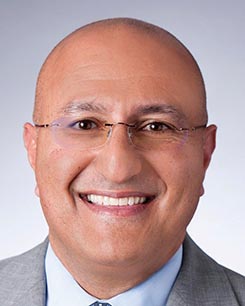 After a record-smashing Jo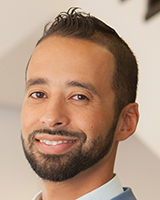 hn G. Watson Quick Pitch competition, the three entities that went in on this year's contest are aiming for an even taller goal.
Tech Coast Angels-San Diego, the San Diego Venture Group and Cox Communications teamed up to give away $75,000 in cash this fall, the most in the event's history. The crowd of investors, entrepreneurs and spectators spilled out of Qualcomm Hall, where the Oct. 24 event was hosted.
"We're going to do it all again next year," San Diego Venture Group President Mike Krenn said. Next year, he said, they're shooting for $100,000 in prizes.
Years ago, the event started off as a much smaller social event. It was a gala hosted by the San Diego Venture Group that gave two life science companies and two tech companies a chance to share their pitches. At the same time, Tech Coast Angels hosted its own event with 10 company pitches. The prizes were never more than $25,000.
In 2017, the two organizations teamed up, opting to keep the format of 10 companies, and two-minute pitches.
This year, Cox Communications joined in the mix, after launching its own pitch competition, called "Get Started."
"We had a great event, but the opportunity to take it to the next level so soon in the process was exciting," said Sam Attisha, senior vice president and region manager of Cox Communications. "We thought by getting together we could increase our resources and cash prizes."
After the excitement of the competition settles, the ballots are cast and the awards are distributed, the real action begins. Both for the pitching companies and those in the audience, the opportunity to meet with wide range of investors in one room can lead to potential deals next year.
For example, Tech Coast Angels invested more than $2 million in previous contest winner Echo Labs.
"I'm on my third Quick Pitch and every year gets better building off of the momentum," Tech Coast Angels Executive Director Ashok Kamal said.
"Even if you're not presenting, the goal is to make the community stronger and generate investment interest in San Diego," Krenn said. "With VCs, after they do deal one here, they're more likely to do deal two here."
How They're Spending It
NeuraLace Medical
First-place winner NeuraLace Medical, a San Diego startup that uses magnetic pulses to treat chronic pain, plans to use its $50,000 in winnings to fund further studies of its device. Founder and CEO Shiv Shukla is currently in the process of seeking approval from the Food and Drug Administration as a class II medical device, which he hopes to secure in the next year.
Shukla technically founded NeuraLace in 2016, but he has been working on the underlying technology for years. He came across the idea while researching pain at UC San Diego before applying to medical school.
"We discovered two therapies for really hard chronic pain problems in the first nine months," Shukla said.
Shukla brought a 20-patient randomized controlled study to the FDA when he first sought approval. Although that was enough to begin the process, he also plans to fund an 80-person, multisite clinical trial. To date, he has studied the device's use in more than 150 patients since he first began his research at VA Hospital through UCSD.
Many of the patients who received treatment said they had no option left to treat their pain.
"The ones it worked for, they were in disbelief," he said. "I would go and treat a patient, and their lives would change."
NeuraLace's device, called Axon Therapy, is based on existing brain stimulation technology. Shukla worked for three years to build it. The idea behind it is that nerves continuously send signals to the brain, essentially telling it that everything is OK. The absence of these signals, such as a damaged nerve, can lead to chronic pain. Using a magnetic field to stimulate the damaged nerve, Shukla hopes to "trick" the brain, resulting in pain relief.
So far, the company has raised $850,000 in its initial funding round, led by San Diego based fund FusionX Ventures. Mooring Ventures also contributed to the round.
Next, NeuraLace plans to raise its Series A round, seeking at least $2 million in funding. Shukla said that should be enough to get the company through FDA approval, though more might be needed to manufacture and sell the company's device.
Shukla also hopes to bring on two full-time employees, the company's chief operating officer and chief technology officer, who have been volunteering their efforts.
"I'm grateful for their support," Shukla said
Yembo
Yembo, a startup that developed a software platform for moving, took home a total of $20,000 for its combined second-place prize and for being the audience's top pick. The company plans to use the funds to begin building a sales team to get its product in the hands of as many customers as possible. So far, Yembo is working with two major national van lines.
Its founders, CEO Siddarth Mohan and Chief Technology Officer Zach Rattner, both worked on a robotics team at Qualcomm Inc. before starting the company.
The duo started the company in 2016, using artificial intelligence technology to identify items that need to be moved and then provide users quotes from moving companies. Essentially, the user takes a quick video of each room in their house, the system identifies and lists all of the furniture, and then users are able to pick a moving company, without having to bring in someone with a paper and clipboard to document everything in the house.
Rattner got the idea from his wife, who worked for a moving company, and often had to deal with last-minute logistics changes, such as a garage full of items that needed to be moved. It also provided lots of interesting future opportunities for Yembo's core technology, which is trained to identify and track multiple objects in an image, not just one.
"A lot of the industry is stuck in the 1980s," Rattner said. "The process of relocating is extremely stressful and time consuming. We want to create a platform that makes it super simple."
So far, Yembo has a team of eight working out of its offices, just down the road from Qualcomm's headquarters. They also have 10 developers in India, and a team of 10 annotators in the Philippines.
Yembo's AI has gotten to the point where it spots items that humans sometimes miss in the images. It's particularly good at picking out chairs, Mohan said, while it took a while to teach it to distinguish between king and queen mattresses.
The AI, which uses deep learning technology and robotics algorithms, can currently recognize 210 types of furniture items.
"Chairs are easier," he said. "There are a lot more chairs in our pictures. It's more difficult to get info on a sideboard versus a buffet table."
In the future, the team plans to incorporate additional options, such as the ability to call a junk removal service for items its users don't want to move.
Yembo has raised nearly $1 million in investment so far, including angel investment from the former president of Qualcomm, executives from moving companies, and the founder of a local startup.
Lynx Bio
Third-place winner Lynx Biosciences Inc., uses its technology to determine which treatment would be best for individual cancer patients. It plans to put its $5,000 prize money toward growing its team.
Lynx Bio uses a patient's biopsy to create a miniature cancer model to test how it will respond to various treatments. The idea is based on Dr. Chorom Pak's research as a graduate student at the University of Wisconsin- Madison.
"It's to better understand their cancer and how it evolves in the future," Pak said. "These cancers are very genetically diverse."
Lynx Bio's assays currently have a three-to-four-day turnaround time, bringing quick results to physicians. The company is currently in four clinical studies for blood cancers, including multiple myeloma and leukemia.
Pak hopes to see the company commercialize its first product in 2020, for multiple myeloma.
"We want to grow our team, make sure we hit our milestones and keep going," she said.