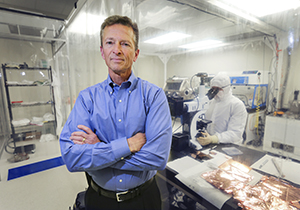 Sci-fi writers often dream up gadgets that scientists and engineers later bring to life.
Ray Bradbury wrote of Apple-like earbuds back in 1951, and H.G. Wells wrote of modern war tanks five years before the Model T existed.
But sci-fi writers don't have to vet the feasibility of their creations. That's the job of scientists and engineers.
One such scientist, a local nanoengineer named Alex Zaretski, is working to make it easier for futuristic devices to be made. Specifically, Zaretski's startup Grolltex Inc. has found a way to manufacture large quantities of graphene — the "miracle material" electronics makers go mad for but can't make enough of.
"Graphene is basically the 21st century magic material," said Darren Lipomi, a nanoengineering professor at the University of California, San Diego. "It's the most conductive, transparent, and strongest material ever discovered in science."
Stronger than steel, more conductive than copper and more flexible than rubber, graphene has been lauded as the greatest discovery for tech since the silicon chip. The material is basically graphite (think pencil lead), but shaved down to an invisible layer of tightly-packed carbon atoms only one atom thick.
The scientists who discovered graphene back in 2004 won a Nobel Prize in 2010, and innovators across the globe have since been speculating about what it could mean for business. Theoretical applications include fast-working batteries that could fully charge a cellphone in seconds, graphene filters that could make salt water drinkable, and graphene yarn that could be used to make flexible (and stretchable) electronics.
Sound like science fiction?
Flexible Armor
As it turns out, fiction lends the most compelling picture of what graphene could mean for electronics makers. In the futuristic TV drama "Continuum," for example, electronic clothing is worn like spandex that stretches from head to toe. Characters sport Cat Woman-style outfits loaded with flexible armor, biometric sensors, bendable screens, and control panels built into the sleeves.
While tech-enabled attire is possible in real life, device manufacturers haven't gotten much farther than smartwatches and smartglasses when it comes to mass production. That's because it's difficult to manufacture flexible — and yet durable — electronics.
The exciting thing about the jumpsuits in "Continuum" is that they represent a genre of science fiction called "near future," or a future that is possible (or nearly possible) in present day. Early versions of the foldable cell phones and electronic textiles are already being developed by researchers, mobile device giants, and clothing companies. In fact, there are already over 25,000 patent publications in the world of graphene, with major names in electronics (including Samsung and IBM) holding the lion's share.
Manufacturing Challenge
There's just one problem: graphene is quite difficult to manufacture.
"The fact is, it's easy to make graphene in small quantities of dubious quality," said Jeff Draa, Zaretski's co-founder and the CEO at Grolltex. "But it's very hard to make high quality graphene in large quantities."
Although several breakthroughs in the field have led to a standard manufacturing method, the status quo is not good enough to scale. In short, the process involves growing graphene on sheets of copper, and then removing the graphene in an acid bath. The acid eats away the copper, and a sheet of graphene remains.
The process is wasteful, toxic, and time-intensive.
"It's kind of a hideously ungreen process, and as a result it's very expensive," said Lipomi, who serves on Grolltex' scientific advisory board.
While a student at UCSD, Zaretski came up with a patented methodology to remove the graphene without destroying the copper. In fact, the company can reuse the copper over and over, saving a boatload in material expenses.
"By a funny quirk of science, as it happens you get better and better quality graphene the more times you use that same copper," Draa said.
The process is faster and less expensive than industry standards and can be made with tools that exist in industry today.
Draa said the hope is to eventually license the technology to manufacturing giants in the electronics industry. Phase one of the business, however, is selling sheets of graphene on copper to R&D labs. The company already has an e-commerce model set up and will begin selling the material next month.
No More Cracked Phones
There are potentially limitless applications for graphene in every industry, but Draa said his eye is on the mobile device market to start.
"The display industry is low-hanging fruit," Draa said.
Today, displays are made from a material called indium tin oxide. It's expensive, it's made of a rare earth metal, and it's brittle.
"Everybody knows their cell phones crack if you sit on them," Draa said.
Graphene is a "plug and play" replacement for indium tin oxide. Samsung used it in its experimental foldable phone design.
Lipomi said the applicable market for an indium tin oxide replacement is "huge," as applications could apply to the medical device market, the solar market, and several others outside of electronics displays.
"I don't see this as a niche thing," Lipomi said. "It's a ubiquitous technology and gigantic market opportunity."
If anyone has the experience or clout to scale Grolltex, it's likely Draa, a longtime semiconductor executive in San Diego. His resume includes giants such as KLA-Tencor Corp., ASML, Lam Research Corp., and Mitsubishi Electric Corp.
He also has experience in entrepreneurship, working as chief strategy officer of growing tech startup Peachjar and serving as the chairman and president emeritus of Southern California's angel investor group Tech Coast Angels for the past decade.
With Draa and Zaretski's combined experience, Grolltex has managed to secure several patents, $1 million in startup capital from TCA angels and UC San Diego's Triton Technology Fund. They expect to see revenue in a matter of weeks.