Turtle Beach Corp., the San Diego company that provides gaming headsets and audio accessories for video game consoles, is experiencing explosive growth.
The company is reporting a 185 percent growth in its first quarter this year with $40.5 million, compared with last year's $14.4 million.
Its growth is a result of a boom in e-sports, or the professional competitive online gaming industry.
Several market research firms are forecasting e-sports to reach revenues in the billions as mainstream audiences, sponsorships, advertising, media rights and content licenses are drawn in.
Newzoo, a market intelligence provider headquartered in Amsterdam, reports the global e-sports economy will continue its growth pattern, reaching $905.6 million this year. By 2020, Newzoo is estimating the industry will reach $1.4 billion.
While San Diego may not be a driver in the rise of e-sports it definitely has its players.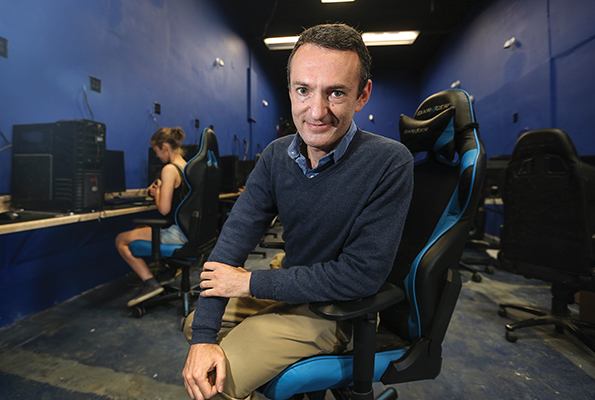 GameSync
The walls are painted a deep blue. Running along the walls are tables and desks loaded with PC towers, screens, keyboards and oversized mouse pads.
At the front counter are assorted items for sale: Snickers, Butterfingers, Corn Nuts, beef jerky and sodas — the snacks of gamers.
Agragati Siegel is the owner of GameSync, one of only a few gaming centers in the county. It just had a soft opening at its new location a few months ago. There's work still being done on the inside. But the gamers are there.
Siegel will tell you he's not surprised by the e-sports industry growth — because he's seen it. From last year, when he closed the doors on his old gaming center location, to today, he's experienced a 300 percent to 400 percent growth.
"Between 2012 and 2017, it was probably 20 to 30 percent growth, year-over-year," Siegel said. "But then from there, to this point, it just really took off."
Siegel used to own, San Diego PC Help in Mira Mesa, a technical repair shop.
He said it was a successful company, competing with the likes of Best Buy's Geek Squad.
But in 2008, the Great Recession hit, and the industry died, he said.
By 2012, he was looking for new ways to expand, so using the computer equipment he already had, he transformed the business into a gaming center.
In 2012, Siegel said no one was talking about e-sports.
"By 2013, 'League of Legends,' had really taken off, and then they were (talking about it). And so I just continually bootstrapped the business from that point on," Siegel said.
Putting in his own money, and revamping the business three times over, he decided the location was a hindrance to success.
Now, with its new location on Opportunity Road, Siegel is feeling confident. And he's looking for investors to help expand.
GameSync has two revenue streams: the walk-in, pay to play customer, and the other from private party rentals, largely birthday parties for kids.
"It's the next step beyond Chuck E. Cheese," Siegel said. "The birthday party model for us is incredibly powerful, and … scalable."
Industry Growth
William Arrington, an advisor to Siegel, believes the e-sports industry might even hit the billion-dollar mark this year, thanks to 300-plus million people interested in it already.
"It's the biggest thing in terms of sports, outside of the NFL in the U.S.," Arrington said.
He added that he thinks, on a worldwide scale, reaching an audience of 500-plus million by 2021 is doable.
"It's driven largely by China and the U.S," he said.
North America remains the largest e-sports market, with Newzoo projecting revenues of $345 million in 2018; Western Europe is expected to follow with $169 million; China's revenue is estimated to come at $164 million.
A Mainstay
The industry's core demographic ranges from ages 14 to 25, according to Arrington, adding that it isn't just millennials and Generation Z — those that are already technologically savvy — but it extends into people in their 40s and 50s that are watching and playing these games.
"I wouldn't call it a trend anymore," Arrington said. "It's solidified itself as a mainstay."
There's no shortage of customers, agreed Juergen Stark, CEO of Turtle Beach.
"People think that gaming is just teens and low-20s. That is not the case at all. There's (people in their) 30s, 40s and 50s — that are gamers."
Stark is another businessman who isn't all that surprised by the growth of not only e-sports but the gaming headset market.
Stark attributes his company's growth, in part, to the console gaming headset market, overall, being up significantly year-over-year — driven by games such as "Fortnite" and "PlayerUnknown's Battleground," which are drawing more and more players who tend to rely on headsets to enhance the gaming experience.
"Along the way, while the market has been very strong, we've outperformed in just gaining share. I think that's largely attributable to the fact we have high-quality headsets at every price tier for every gamer," Stark said.
San Diego's Role
San Diego has always taken a slight backseat to Los Angeles and Orange County where the game publishers are largely based, Arrington explained.
Still, other San Diego companies are in the mix: Jinx, a clothing line that caters to the gamer crowd with video game themed apparel, Psyonix, an independent video game developer, and Daybreak Games, a game publishing company, owned by Jason Epstein, which has released several multiplayer online games, including "H1Z1" and "Everquest."
Meanwhile, GameSync sees itself as an e-sports training center enabling young players to hone their skills and possibly go pro. Siegel knows that 99.9 percent of the players won't become professional gamers, but they still have a passion for it.
Siegel views the e-sports world just like a traditional sports world, as a model to build on.
"There's teams, there's coaches, there's after school leagues for kids, there's support systems, there's tournaments, there's money involved," Siegel said. "That's what we're trying to do here, is we're trying to fill in that whole piece."