Kevin Gunderson was employee No. 7 of 6,000 at Illumina. He led the company's advanced research group for almost 18 years, helping create its first $1 billion product line.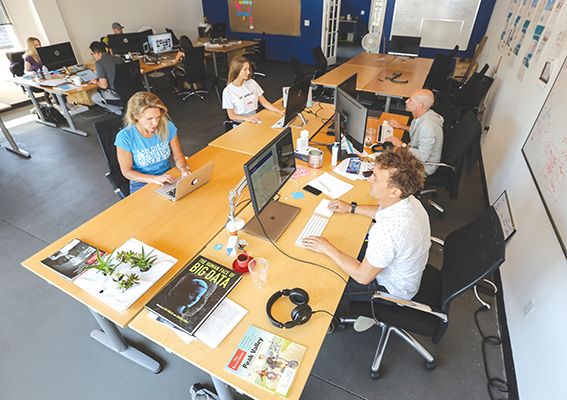 In 2016, he left that perch. While holding Illumina in high regard, startup culture called to him. So did an emerging field.
"It was time to do it again," said Gunderson, the co-founder and chief technology officer of Encodia, which started with a handful of employees in 2016, quietly growing to 32 workers.
Encodia is part of a wave of San Diego genomics startups created and led by former Illumina bigwigs. Most of at least nine local upstarts with an Illumina pedigree have surfaced in the last two years, a sign of San Diego's already renowned genomics market maturing.
Illumina — maker of sequencing machines used by everyone from Ancestry.com to clinics determining the best medicines for patients based on genetic makeup — is San Diego's largest biotech with a $52 billion market cap. Sheer size is but one reason for spawning upstarts.
New frontiers opened up with the plummeting cost of decoding a human genome, a feat in which Illumina played a large role. But the company can only cover so much uncharted territory.
"It's such a broadly applicable technology that it's not so difficult for people to come up with ideas that are novel but maybe not so big that Illumina would have to jump on them right away," said Shawn Baker, creator of SanDiegOmics.com, a genomics consulting company.
Encodia found such a niche: advanced proteomics, a relatively new way of analyzing proteins in a cell. Proteomics is seen as among the next big things in precision medicine — tailoring treatment to an individual based on a precise view of genes and proteins.
Encodia and other genomics startups buy Illumina systems, explaining why Illumina doesn't seem to be sweating losing talent. Not to mention, observers said, the company has the cash to buy promising upstarts.
"To unlock the full potential of genomics, we need diversity in thinking, both within Illumina and outside," Aimee Hoyt, Illumina's senior vice president and chief people officer, said in a statement.
"We have seen employees leave and start new companies that will then use Illumina's technology to support their respective businesses. We are grateful that our alumni continue to push the boundaries of what is possible through genomics, helping to solve the toughest challenges in the human condition and inspire hope for people around the world."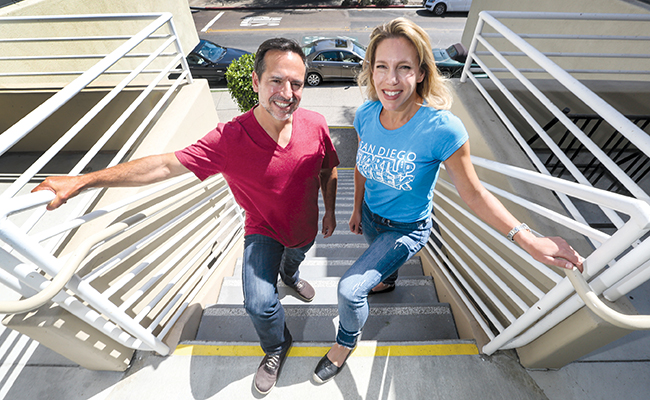 For Illumina, the challenge is continuing to blaze ground while retaining its firm grip on core markets like oncology and prenatal testing. Its moonshot ventures include Grail, a San Francisco spinoff that wants to detect different cancers from blood tests.
But even Illumina has bandwidth limit, meaning not only unpicked low-hanging fruit, but "rotting fruit on the ground." So said Julie Collens, previously Illumina's associate director of complex disease market development, recalling a former colleague's comments.
Collens pushed Illumina to marshal more resources toward neurodegenerative diseases. But she eventually figured a standalone company best suited her ideas, a catalyst for Vivid Genomics, where she's CEO and co-founder.
"If Illumina was responsible for writing the alphabet, Illumina can't also be responsible for writing every single book," Collens said.
Vivid, housed in the San Diego incubator JLABS, is employing genomics and machine learning to develop assays to non-invasively screen patients for clinical trials in neurodegenerative disease. Identifying disease pathways to predict drug response is another specialty.
For these startups, why stay in San Diego? Boston and San Francisco routinely rank alongside San Diego as the top genomics areas. Farther away, Chinese companies, backed by the government, are investing billions into genetic research.
It helps that former Illumina employees already laid down roots here.
Collaborative Spirit
More than that, San Diego businesses occupy each step of genomics supply and value chains, driving efficiencies. That was the take of Dawn Barry of Solana Beach-based LunaDNA, adding a collaborative spirit ties the companies together.
"The people who operate these companies don't operate in silos. We actually talk to each, we support each other, we look for ways to collaborate to succeed," said Barry, Luna president and co-founder. She and CEO Bob Kain are ex-Illumina executives.
Luna's mission is to entice people to share their DNA data for medical discoveries by compensating them. Under the yet-to-launch service, an individual's shared data contains nothing that would personally identify them, the company says.
The company, which surfaced late last year, has 10 employees and has raised $4 million so far.
"The majority of us on our team have spent our careers in genomics making it cheaper, faster, better. Now we really want to put the data to work," Barry said.
As do other companies, made easier by the falling cost of genome sequencing to under $1,000, with line of sight on the $100 genome. In 2004, the cost was about $10 million.
Encodia: Specializes in advanced proteomics, a big deal in precision medicine, which tailors treatment to an individual. Year founded: 2015
• LunaDNA: Seeks to entice people to share their DNA data for medical discoveries by compensating them. Year founded: 2017
• Cradle Genomics: In non-invasive prenatal testing, wants to develop tests that are broader, less expensive and for earlier stages of pregnancy. Year founded: 2018
• Vivid Genomics: Employing genomics and machine learning to, among other things, non-invasively screen patients for clinical trials in neurodegenerative disease. Year Founded: 2018
• Solana Biosciences: Provides genomics manufacturing services; acquired Sept. 5 by Inscripta. Year Founded: 2017
• AllSeq: Facilitates a marketplace in which companies bid on sequencing projects. Year founded: 2013
• ChromaCode: Leverages algorithms and other technology to bolster signal processing of life science instruments. Year founded: 2012
• Omniome: Developing a sequencing platform to advance, among other things, cancer diagnostics. Year founded: 2013
• Verogen: An Illumina spinout focused on criminal casework and other forensic applications. Year founded: 2017
Illumina helped spur the plummet, outpacing even Moore's law, which famously predicted that the processing power of computer chips will double every two years on average.
San Diego's growing genomics scene also spawned contract businesses playing utility roles.
Noting this was Tom Rosso, among the Illumina veterans who launched Solana Biosciences in 2017. The San Diego company, which was acquired Sept. 5 by Colorado-based Inscripta, has provided genomics manufacturing services to smaller companies that don't want to build a factory.
Other factors explain a rise in ex-Illumina startups.
Michael Pellini, managing partner of San Diego-based venture fund Section 32, noted a coming of age. San Diego's life sciences, he said, appears to be reaching its adolescence, a period in which older hubs like Cambridge, Massachusetts, thrived.
Genomics as a whole, too, has matured.
"We are now roughly 20 years post-sequencing of the human genome, and we've learned a tremendous amount. In health care, life sciences, biotechnology, it generally does take time to understand how all these pieces fit together to ultimately improve human health," Pellini said.
As an advantage over other areas, he said San Diego is home to current and former Illumina talent with a track record of shepherding genomics into uncharted territory.
"They've set the stage for what's going to be an incredible coming five years and beyond in the San Diego life sciences market," Pellini said.
Baker of SanDiegOmics.com, also formerly an Illumina employee, concurred on the bright future. But, he said, Illumina could do a better job nurturing the ecosystem by establishing a San Diego version of its startup accelerator program, which is in San Francisco.
In addition to that program, San Francisco's Illumina Ventures invests in genomics startups, including in San Diego.
Bigwig departures can signal trouble, but interviews with startups and observers didn't reveal any discord. In addition, financials show Illumina crushing it.
The company's stock on Sept. 10 stood at $349.37, up 55 percent since year's beginning. Quarterly reports keep beating analyst expectations, reinforcing the company's dominant position.
Baker said it's natural to see exits after a company grows so fast. That was the case for him. After Illumina, he co-founded in 2013 the sequencing marketplace AllSeq, preceding the recent cluster of startups.
"As the company gets bigger and the market gets more mature, the company acts a little different. So people kind of lose that entrepreneurial spirit and they want to try and capture it again," he said.
Tristan Orpin doesn't exactly fit that narrative.
He was at Illumina for 14 years, most recently as executive vice president of clinical genomics, leaving to oversee his home's construction and take it easy. But Orpin pulled himself out of a short-lived retirement to head Cradle Genomics, an under-the-radar company with lofty plans.
With 10 employees currently, Orphin hopes for 60 to 80 workers in a year. Cradle, which licensed technology from Wayne State University in Michigan, is relocating from Detroit to San Diego.
"There are a lot of good reasons why. We have an enormous base of not just companies like Illumina but other great companies and institutions you can pull from to build a successful biotech," Orpin said.
Cradle wants to transform what's called non-invasive prenatal testing, which screens for fetal chromosomal conditions like Down syndrome before a baby is born. The company is developing tests that aim to be broader, less expensive and for earlier stages of pregnancy than competitors.
While Illumina is in prenatal testing, Orpin said Cradle aims to open a new market.
"The reason I'm back doing something is that the opportunity that was presented to me was emotionally, as well from a business perspective, so compelling," Orpin said, adding with a laugh, "I got sucked back in."
READ MORE: Illumina's Progress Creates Encouraging Ecosystem for Others