Dan Magy flipped the light switch on in one of the company's testing rooms.
On the floor, scattered among wires, boxes of motors and drone parts were two of the company's original prototypes.
"Our humble beginnings," he said, picking them up and moving them to a safe place for fear they'd be accidentally thrown away.
Magy, 32, is co-founder of Citadel Defense, a counter-drone company based in National City that is gaining interest and attention for its proprietary drone targeting system.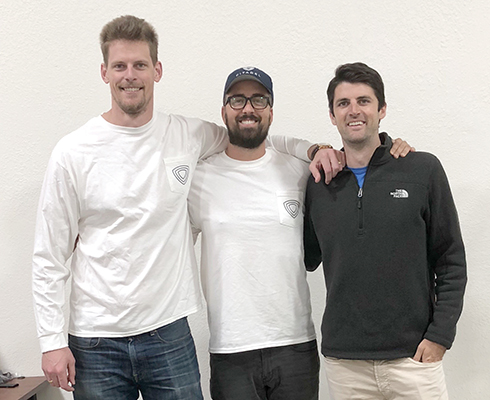 Playing Defense
Founded in 2016, Magy, along with co-founders Joey Makol and Henrik Borgstrom, began the company after hearing the need for counter-drone defense from an unlikely group — sports venue heads of security.
Magy's first venture, Fanpics, which brought robotic camera systems into sports venues to photograph people in the crowds and sell them, put him in touch with security at the venues, and eventually led to the idea of Citadel Defense.
He'd heard how sports venues were starting to have a problem with drones.
Founders: Dan Magy, Joey Makol and Henrik Borgstrom
No. of Local Employees: 20
Investors: Lightspeed Venture Partners
Headquarters: National City
Company Description: Counter drone technology
Keys to Success: Rapid innovation and customer satisfaction
That piqued Magy's entrepreneurial spirit and he began asking questions, including what the ideal counter-drone system would look like.
The counter drone market at that time was limited, Magy explained, with just very large defense contracting companies producing equipment that was overpriced and oversized.
He dived into how drones were able to communicate with their operators. And with Makol and Borgstrom, both of whom have extensive experience in the drone industry, they found a smarter way to create a new defense system.
"We took (Makol and Borgstrom's) understanding of big drones and little drones and decided to form a company," Magy said.
That was two years ago.
'Lost Link'
"What we're doing is very complicated," said Magy. "You're basically mixing hardware, software and digital signal processing together."
The technology allows for a system that scans the airwaves for RF (radio frequencies) that are associated with the drone's control link, he explained.
Where Citadel Defense sets itself apart from the other companies in the industry, Magy says, is that it focuses on two things: its machine learning algorithms and its low-impact mitigation.
The system can essentially place the flying drone into the "lost link" operations feature, which halts the drone from advancing at the pilot's control, rendering it virtually useless and leaving the pilot the option of having it return to where it was launched from.
The system can be autonomous or human controlled.
National Defense
Less than a year ago, Citadel Defense still had sports stadiums in mind as its biggest potential clients.
However, according to Magy, there are a ton of legal issues for deploying counter UAS (unmanned aircraft systems) technology.
The military's special operations community found the company — Magy still doesn't know how — and military began testing the system. Then, the military started buying the products.
Enemy groups, such as ISIS, have started using commercial-grade drones in order to drop bombs on allied military troops, especially in Mosul, Iraq.
"(The military) has a threat that changes every 90 days, and they need to work with small, agile companies to solve that problem," Magy said.
Citadel Defense's systems are now deployed in active combat zones — locations couldn't be disclosed.
The Competition
Big players such as Raytheon, Boeing and Airbus Defense are working on counter drone technologies, along with a handful of smaller companies also trying to solve the problem.
Citadel Defense is focusing on defending against the commercially-available drones that can be purchased at hobby or electronics stores.
To date, the company has about half-a-dozen government and military groups that have invested in its technology.
"It's usually really hard for small companies to get in, but we have some good past performance on our technology. They're happy with it," Magy said.
But he said what they're doing is an "unbelievable representation" of what a public/private partnership can do.
"Drones are not going to go away," said Magy, adding that in San Diego, ballparks and airports have drone issues.
In Balboa Park, for instance, Magy said he sees drones flying on a regular basis.
"That is right underneath an active flightline," he said.
He knows hobbyist drone pilots want to get good video footage, but he tempered that by saying he didn't want to know what a lithium ion battery could do to a jet engine.
He also cited drone issues occurring at San Diego's shipyards, MCAS Miramar and along the U.S.-Mexico border.
$12 Million Series A
Citadel Defense received $12 million in a Series A financing round in February from Lightspeed Venture Partners, led by the venture capital firm's partners John Vrionis and Larsen Jensen.
"I was thrilled to invest behind Dan (Magy) and his world class team," Vrionis said in an email.
"Citadel (Defense) is by far the leading company in the counter UAV (unmanned aerial vehicle) space which is quickly becoming a critical layer of security for commercial and military use cases. We are partners for the long haul and hope to advise, support and help build Citadel with Dan through the years ahead."
Magy said he previously raised $1.5 million in seed funding from family and friends.
The money from Lightspeed has allowed the company to hire a vice president of sales and business development and more engineers.
"We look at that money as allowing us to harden the product, put the right team in place, and go get a number of 'gold star' referenced customers that are happy with our product," Magy said.
Federal Rules
"The guidelines are there. They are what they are," Magy said of FAA drone regulations. "There's a number of things that are stopping counter UAS systems from being deployed commercially."
He said there are other counter-drone companies out there ignoring the guidelines, which he added, puts them at risk of dealing with what are basically felonies.
"We don't want to do that," he said. "We would rather play it safe and wait for the laws to change legally before we take any action in that arena."
In March, the Oceanside Police Department received a counter drone jamming gun from the Yorba Linda-based company, IXI Technology. The company donated the rifle-like "drone killer" to the department. Oceanside police said it is the first law enforcement agency to use the counter drone technology.
Magy explained that while federal regulations in the industry are slow moving, it's a bipartisan issue on which everyone agrees something needs to happen.
Once it does, it could be a potentially huge market for the company.
"We believe it will happen in a few years," he said.