Joyce Glazer
Recent Stories
LAW: Proliferation of Lawsuits Emphasizes Scope of the Problem
A tidal wave of new lawsuits claiming retaliation against so-called whistleblowers has been hitting business owners in recent years.
The Ronald McDonald House Charities of San Diego raised $660,000 at its ROMP Gala at the Rancho Valencia Resort. Proceeds will help RMHCSD provide critical support services to families with hospitalized children. The ROMP 2012 "Once Upon a Time" gala featured musical guests Boyz II Men.
The University of San Diego received a $7 million donation from J. Robert Beyster, founder of SAIC, and his wife Betty to fund the Betty and Bob Beyster Institute for Nursing Research, Advanced Practice, and Simulation.
The YWCA 2012 "In the Company of Women" luncheon is being held at the San Diego Marriott Marquis & Marina.
The San Diego Archaeological Center received a $25,000 challenge grant which will match every dollar contributed to the center through June 30.
The Salvation Army Women's Auxiliary will recognize 15 women at its 47th Women of Dedication luncheon set for March 28 at the Sheraton San Diego Hotel & Marina.
The Ocean Discovery Institute is one of three organizations in the United States to receive the 2010 Presidential Award for Excellence in Science, Mathematics and Engineering Mentoring.
The Escondido Charitable Foundation granted $90,000 to local organizations that focus on workforce development.
Big Brothers Big Sisters of San Diego County held its 50th Annual Gourmet Dinner on Oct. 6 at the Hyatt Regency La Jolla at Aventine.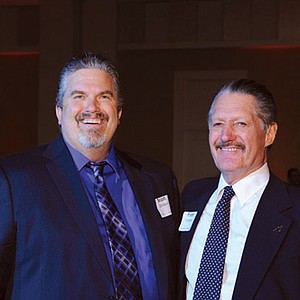 The New Children's Museum's Sambas for a Purpose gala was held at the museum Aug. 27 with Michael and Lisette Farrell as chairs and Olivia and Peter Farrell, founder of ResMed, as honorary chairs.