Jay Harn
Editor-in-Chief
Recent Stories
SDBJ Insider
As of this week, the city of San Diego is restarting business compliance visits as it seeks to help local businesses comply with temporary outdoor business operation requirements.
SDBJ Insider
The San Diego Workforce Partnership along with help from the city of San Diego, is expanding three workforce training programs that help underrepresented communities secure quality jobs and help them start meaningful careers in both he public and private sector.
NONPROFIT: He Says It Is a Privilege to Serve Such a Reputable Organization
Dan Shea has been CEO of Feeding San Diego since November 2020, the county's leading hunger relief and food rescue organization. He served as interim CEO starting in July 2020.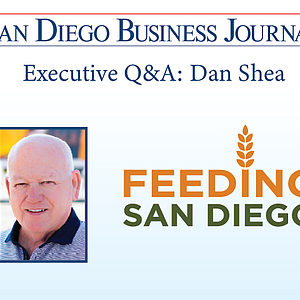 SDBJ Insider
The Scripps Mercy Family Medicine Residency Program will be receiving $2.85 million in grant funding from the Health Resources and Services Administration.
SDBJ Insider
The innovative nonprofit Cristo Rey San Diego High School recently completed its first year supporting low-income students.
Part of Continuing Commitment to Cybersecurity Information
As part of its continuing commitment to informing and helping its readers understand the complexities of cybersecurity, the San Diego Business Journal is partnering with the Cyber Center of Excellence for a special cyber panel discussion that will be available to view on sdbj.com on July 26.
SDBJ Insider
Bank of America has announced more than $700,000 in grants to 30 San Diego nonprofit organizations that they say will help drive economic opportunity and upward mobility for individuals and families.
SDBJ Insider
The Hilton San Diego Bayfront hotel will be the scene of a unique fundraiser on July 17.
SDBJ Insider
The Lawrence Family Jewish Community Center Jacobs Family Campus has received a $5 million donation from Joan and Irwin Jacobs.