Picture this: you're graduating college in the spring of 2008. You have no job, no prospects, and looming student loan payments that will drain your bank account in a matter of months.
"Everyone was getting laid off," said Andrew Lane, a millennial who entered the workforce during the height of the Great Recession. "Very qualified people were out of work, and they were taking entry-level positions. So I couldn't get in anywhere. I couldn't even get a job waiting tables."
Lane delivered papers, painted houses, and washed dishes for three years trying to make ends meet. Eventually, he realized entrepreneurship was the best way to pay the bills.
"I didn't see much potential in corporate America anyway," Lane said. "Older and more experienced people were out of work just like me even though they had invested 30 years into the corporate world. They lost everything they'd worked for their whole lives. That route seemed riskier than taking the initiative myself to build my own business."
Lane, 30, leveraged skills in graphic design to found 22Social, an internet and social media marketing company. He tracked down a few clients to get started, and partnered with other independent web developers and designers to grow his business.
Today, he works out of the trendy coworking space WeWork in downtown San Diego, earning enough to support the eight individuals who now make up the design studio.
Millennials Become
Entrepreneurs Younger
(And More Often)
His story is typical of many millennials who entered the workforce during the worst economic climate in recent history. Entrepreneurship doesn't look so risky when you're facing unemployment.
That's partly why millennials are more likely to pursue entrepreneurship than any generation before them, according to a 2016 study by banking group BNP Paribas. Millennials are discovering entrepreneurship significantly earlier than baby boomers did, the study found. While the older generation launched their first businesses at roughly 35 years old, millennial entrepreneurs are setting out at around 27.
The report also found that millennials are not only starting younger, but they're starting more businesses than their parents. Millennials launched about twice as many ventures as boomers — nearly eight companies each versus three to four for boomers.
'Perfect Storm' for Starting Up
There are a lot of reasons why millennials are more likely to be entrepreneurs than previous generations, according to the report. Several factors aligned at the same point in history, which Lane calls "the perfect storm for starting up."
For starters, unconventional thoughts on work/life balance started to enter the mainstream around the same time as the recession. The popular book "The 4-hour Work Week" by Timothy Ferriss was published in 2007, and Lane gravitated to those ideas.
"This information was coming out while I was in college, and it really resonated with me," Lane said.
At the same time, mobile technology was advancing dramatically. Top-performing laptops, mobile phones, and cloud services came on the market, allowing nearly anyone to work independently.
Millennial Attitudes and Values
The bad job market, cultural shifts in the workplace, and fast-developing technology all are the likely motivators for millennial entrepreneurs. But Cam Adair, the 28-year-old founder of social impact venture Game Quitters, said there's more to it than practicality. To him, it's more about the millennial attitudes and values. Independence and freedom from workplace convention was a major motivator for Adair.
"I'm pretty bad at listening to arbitrary rules that people have made up," Adair said.
And he's not alone. If past generations dreamed of the prestige (and salary) that comes with an executive's corner office, the dream of the millennial generation is quite different.
According to a survey conducted by Bentley University, only 13 percent of millennials said their career goal involves climbing the corporate ladder. By contrast, almost two-thirds (67 percent) said their goal involves starting their own business.
That desire for independence has likely contributed to the millennial generation's bad reputation among employers. Market research often describes millennials as disloyal and entitled, with an aptitude for frankness that verges on insubordination.
Lane says this attitude is a result of millennials' access to information. With access to the internet through all of their formative years, millennials don't often take anything at face value. It's too easy to do your own research, and make up your own mind.
"Nowadays, you can see behind the curtain," Lane said.
Lower Barrier to Entry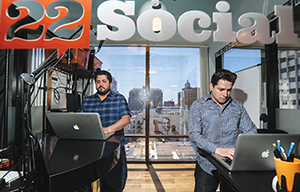 This easy-access to information does more than nurture independence. It also makes millennials more prone to starting up, because every question can be answered online.
"It's not just information that's available," Lane said. "There are resources, too."
Lane and Adair can do their accounting, business registration, and seek legal help online. They can watch tutorials on how to process payroll, or host their software on Amazon Web Services.
All generations can take advantage of these resources, of course, but it's more intuitive for millennials, who have never known a day where they couldn't find what they needed online.
"Millennials grew up 'wired' and 'wireless,' and have never known a world in which technology did not impact, consistently change, and repeatedly shorten timelines of planned obsolescence," said Dan Negroni, CEO of San Diego's millennial-focused consulting group Launchbox.
For Lane, Adair and other millennials, entrepreneurship is a no-brainer.
"Millennials are realizing that starting a company, even if it crashes and burns, teaches them more in two years than sitting in a cubicle for 20 years," said Fred Tuffile, director of Bentley's entrepreneurial studies program. "While they know their chances of creating another Facebook are low, they do think it's fairly easy to create a cool startup."