A group of millennials is edging its way into the startup community's leadership, reshaping San Diego's startup culture and filling a void in the region's business community.
Many of these young leaders are one- or two-time entrepreneurs who founded startups in their 20s, and found resources in San Diego lacking.
These millennials have been organizing quietly for years, founding the city's biggest annual startup event — San Diego Startup Week. The event grew from a couple hundred attendees in 2012 to attracting over 3,000 people last year. The popularity of the event spurred the young organizers to form a nonprofit, Startup San Diego.
Co-founder Austin Neudecker, 32, said Startup San Diego was formed by "a group of concerned and devoted entrepreneurs… who were frustrated with the fiefdoms of old."
The Old Guard
When it comes to incubators, accelerators, and other organizations meant to support entrepreneurship, San Diego's community has a reputation for being "old school."
Startup organizations including CONNECT, San Diego Venture Group, EvoNexus, and Tech Coast Angels all have been criticized by young founders.
The primary complaint?
These groups are old-fashioned in their approach to entrepreneurship, and they're ill-equipped to serve tech and software startups.
Leadership and mentorship positions at these groups are often assumed by executives near retirement who had career success in one of San Diego's legacy industries such as biotech, defense, or real estate.
The criticism is not new. In a memorable 2012 blog post later known as "Brant's Rant" by the media, startup community organizer Brant Cooper wrote, "San Diego is dominated by the old school; by people who were instrumental in diversifying San Diego's economy 20 years ago, by former C-level executives of large, successful companies."
He later goes on to say San Diego's startup leaders were chronically out of touch with the needs of new-age startups.
These groups have made many changes in recent years to keep up with the times. San Diego Venture Group brought in several millennials to serve on its board, for example, and Tech Coast Angels hired Ashok Kamal, a young entrepreneur from New York City, to lead the organization's outreach.
Young Blood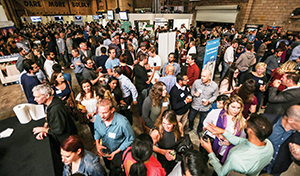 But in the interim, Startup San Diego — and its network of millennial-aged leaders — stepped up to the plate.
The group's leaders say they are well-tuned to trends in Silicon Valley, the failings of other tech startup hubs, and ways to improve San Diego's climate for founders.
"Education is the key," Neudecker said. "We're trying to get people to diversify who their mentors are so that we can catch up to the way Silicon Valley operates."
Other than hosting the biggest startup conference of the year (with 150 events), the organization also offers mentorship programs. The organization's website is a resource for those hoping to get plugged into the startup community, with a calendar of events and a list of community resources, including coworking spaces and incubators.
The group is entirely volunteer-based, with over 75-100 regular volunteers contributing to the organization's operations, said Harrison Schaen, executive director of Startup San Diego.
The vast majority of those volunteers — and almost all of the organization's current leadership — are millennials.