San Diego County's hospitals and health care systems are planning to spend billions of dollars over the next decade to meet state seismic safety requirements, which mandate that some hospital buildings be upgraded, replaced or taken out of service by 2030.
Under the Alfred E. Alquist Seismic Safety Act, a law enacted after some California hospitals collapsed and caused deaths during the 1971 Sylmar earthquake, hospitals are rated for both structural and nonstructural seismic safety on a scale of 1 to 5 (the nonstructural category includes the seismic security of utilities and equipment).
Hospital buildings rated at "SPC-1" for structural safety must not be used after Jan. 1, 2020. SPC-1 means that a building poses "significant risk of collapse and danger to the public." The mandate comes from California's Office of Statewide Health Planning and Development (OSHPD), which enforces seismic safety regulations for hospitals.
SPC-2 buildings, which are not in compliance with the Alquist Act, can't be used after Jan. 1, 2030. Among other characteristics, SPC-2 buildings "may not be repairable or functional following strong ground motion," according to the state office.
A spokesman with OSHPD confirmed there are no SPC-1 hospital buildings in San Diego County, meaning that all local hospitals meet the 2020 requirements. Local hospitals and health systems are in various stages of planning to meet the 2030 mandates.
A 2019 study by the Rand Corp., commissioned by the California Hospital Association, estimated the cost for California hospitals of complying with the 2030 seismic standards will range from $34 billion to $143 billion, depending on whether buildings are retrofitted or replaced. The study estimated that costs for San Diego and Imperial counties range from $3.08 billion for retrofitting, to $12.6 billion for replacement.
Scripps Plans to Spend $3.2B
Scripps Health, which operates five hospitals in La Jolla, Encinitas, Chula Vista and Hillcrest, is in the planning stages for replacing hospital buildings and retrofits to meet the 2030 state mandate, said Bruce Rainey, corporate vice president for construction and facilities.
In all, Scripps will spend some $3.2 billion on the projects. While much of the planned new construction is intended to modernize facilities for the benefit of patients, families and staff, Rainey said, "certainly, seismic (compliance) is the deadline driver."
Projects will include a sister tower to the Prebys Cardiovascular Institute, completed in 2014 at Scripps' La Jolla campus, and eventual demolition of the existing Scripps Memorial Hospital building. At nearby Scripps Green Hospital, some $83 million worth of nonstructural seismic upgrades are planned. Other planned projects include a new main tower at Scripps Mercy Hospital in Hillcrest, and a series of structural and nonstructural seismic upgrades at Scripps' Chula Vista hospital. New construction is also planned at Scripps' Encinitas hospital.
A Planning Challenge
Retrofits to existing hospitals provide logistical challenges that add to both the cost and duration of projects, said hospital officials.
"You have to fly the plane while you're rebuilding the plane," Rainey said.
"Phasing and implementation within an existing, active hospital is incredibly complex," said Greg Zoll, vice president of facilities with Sharp HealthCare, in a written response to questions. Among factors that project planners must consider are utility cutovers, noise, vibration and space limitations, he said.
Work is near completion on a new $244 million tower at Sharp Chula Vista Medical Center, while Sharp Grossmont Hospital recently completed the Burr Heart and Vascular Center.
Sharp HealthCare plans to spend about $2 billion over the next 10 years across all seven of its campuses, including four acute-care hospitals and three specialty hospitals, to ensure the 2030 seismic safety requirements are met, said Zoll. The funds will come from a combination of cash reserves, philanthropy and bond financing.
"Sharp HealthCare has achieved 100 percent compliance for the 2020 requirements, and we are very confident in our system's ability to meet the 2030 compliance requirements," Zoll said.
Different Needs in Hillcrest and La Jolla
UC San Diego Health operates two hospital campuses, one in Hillcrest and one in La Jolla.
In La Jolla, the health system has three hospital buildings, all of which meet the 2030 seismic safety standards, said Randy Leopold, senior director for health care project management. The oldest of the three buildings, the Thornton Pavilion, was completed in 1992, and the health system completed nonstructural work to meet the 2020 standards, Leopold said. The two newer buildings, the Jacobs Medical Center, completed in 2016, and the Sulpizio Cardiovascular Center, completed in 2011, both are rated at SPC-5, the highest category of seismic resilience.
UCSD's Hillcrest Hospital was originally rated at SPC-1, said Leopold, but was upgraded to SPC-2, meaning it can be used until 2030, after retrofits that entailed wrapping some support columns with a carbon fiber weave, creating an "exoskeleton."
The health system is beginning to strategize for a replacement hospital to be built on the Hillcrest campus in time to meet the 2030 deadline, Leopold said.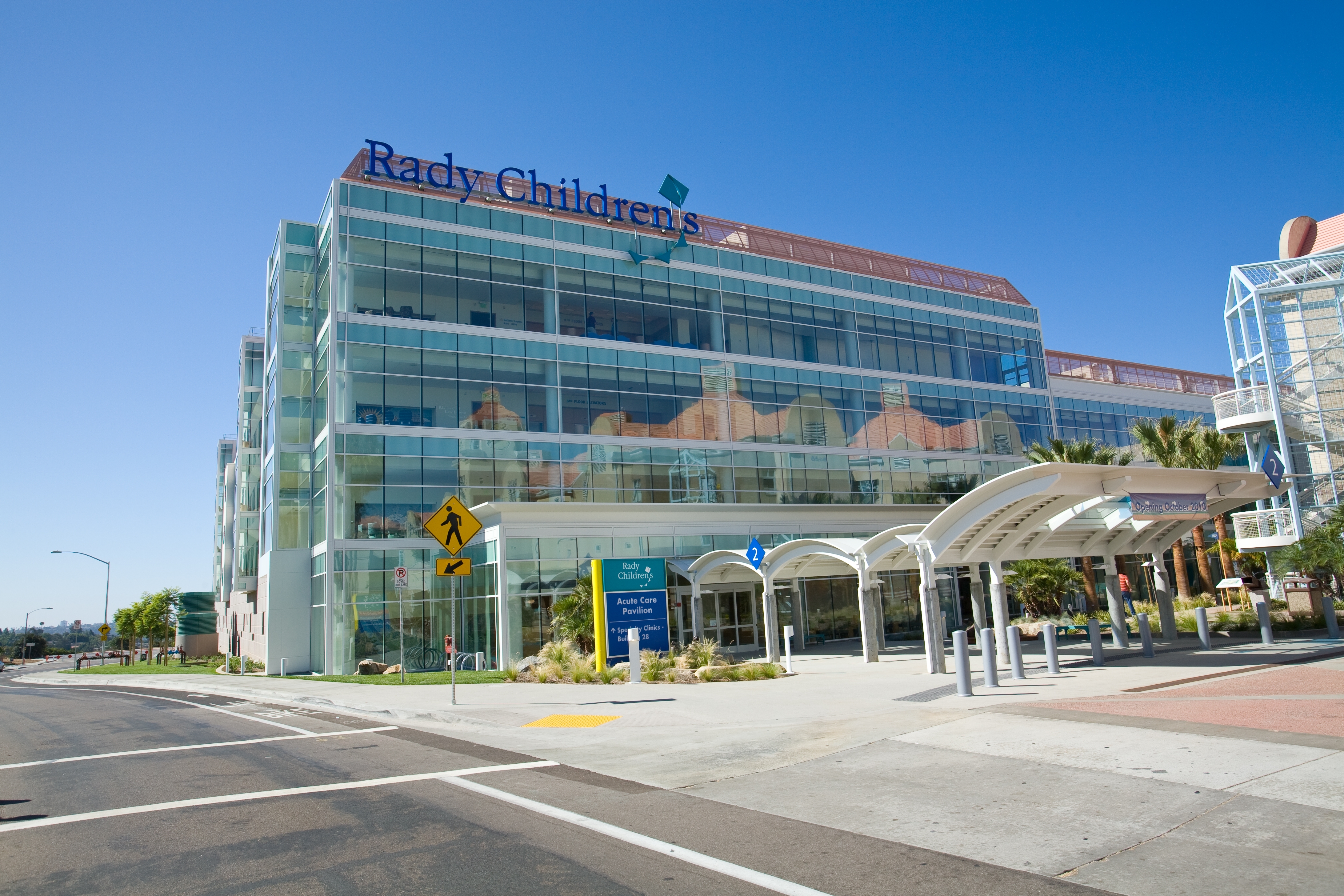 Children's Meets 2030 With New Infrastructure
Rady Children's Hospital – San Diego has four acute-care buildings on its Kearny Mesa campus. Three of the buildings meet the 2030 seismic standards, while the fourth is rated at SPC-2, meaning it must be replaced or upgraded to remain in use after 2030, said Sara Loughead, director of facilities.
The hospital has spent about $7 million on nonstructural upgrades to meet the state's 2020 standards, and is currently assessing long-term plans to meet the 2030 mandates, said Dr. Nick Holmes, senior vice president and chief operations officer for Rady Children's. Most of the work completed so far involved seismic upgrades to electrical, plumbing and gas lines.
Other health systems and hospitals are also planning to meet the state's 2030 mandates. Kaiser Permanente, which operates two hospitals in San Diego including a Kearny Mesa campus that opened in 2017, is not ready to publicly discuss potential upgrades to its older Zion Medical Center, according to a spokeswoman. The Kearny Mesa campus meets the state's 2030 mandates.
Alvarado Hospital Medical Center, near San Diego State University, has no major construction projects planned, said a spokesman. The hospital will soon open a new emergency room, and its newer, west tower meets 2030 standards. The hospital is currently working with structural engineers to determine what upgrades are needed, and at what cost, for its older, east tower, to meet the 2030 mandates.
In North County, a spokesman for Tri-City Medical Center in Oceanside said the hospital is in compliance with state mandates until 2030, and will monitor any changes in state regulations to ensure that it meets requirements beyond that date.
A spokesman for Palomar Health said the health system's hospitals in western Escondido and Poway meet the 2030 seismic mandates, and no additional seismic safety work is needed. A third facility in downtown Escondido will be vacated in the spring of 2020 and demolished to make way for a planned residential development.