ResMed Revenue:
2017: $2.1B
2016: $1.8B
2015: $1.7B
Dexcom Revenue:
2017: $718.5M
2016: $573.3M
2015: $402M
NuVasive Revenue:
2017: $1.02B
2016: $962.1M
2015: $811.1M
Source: Company financial statements. Data compiled by Jared Whitlock.
About a decade ago, Dexcom executives explored a wild idea: a constant reading of glucose levels beamed to a smartphone.
What seemed far-flung became reality several years through Dexcom's quarter-sized sensor worn on the abdomen, which measures blood sugar levels and alerts users when hitting fringe levels.
The latest Dexcom diabetes monitoring doesn't require finger prick blood draws for calibration, and the company moved toward automated insulin delivery, in partnership with another San Diego firm: pump maker Tandem Diabetes Care.
"Being in San Diego gives us the opportunity to work very closely with them," said Dexcom CEO Kevin Sayer.
San Diego's homegrown medical device industry is soaring with partnerships, a proliferation of data and technology breakthroughs. The rise can be attributed as well to an aging population hungry for individualized medicine.
Stock Performance
Looking at third quarter stock performance among the largest public life science companies in San Diego, medical device firms took the top three growth spots. No. 1 was Tandem Diabetes Care, a comeback story built on rising sales of its touchscreen insulin pumps.
In addition, company financials since 2015 show local medtechs on big growth curves. Take Dexcom — the company posted $718.5 million in 2017 revenue, compared with $573.3 million the prior year and $402 million in 2015.
The Quiet Competitors
While many associate San Diego with genomics and drugmakers, the region is also a growing force in medical devices, encompassing everything from sleep monitoring to diabetes care to spine surgery.
Medical device companies plod along, at least compared with drugmakers operating in a world of sharp expansion and contraction that captures public attention.
"Big blockbuster pharma drugs make so much news," said Sayer. "Our technologies get adopted more gradually."
Minneapolis, home to behemoth Medtronic, has long served as the epicenter of medical devices. But San Diego burns increasingly brighter on the map.
"San Diego itself could be considered one of the top three regions across the U.S. for new innovation within medtech," said Margaret Kaczor, an equity research analyst with William Blair, who covers medical device companies.
Kaczor chalked this up to success breeding success, notably Dexcom being followed by other San Diego diabetes companies, including GlySens and Companion Medical.
She also cited bonds between medical device companies, hospitals and research institutions in the quest for better clinical outcomes. ResMed, for instance, in 2015 donated $5 million to UC San Diego for the study and care of sleep disorders.
ResMed — San Diego's largest medical device firm with a nearly $15 billion market cap — makes masks, devices and accessories to treat sleep apnea and other respiratory conditions.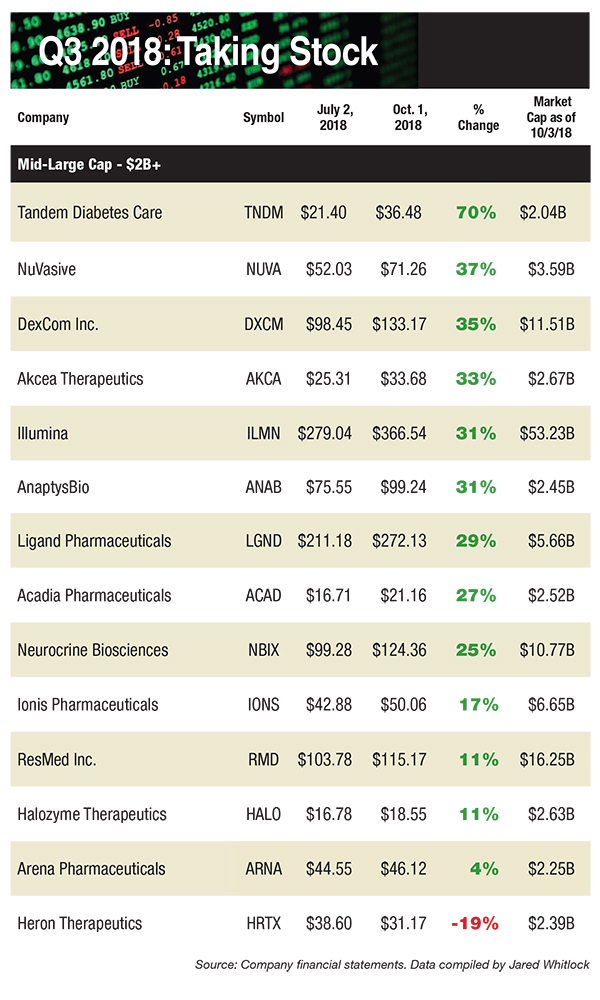 Health Care Cost Considerations
A trend, as well, lifted San Diego's medtech industry.
Kaczor said companies have pivoted away from simply building the latest and greatest tech. They are investing heavily toward ensuring devices save on health care costs. Think reduced hospitalizations or cutting down on length of hospital stays.
"The sector has been fast-growing and arguably one of the best performing sectors on Wall Street over the last couple years," she said.
It's easy to say a device lowers costs and helps patients, but ResMed is armed with the data to prove it. The company blurs the lines between a software and medical device outfit, boasting more devices streaming medical data than any company.
San Diego's talent pool enabled ResMed to build this infrastructure, according to ResMed president and chief operating officer Rob Douglas. He said a critical mass of companies promises good things for San Diego medtech.
"It is a destination now where people would want to go and look at either building a career or building a company," said Douglas. He also has a view of startups in the space as the vice chairman of local startup incubator EvoNexus.
Embracing Big Data
Helping raise the region's medtech profile: ResMed's partnership this summer with Verily, a subsidiary of Google parent company Alphabet.
Their joint venture — based on ResMed's data and Verily's analytics — looks to better reach the millions of Americans unknowingly stricken by sleep apnea, a cause of tiredness and more serious health complications.
ResMed isn't the only medtech in San Diego that's embraced big data. Companies occupying varying niches of medtech are looking to swap data for added health insights. This could spark additional partnerships between San Diego firms.
"I think we're at the beginning of a day where medical device companies will work together more and more, if not directly but indirectly through this data accumulation," said Sayer, the CEO of Dexcom.  
San Diego's medical device industry goes back to the 1968 founding of IVAC, a pioneer of electronically-controlled infusion pumps.
Founder Richard Cramer, who lost control of IVAC in a proxy battle in 1972, launched Imed.
The two companies, after a series of acquisitions, became part of San Diego medtech CareFusion. New Jersey-based Becton, Dickinson & Co., or BD, bought CareFusion for $12.2 billion in 2012, the second largest life sciences deal ever in the county.
Among medical device firms, BD maintains a large presence in San Diego with more than 3,000 employees. Likewise, Massachusetts-based Hologic bought San Diego's GenProbe in 2012, but has 750 workers locally.
Takeover Targets
As with drugmakers, San Diego's medical device companies have been prime takeover targets over the years.
"Thank goodness we've had the success with companies like NuVasive and Dexcom that have been able to break out from the pack," said Joe Panetta, the CEO of life sciences trade group Biocom. "Larger med device companies are always looking for smaller med device companies to acquire."
Founded in Australia, ResMed established San Diego as its headquarters in 2000. Dexcom formed a year earlier here. NuVasive — a spinal surgery and products company that reported $1.02 billion in 2017 revenue — started in 1997 locally.
Beyond roots, what keeps medical device companies in San Diego? And why do medtech startups form here?
Savvy Execs
Panetta said the region has "an incredible bullpen of executives," along with financing experience.
Companies, too, have political might in San Diego.
Of note, Biocom, based in San Diego, lobbied against a 2.3 percent excise tax on medical devices, which Congress in January suspended for two years, and continues to push a full repeal. The California Life Sciences Association, with San Francisco-San Diego offices, has also lobbied against the tax.
But not all is well in San Diego medtech. Vista-based brace maker DJO Global this summer announced plans to relocate its headquarters to Texas, in a statement calling attention to the region's high housing costs. The company will keep a portion of operations here.
Universities Deliver
As a plus, local universities pump out software and biomedical engineers, cited by executives interviewed.
"We're certainly a feeder," said John Watson, a professor and director of bioengineering Jacobs School of Engineering, part of UC San Diego.
In March the biomedical/bioengineering graduate program at Jacobs School of Engineering was ranked second by U.S. News & World Report, among the recognition the school has received in this area. A good chunk of these students go on to work for medtechs.
Watson said the biomedical program keeps up with the times based on market trends and an advisory board, which has included representatives of companies like BD and NuVasive.
Biomedical students, he added, often take computer science classes and complete internships in this arena, recognizing medtech's embrace of software.