Restaurateur Sami Ladeki has a hard time being optimistic about 2018 after his chain, Sammy's Woodfired Pizza, recently outsourced accounting and maintenance operations as a way of coping with higher food and labor costs.
Nevertheless, he plans to open two new locations this year, expanding the San Diego-based chain to 18, in expectations that stockmarket gains and business-friendly changes in Washington, D.C., will put more money in people's pockets.
"We haven't seen it yet. We want to see it," he said. "I don't think we're quite there."
Just wait. Local economists say the year ahead looks strong for San Diego County, with expansion on par with the moderate growth seen in 2017. They share a sense the defense sector and tourism will do particularly well, and that discretionary spending will rise despite mixed impacts from the new federal tax overhaul.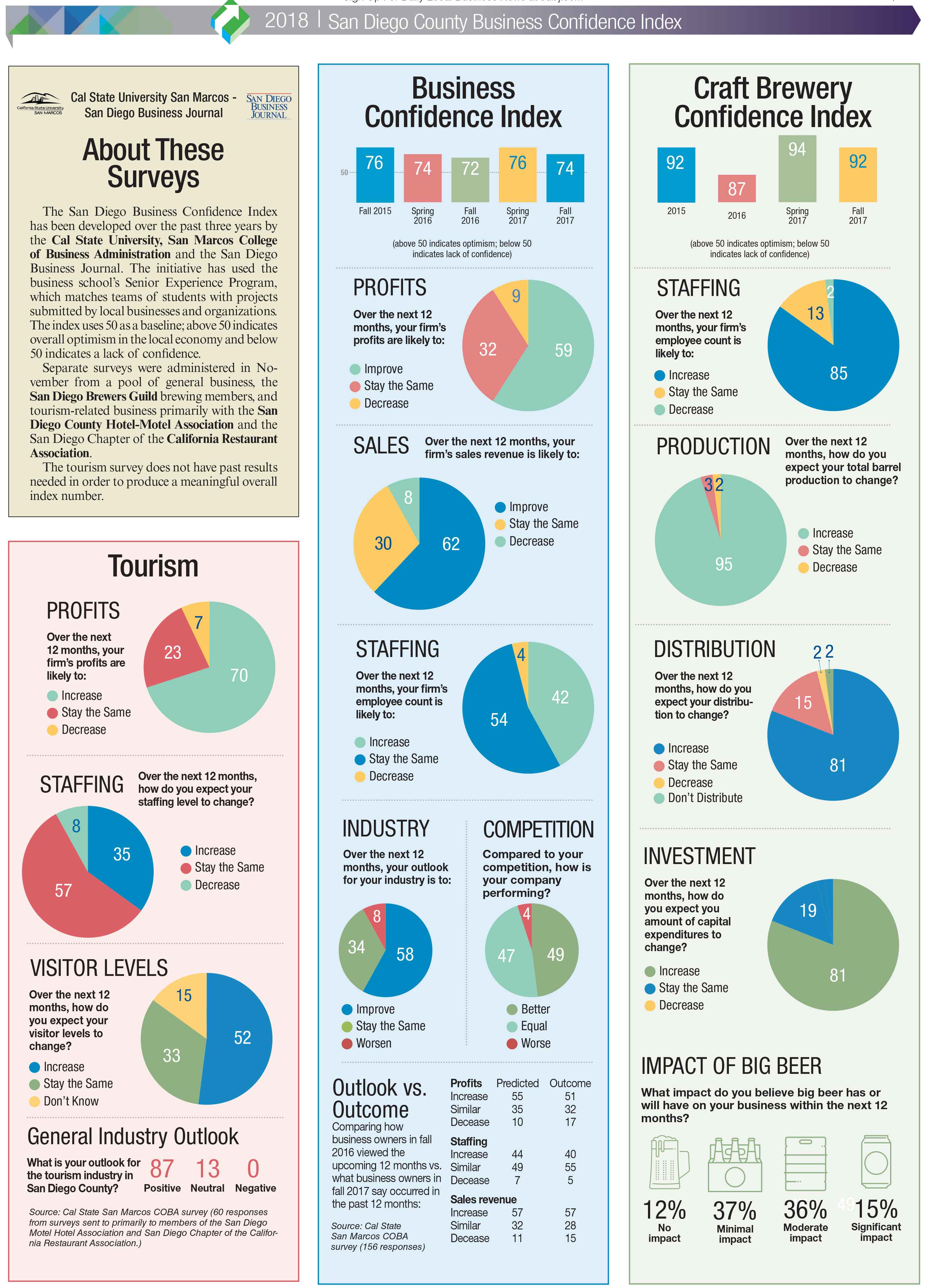 But don't count on the same level of growth seen as recently as 2015, when San Diego County added nearly 40,000 jobs. About half that many positions will be created countywide in 2018, a handful of economists contacted by the Business Journal predicted.
"It does seem we're reaching a plateau of sorts," said economist Sean Karafin, vice president of public policy and research at the San Diego Regional Chamber of Commerce. He predicted moderate growth in 2018, slightly less than 2017's pace, which was positive but by some projections slower than 2016's growth.
At Full Employment
With joblessness at a 17-year low in November, at a seasonally adjusted 3.4 percent, the county is effectively at full employment. Therein lies a problem for coastal areas like San Diego: Growth businesses will need to attract talent from outside the area — but there aren't enough homes and apartments workers can afford to live in.
University of San Diego economist Alan Gin sees irony in the way job growth is being inhibited by housing affordability. He predicted continuing slow growth of about 20,000 jobs in 2018, or 1.5 percent, but warned the region's housing imbalance remains its "major economic problem."
John Asdell, San Diego-based regional vice president for professional staffing company Robert Half, said employers have long relied on the area's high quality of life to help them attract talent from outside the area, especially when wages are the same or lower than in other areas. But that's starting to change.
"We're seeing that professionals who have lived and worked throughout Southern California are clear that they would prefer to live and work in San Diego," he said by email, "but the opportunities in markets like Orange County and Los Angeles are very attractive from a compensation perspective."
Until employers can offer "competitive compensations," Asdell wrote, "developers may be slower to invest in large scale residential development that would help with the affordable housing shortage."
Military Spending
Without question, military spending will continue to drive San Diego County's economy in 2018. The Department of Defense spent an estimated $25.2 billion regionally in fiscal 2017, according to the most recent study from the nonprofit San Diego Military Advisory Council. Study authors see that growing by $900 million to $26.1 billion this year. The figure includes salaries, retirement benefits and veterans' benefits, on top of procurement.
When it comes to procurement, what exactly is the Defense Department buying? Aircraft, ships and a variety of products and services. By itself, procurement is expected to grow 1½ percentage points, from $9.38 billion in fiscal 2017 to $9.52 billion this year.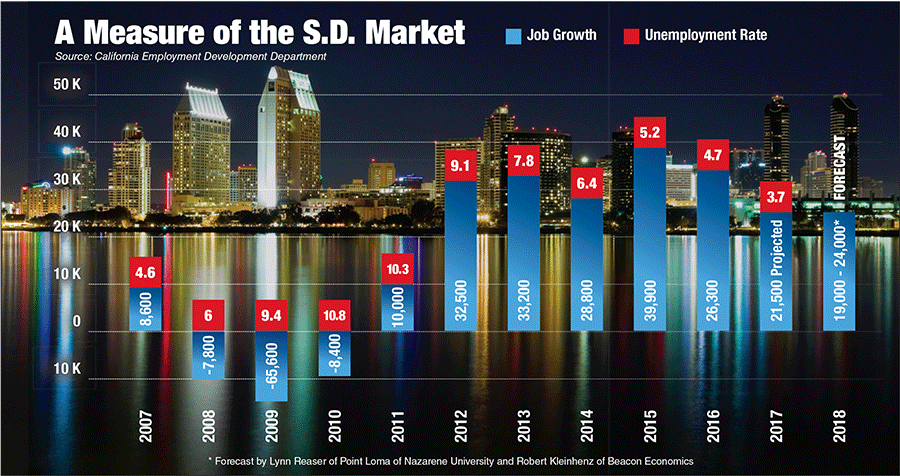 General Atomics Aeronautical Systems Inc. of Poway is expected to spend 2018 delivering versions of its unmanned Predator aircraft to its U.S. Air Force and U.S. Army customers. It is also in the running to build the MQ-25 Stingray aerial refueling unmanned aerial vehicle (UAV) for the U.S. Navy. Northrop Grumman Corp. will run several unmanned aircraft programs out of its Rancho Bernardo office.
General Dynamics NASSCO plans to hire "north of 500" hourly tradespeople in 2018, the bulk of them in the summer, a spokesman said. In September, NASSCO plans to cut the first steel for its John L. Lewis-class fleet replenishment oilers. The Navy plans to buy six ships under a contract that could exceed $3.1 billion, and could ultimately order as many as 17 ships, which would keep the yard busy through fiscal 2033. NASSCO plans to deliver the first ship in 2020. The shipyard is also completing two ships for expeditionary warfare and may start work on a third. In addition, repairs and commercial work will keep NASSCO busy. It has contracts to build two container ships for Matson Inc.
As yet the coming of Republican majorities in Congress and a Republican in the White House have not put an end to stopgap funding bills, also called continuing resolutions. By late December, Congress had passed a very large defense policy bill calling for $700 billion in spending, but had not yet passed legislation to pay its contractors.
Tax Overhaul
Potentially more important to the region's short-term economic outlook will be the new overhaul of the federal tax code, asserted Lynn Reaser, chief economist at Point Loma Nazarene University.
Most businesses and households will benefit, but certain changes will adversely affect some higher-income households, she wrote in an email, adding that local government pensions will gain from surging stock prices.
Although Reaser forecast 2018 job growth of only 19,000 positions — less than the 21,500 she projects for 2017 — she predicted the county's gross regional product will grow nearly 3 percent in real terms. She sees 2018's expansion being fueled by greater consumer spending, increasing construction, rising defense spending and more investment by businesses.
"Business investment will be a particular driver," she wrote, "as lower tax rates raise the after-tax rate of return on various projects and companies will be able to immediately write off their spending on capital projects."
Gin, the University of San Diego economist, agreed the tax overhaul will be an important factor in 2018, but said it's unclear how its effects will play out. He said new deduction limits on mortgage interest and on state and local taxes will hurt many Californians, including the middle-class.
At stake, Gin said, is the discretionary spending expected to increase at this point in the economic cycle. "The worry is some of that will be taken away then by this tax (overhaul)," he said.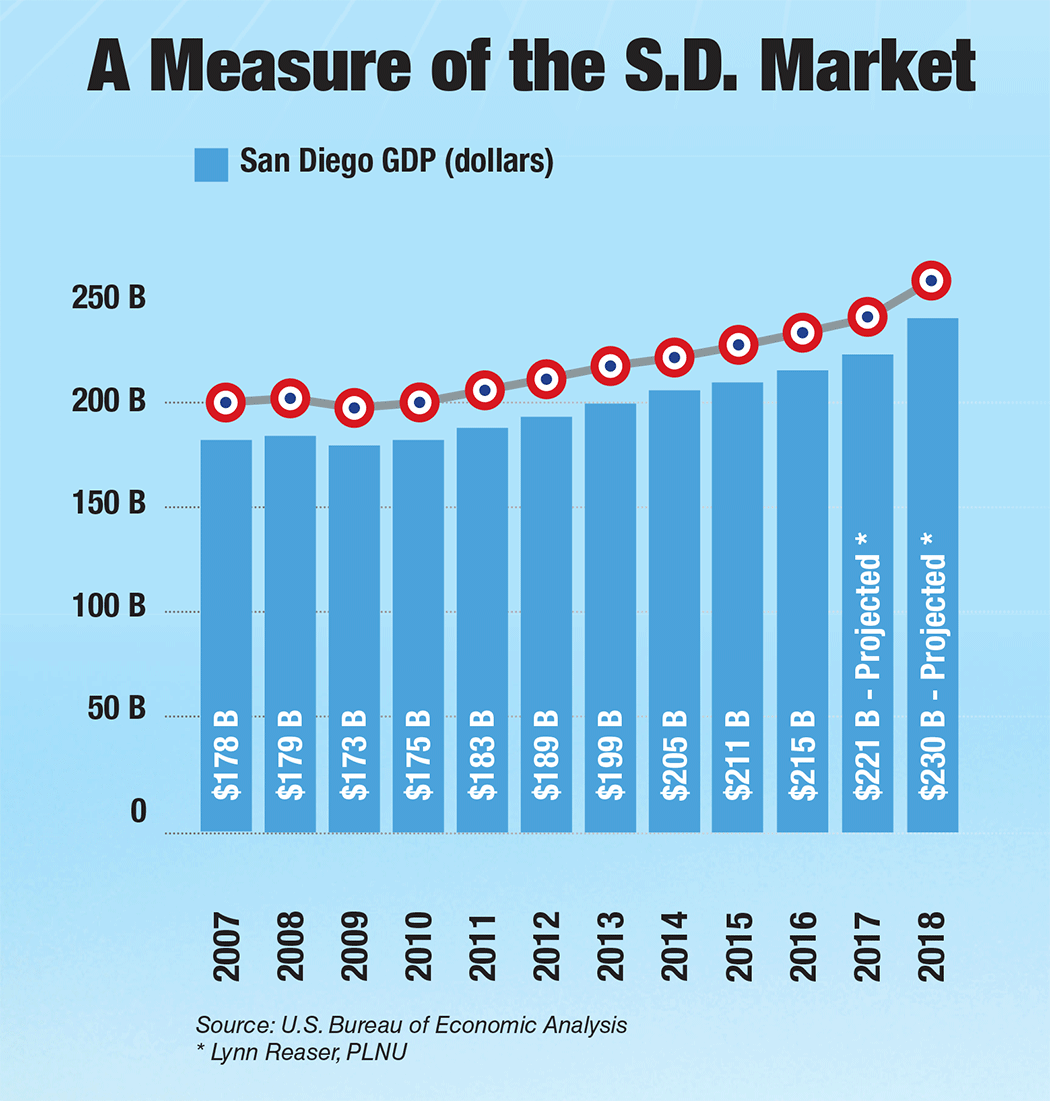 Robert Kleinhenz, economist and executive director of research at Los Angeles-based Beacon Economics, forecast the San Diego region's 2018 job growth at 1.7 percent, or about 24,000 jobs, which is more than Gin or Reaser predicted. It's the same rate he projects for year-end 2017, which was a little slower than 2016's growth and significantly off 2015's pace.
He sees most of the county's 2018 job gains coming from sectors serving households and the local population, such as leisure activities like going out to eat. He said this growth will be driven by discretionary spending.
But like Gin, he worries the region's economic growth will be limited by housing costs. The local economy has "shifted into overdrive, where it can only grow as fast as the growth in its labor force."
"We'll see growth in 2018, and it's a continuation of this soon-to-be-longest economic expansion on record, if all goes well," he said. "But housing costs will be a concern for workers and for employers."
Without any major disruptions such as geopolitical conflict, economists say the region overall looks on track to perform much as it did in 2017, when the county's unemployment rate dipped below that of the nation, median home prices came close to rebounding fully from the recession, and San Diego's commercial real estate market extended its own recovery.
In the 12 months ending in October, the U.S. Bureau of Labor Statistics said, leisure and hospitality businesses across San Diego County added 2,900 jobs, or 1.5 percent, while financial services hired 2,400 (3.2 percent), education and health services grew by 4,300 (2.1 percent) and construction was up 1,800 positions (2.3 percent).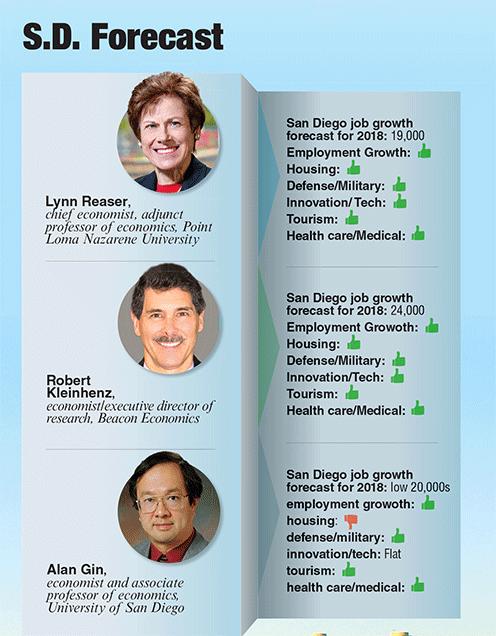 Real Estate
Economic growth is also reflected in the strong, consistent increases in the county's median home prices since 2015. At the end of the third quarter, when year-over-year employment growth stood at 1.1 percent, the median price was up 7.8 percent over a year earlier, according to the San Diego Regional Economic Development Corp.
By the end of 2017's third quarter, total housing permits issued in the county had fallen 2.3 percent, year-over-year. A notable shift became evident then: housing permits went from majority multifamily a year earlier, to majority single-family.
That swing in types of housing permits granted probably reflects San Diego's early jump on multifamily housing development in 2015 and 2016, before other regions focused on multifamily, said Kleinhenz, the economist at Beacon Economics.
Meanwhile, in 2017, the local office market posted a fifth consecutive quarter of positive net absorption amid relatively flat vacancy and historically high average asking rates, commercial real estate services firm CBRE reported. (Absorption is a measure of how much space is occupied. When it's positive, more people moved in than moved out.) CBRE said vacancies in San Diego's industrial market were approaching a post-recession low of 4.2 percent, set in 2015's fourth quarter.
The firm also pointed to what it deemed a post-recession high in overall commercial construction, with 10 local projects totaling more than 2.6 million square feet in the third quarter.
Architect Kevin Heinly, principal and managing director of Gensler, said demand for office space from high tech companies continues to be strong.
"There's a real challenge finding the kind of office space tech companies are needing," Heinly said in a recent panel discussion sponsored by the San Diego Chapter of the Institute of Real Estate Management.
CBRE said dwindling office space in the traditional high tech/biotech submarkets of Torrey Pines and Sorrento Mesa is leading to a bit of a boom in surrounding areas, with rents rising as a result.
"People are spreading out and looking for opportunity," said Matt Carlson, senior vice president of CBRE in San Diego.
In North County, RAF Pacifica Group and Badiee Development have large industrial real estate projects planned or underway.
RAF Pacifica Group has more than 1 million square feet of construction projects under way in North County, including projects in Carlsbad and San Marcos with more on the way, founder and President Adam Robinson said.
Staff writers Brad Graves and Ray Huard contributed to this report.