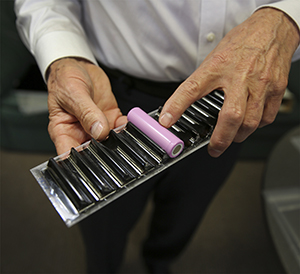 The new style of batteries powering automobiles, smartphones and military vehicles are certainly capable. And they pack more power than other options.
But they can also be volatile.
The tradeoff for using lithium-ion batteries seems to be a chance — albeit a small one — of a fire or an explosion. Witness the recall of Samsung Electronics America Inc.'s Galaxy Note7 smartphones late last year. By the time the Consumer Product Safety Commission issued an expanded recall notice on Oct. 13, affecting 1.9 million units, Samsung said it had received 96 reports of batteries overheating. That data was from the United States alone.
Several companies importing two-wheeled balancing scooters — which some people call "hoverboards" — have also issued recalls because of dangerous batteries in recent years.
San Diego companies are in search of solutions to the problem.
Two might have struck pay dirt in their search.
Kulr Technology Corp. is developing products to prevent lithium-ion batteries from creating an event where one battery ignites adjoining batteries in a chain reaction.
On the side, Kulr has developed other electronics cooling technologies, including a velvet-like material that directs heat away from electronics.
General Atomics Electromagnetic Systems, meanwhile, recently announced a new way to package popular, off-the-shelf batteries to make systems for military vehicles more fault-tolerant. It received a $1 million Defense Department contract to create a prototype for an unmanned underwater surveillance vehicle.
GA-EMS is part of privately held General Atomics, based on Torrey Pines Mesa near the University of California, San Diego.
Thermal Runaway Shield
The standard model-18650 lithium-ion battery has roughly the same proportions of the common AA alkaline battery, but it's a little bigger. Imagine a battery halfway between the size of a double-A cell and a 50-cent roll of pennies.
Lithium-ion batteries can easily overheat while charging or discharging, said Scott Forney, president of GA-EMS.
There is a 1-in-10 million chance that a lithium-ion battery can experience an internal short-circuit and go bad, said Tim Knowles, the San Diego-based chief technology officer for Kulr. When that happens, the temperature spikes to 700 degrees Celsius. One battery can ignite its neighbor in an event called "thermal runaway."
Kulr's solution is deceptively simple. It has created a plastic rack for multiple batteries, which line up like soldiers with 3 millimeters between them. The rack is filled with water. It also contains carbon fiber wicks. If a battery catches fire, the water quenches the offending cell, and the fabrics wick away the heat, and the fire does not spread.
Knowles quips that it is "a tricky way to bottle water."
Kulr calls the product "Thermal Runaway Shield," or TRS for short. The scalloped rack is in its fourth or fifth design iteration, Knowles said.
Three Patents, So Far
Company officials said they have received three patents on the TRS, with more pending.
An aluminum rack would do the same job, Knowles said, but aluminum is heavy. That goes against everything Kulr stands for, as its heritage is building strong, ultralight components for the space program.
Kulr has its corporate and sales offices in Campbell, in Silicon Valley, where CEO Michael Mo is based. The business is absorbing a San Diego business called Energy Science Laboratories Inc., which dates from 1984 and specializes in heat sinks for space vehicles. Its San Diego facility, in the Miramar neighborhood, has 12 employees. Company officials said Kulr plans to ramp up manufacturing in the Miramar neighborhood.
Other trends are helping drive the business's planned growth. Kulr sees opportunity as computers take on more intensive tasks (such as virtual reality and augmented reality), generate more heat, and create a demand for technologies that get rid of heat.
The business has also created a velvet-like material made of carbon fiber, vertically aligned and attached to a backing. At 5-10 micrometers thick, the carbon fibers are much finer than human hairs or wool fibers. The fibers — called pin fins — act like the fins of a radiator, taking the heat generated by the electronics and expanding that heat over a large surface (the many, many strands of carbon). From there it can dissipate into the surrounding air. To put it in more technical terms, the carbon fibers act like a heat exchanger.
Big Problem With Mini Sub
An experience with lithium-ion batteries left the Defense Department troubled. The problem came with a program called the Advanced SEAL Delivery System, or ASDS. It was a miniature submarine meant to discreetly ferry commandos from a larger submarine to the place where they had to conduct their mission. And it used batteries.
The Pentagon canceled the project in 2008, when the prototype ASDS caught fire in Hawaii and reportedly burned for several days. Published reports said the fire broke out during routine maintenance. Authorities blamed the sub's lithium-ion batteries.
Now it looks as though the Navy is warming to electric power — though not yet for a manned vehicle. GA-EMS announced in mid-April that it received an order for a prototype system to power an unmanned, underwater vehicle meant to operate in shallow water and detect mines. (The Navy calls the vehicle SAHRV, short for Semiautonomous Hydrographic Reconnaissance Vehicle.)
GA-EMS calls its approach to packaging batteries LiFT, short for lithium ion fault tolerant. LiFT's design, the company said, prevents the problem of a single cell turning into uncontrolled cascading cell failure.
The company also says LiFT would be appropriate for both unmanned and manned vehicles; GA-EMS says it's been tested on a manned submersible. GA-EMS has also gotten the system certified by Oslo, Norway-based Det Norske Veritas Germanischer Lloyd. The certification body, also known as DNV-GL, has local offices downtown and in Kearny Mesa.
How does GA-EMS approach the battery packaging problem? Forney declined to give much of an answer, but said GA-EMS engineers based their design on which direction lithium-ion batteries are likely to fail — specifically whether they were most likely to explode axially or circumferentially.
"The cap is the weak point," he said.
Engineers also put some thought into how to vent heat and gases discharging from the group of model-18650 cells, and built in a thermal protection system.
Model 18650 cells are produced by the billions, Forney said. "We expect a battery to go bad. We build in features to be sure it doesn't go anywhere."
GA-EMS is working to patent its design, the executive said.