CEO: Matthew Stoyka
Location:
10120 Pacific Heights Blvd., Suite 110
San Diego, CA 92121
2017 Revenue: $18.79 million
2015-2017 Growth: 278 percent
No. of Local Full-Time Employees: 101
Website: www.relationedge.com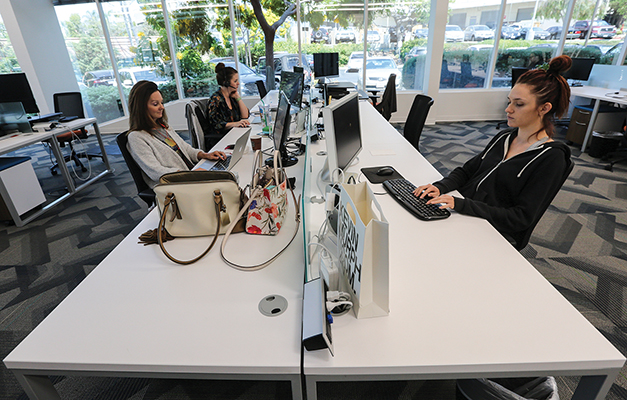 Rounding out the list of the Top 10 fastest-growing private companies in San Diego County this year is a business recently acquired by a global tech services company.
RelationEdge — a SalesForce Gold Consulting Partner — edged out the competition to take the No. 10 spot on this year's annual list compiled by the San Diego Business Journal. The company did it by touting a 278 percent growth from 2015 to 2017. Its 2017 revenues were $18.79 million.
RelationEdge helps companies implement and manage the Salesforce technology platform.
"We are very appreciative of our clients and our partner, Salesforce, in helping us achieve this accomplishment for a second consecutive year," CEO Matthew Stoyka said. "Our entire team is thankful for the trust and confidence that our clients place in RelationEdge each and every day."
Putting high stock into collaborative customer relations is one of the ways that RelationEdge has grown the way it has, according to Stoyka, who focuses first on finding out what clients' ultimate goals are. From there, Stoyka and the staff work to apply the proper technology to accomplish those goals.
The approach flips the switch on what organizations usually try to do, which is to rush to attempt to define what they want the technology to do for them.
Last year, the San Diego Business Journal ranked RelationEdge No. 5 on its Top 10 Fastest-Growing Private Companies list, when the company's revenues grew from $1.5 million in 2014 to $10.11 million in 2016.
The banner year for the company, which was formed in 2013 and employs more than 100 people, attracted some international attention.
Rackspace, a global technology services company, announced in May that it had acquired RelationEdge. The San Antonio, Texas-based Rackspace already serves more than 140,000 business customers, including most of the Fortune 100, from data centers spread out across five continents.
"With Rackspace we feel we have found a great home for our people and our clients," Stoyka said. "We will maintain the RelationEdge brand and operate within the Rackspace Application Services business unit. We will continue to invest locally, across the country and will begin our international expansion later this year.
"We feel strongly that the acquisition by Rackspace will help us expand our San Diego based presence, as well."
In the statement that announced the acquisition, Salesforce also supported the move.
"We are happy to see Rackspace and RelationEdge come together," said Kori O'Brien, senior vice president of North America Alliances & Channels at Salesforce. "RelationEdge has been a valuable partner in the Salesforce ecosystem. The combination of RelationEdge's unique process-first approach to solving business problems and Rackspace's transformation and technology expertise will allow both companies to provide greater service and solutions to fuel customer success."
Like RelationEdge, Rackspace is privately owned by affiliates of certain funds of Apollo Global Management LLC and certain co-investors. Financial details of the deal were not disclosed.
"Complacency is not an option, nor in our DNA," Stoyka said. "Our purpose is to help companies transform. That job is never done, and we will continue to work hard to help drive client success."