At 93, George Carter Jessop Jr., is the oldest surviving member of the family that founded Jessop Jeweler.
At 125, Jessop Jeweler is one of San Diego's oldest surviving businesses.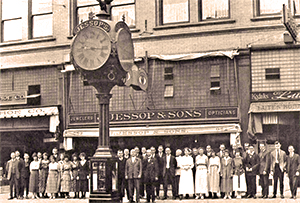 Soon, Jessop Jeweler will be no more.
With the next generation of the Jessop family disinterested in continuing the family tradition of being one of San Diego's preeminent jewelers, George's son, Jim Jessop, is closing the store and retiring in March.
"It's time," said George Jessop.
He didn't want to see the business sold to someone outside the family.
Better to retire the family business on a high note, he said during a recent interview at his Mission Hills home.
For George Jessop Jr., there was never any question that he'd go into the family business.
That's just the way it worked.
"I grew up in a very organized family," he said.
As a child, George Jessop was fascinated by the jewelry business as he listened to his father and his uncles discuss it.
"The brothers always talked about the business, and I wanted to be there and learn about it," he said.
Joseph Jessop and his son, Armand, opened the first Jessop jewelry store in 1893 at 417 F St.
The five Jessop brothers – Armand, Alonzo, Richard, Joseph E. and George Sr. — took over the business after the elder Jessop died in 1932.
Each had a specialty within the business. George Jr. said his father was the diamond expert.
Young George graduated from San Diego High School, and attended San Diego State University for a year.
With a laugh, George Jessop recalled a college hazing incident. He had joined a fraternity and said that he and his fellow pledges were taken outside to be initiated.
"We were in our underwear," he said. "They dumped molasses and feathers all over me."
He doesn't remember how he got home, but recalled that "Dad laughed like mad."
With the outbreak of World War II, George Jessop enlisted in the Navy Supply Corps, and went to Harvard University for training.
He studied hard at Harvard, because "I knew if I flunked out, I'd have to go to boot camp. I knew damn well I didn't want to go to boot camp."
After the war, George Jessop went to Stanford University, where his future wife, Mary Cooke, also was a student.
"She was very bright," George Jessop said. "She wanted to be a doctor, but in those days, they weren't training women to be doctors."
Instead, Mary earned a master's degree in education after receiving a bachelor's in biology and taught biology — first at San Mateo High School while George got his master's degree in business, then at La Jolla High School. Mary died in 2009.
With a master's degree from Stanford, George Jessop figured he'd get a prime position in the family jewelry store, but his uncles and his father had other ideas.
Paying His Dues
"Once they got him in the business, he simply became another one of the juniors, which is what he was. They put him back in the office doing paperwork," said Jim Jessop. "It was a frustrating time for him."
Eventually, George Jessop took over the silver department of the store, and then became manager of a Jessop Jeweler branch at 30th Street and University Avenue.
The store had been floundering, but under his guidance, it prospered.
From there, he moved to the family's Mission Valley branch, which exceeded $1 million in revenue in its first year.
"As I brought people into the store, I taught them to be jewelers so they'd like it," George Jessop said.
Those were the years when the family was expanding its business, opening several branch stores with George Jessop leading the way.
Managing Expansion
"As each store came on line, he would step into the store and get it moving until another manager came in," Jim Jessop said of his father.
George Jessop said there was no big secret to his success with the stores he ran.
"We just kept doing what was right for our customers and they kept coming back," he said. "You treat them right, they keep coming back."
He said that his favorite part of being a jeweler was helping customers find the perfect piece, and training the store's worker in the craft.
"Dad's a people person," Jim Jessop said. "He loves people, whether it's the staff that he hired or the clients that came in the store."
Jim Jessop, one of George Jessop's four sons, recalled learning about the jewelry business as a child from his father.
George wanted to become an expert in the jewelry business, and became a certified gemologist with the American Gem Society.
Jim Jessop said his father would study gems at the kitchen table as part of the courses he took from the group, and Jim would join in.
"It was all done by correspondence. They would send you 10 stones and you would work through each stone and learn how to identify each stone," Jim Jessop said.
In 1970, J. Jessop & Sons was sold to Dayton-Hudson.
George Jessop stayed on for a little more than two years.
"He didn't like working for a giant corporation," Jim Jessop said. "He was still of an age that he was able to really keep working, and yet he was walking away from the business that made his career."
Jewelry was such a part of George Jessop's life, that in 1973, he went back into the business, opening with his son as George Carter Jessop Jewelry.
Sparkling Waters
Beside the jewelry business, like his father before him, George Jessop Jr. was an ardent sailor and racer with the San Diego Yacht Club.
"The Yacht Club was my grandfather's life and his son developed the same love," Jim Jessop said of his father. "If it was sunny on a Sunday, he wanted to be on the water.
In 1970, George Jessop became the Yacht Club commodore.
"It was exciting, it kept me going," George Jessop said.
Looking back over his life and his career, George Jessop said, "I feel blessed."
"I'm the antique now," he said with a grin. "I'm grateful for where I've been and where I am now."