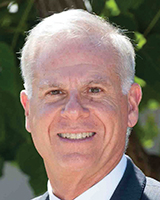 As San Diegans, we are quick to boast about our beaches, perfect weather, how our city is "smart," and how this is a terrific place for startups and entrepreneurs. But we have our negatives too: our increasing homeless population, the high cost of housing and the skyrocketing "living wage" required to enjoy America's Finest City.
A report funded by the U.S. Chamber of Commerce and the Kresge Foundation found that 20 percent of all Americans receive critical services from social service providers, and that these services often have greater impact on the wellbeing of individuals than their access to health care.
Nonprofits Face a Struggle
Sadly, many of those same providers are struggling, like the clients they serve, to make ends meet. The same report identified that 30 percent of nonprofits have less than one month's expenses in cash reserves, and nearly half have had a negative operating margin over a three-year period. This lack of funding severely limits an organization's ability to maximize its effectiveness and provide vital services.
In San Diego, our nonprofit community should strive to mirror our rapidly growing business community by embracing innovation to create future sustainability, so nonprofits can continue to uplift San Diegans who struggle every day to get by.
Local data show that more than 400,000, or 12 percent, in our county are food insecure. At Jewish Family Service of San Diego, we see families continuing to fall into homelessness, long after the recession — and usually not because they are struggling with mental illness or addiction.
Working with families to break the cycle of poverty is complicated, and only financially secure providers that embrace new innovative strategies and measure outcomes can truly have impact. At JFS, we know this requires working one-on-one with families, and that the process often takes years to achieve success.
Human-Centered Design
The social service ecosystem in San Diego must develop its capacity for innovation through better data sharing and analysis, employing new technological strategies and embracing human-centered design (HCD) to help address our challenges.
HCD is a process, a framework and an approach to creating an environment where the needs of the client become the focus of a nonprofit's work. It requires curiosity and contextual observation, empathy, ideation, iteration and implementation.
For the past two years, San Diego has been the home of a popular Design Forward Summit, with the goal of applying HCD to solve local challenges. Our local nonprofits need to see this process methodology as an essential tool in our toolkit.
There are few nonprofits in San Diego that are seriously embracing innovation. Our local universities are teaching HCD and exposing social work students to labs like the ZIP Launchpad at SDSU — which helps students, staff and faculty launch startups — but when students graduate, they find local nonprofits are behind in embracing the skills the graduates possess.
Local organizations must be attractive, contemporary places to work that foster collaboration and embrace HCD if we want the best and brightest to come to work in our sector and continue providing the services so many in San Diego need.
This year, JFS is proudly celebrating its centennial. While we are celebrating our past, we are also taking strong steps to move forward. Recently, under the direction of a full-time innovation director, we trained more than 50 members of our staff in the HCD process.
Think Like a Startup
We are beginning to look and think more like a startup every day, with new teams being created to evaluate ideas and run them through our HCD process. We are energized by this work, as we focus on developing new strategies to uplift the more than one-third of San Diegans who can't make ends meet.
We also know making real impact requires the effort of our entire nonprofit community. By sharing our tools, our successes, and even our failures, we will land on new, innovative approaches that ensure San Diego remains America's Finest City for generations to come.
Michael Hopkins is CEO of Jewish Family Service of San Diego.