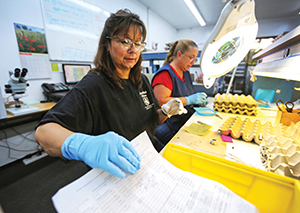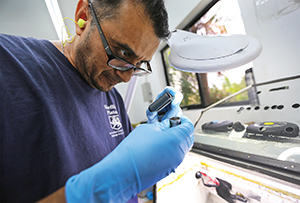 At Sheffield Platers' 21,000-square-foot manufacturing center in Sorrento Mesa, employees haul, cut and inspect metal parts.
It's unglamorous and often tough work, which puts some would-be employees off. But many who express gratitude at working there are graduates of Second Chance. The nonprofit provides ex-offenders training to re-enter the working world.
Sheffield president Dale Watkins is passionate about helping ex-offenders restart their lives, echoing other employers interviewed for this article. Getting back into the workforce can be tough given the stigma surrounding those who have done time.
Yet for Watkins, it's not charity. He likes Second Chance graduates because they put in hard work. That's key in his business, which is plating, or putting a finishing coat of metal on silver, gold and nickel to guard against rust.
Enthusiastic Employees
"I'm not giving people jobs just because I want to give them jobs," Watkins said. "But everyone from Second Chance comes in full of energy, and they're excited to be productive. They're not people who have been laying on the couch and say, 'OK let me go interview somewhere.' "
In San Diego County, the Sheriff's Department, county officials and employment groups formed closer ties in the last year to push additional re-entry job training. Officials say this was prompted by a shared desire to reduce recidivism, critical for public safety and saving resources.
The initiatives include more ambitious programming for Second Chance, which formed in San Diego in 1993. About 85 percent of Second Chance participants are ex-offenders. Another highlight is two career sites for inmates in county reentry facilities, one of which recently opened, and the other debuted last year.
Tax Advantgage
Officials have sought to entice employers, citing motivated employees and tax incentives. (The Work Opportunity Tax Credit can reduce an employer's federal income tax liability by as much as $9,600 per employee hired.)
The former reason swayed Watkins three and a half years ago. Since then, Sheffield has brought on about 35 people from Second Chance. Of them, Watkins said only a few didn't pan out because they were slacking off on the job.
He added the vast majority are not only grateful, but possess a strong work ethic that doesn't fade. Such is the case with Kandy Moreno, who 17 months ago started in an entry level position at Sheffield wiring parts and got promoted to barrel plater. She never missed a day, nor was late.
Recently she took another position as a receptionist, and Watkins wrote her a glowing letter of recommendation.
"I feel so much better about being in the workforce," said Moreno on her last day at Sheffield, over the din of a hose blowing compressed air on parts in the background. "They've shown me I could be responsible. And they're the best bosses I could ask for. They give you that strength to want do better,"
At the age of 14, Moreno became addicted to drugs. She cycled in and out of prison on drug convictions for two decades, and was homeless when not incarcerated. But she's been sober for four years and now has her own apartment.
When she first got clean, Moreno had a tough time finding a job. Second Chance taught her about proper interview attire and how to make a good first impression.
"Oh my goodness I learned I was doing everything wrong," she said with a laugh.
Watkins said among ex-offenders it's not uncommon for Sheffield to be a stepping stone. Still, the average term is a year and a half, a pretty good length of time for its entry level positions, most of which pay minimum wage. Some stay on and get promotions, making around $48,000 a year.
An unexpected benefit, he said, is the morale boost for Sheffield employees who have never seen the inside of a jail cell.
Morale Booster
"I think it makes my management team feel good when they see people grow and become successful," Watkins said.
While some ex-offenders need a good deal of training, others start with solid work experience under their belt.
"Quite a few of them have had successful chapters in their life. Some poor decisions are made and they take a left instead of a right." Watkins said. "By the time I get them, they're back on the right path."
Second Chance's intensive four-week program for ex-offenders covers everything from basic job interviewing skills to explaining a criminal past in a job application.
It also comes with two years of support, whether for computer skills and clothing needs or cognitive behavioral therapy to improve self-esteem. In addition, ex-offenders are connected with housing resources.
"You can't be successful at work if you don't know where you're living," said Deb Furlong, director of Adult Programs at Second Chance.
Not all ex-offenders are eligible: Second Chance won't take those with a record of sex crimes or arson.
In 2016, the nonprofit had 132 graduates, with 95 placed in jobs. That's an increase from the 94 graduates in 2015, and 79 placed.
The nonprofit is poised to serve more, help pay for industry certifications and offer a stipend to participants so they can pay for necessities. This comes courtesy of its new contract through the U.S. Department of Labor, according to Furlong.
Furlong said the region is leading a national movement to reduce recidivism, which can be hard to shake. Even for those who avoid incarceration, many become homeless.
"As a nation, state and county, we're looking at this differently," she said, adding there's a hunger to address the impacts of recidivism on public safety and homelessness.
Second Chance positions itself as cost-effective: according to the organization, it costs California $55,000 per inmate annually. The nonprofit spends $2,000 per person on job readiness.
Volunteering at Second Chance led Brenda Peterson to hire through the organization. She's the owner of the court reporting company Peterson Reporting, Video & Litigation.
For companies skeptical of hiring ex-offenders, Peterson said that Second Chance vets and suggests candidates based on whether their skills are a match for a company.
Like any candidate, skills, experience and personality should be the deciding factors on who gets the job, not necessarily the person's past, she said.
Two of her 16 employees came from Second Chance.
"You'll get very competent people who are committed to turning their lives around," Peterson said. Later she added: "Second Chance would be the first person I'd call if I had another position available."
Andrea Allen is the sales and marketing manager at the lean manufacturing company VersaCall. She said the business' six Second Chance hires have made big strides.
"At first they were very professional but a little shy. But they really opened up and became part of our culture," Allen said.
Efforts are also being made to provide job training before offenders are released.
In October, a career center was opened at the Las Colinas Detention and Reentry Facility, which houses women in Santee. That follows a $500,000 grant from the U.S. Department of Labor, the result of a partnership between Second Chance, the San Diego Workforce Partnership and San Diego Sheriff's Department.
The job center offers mock interviews, vocational training and limited internet access for job hunting, as well as seeks to address trauma.
Could Expand to Technical Positions
As far as job training, so far the focus has been on semi-skilled positions in construction and hospitality. Technical training like computer coding is possible down the line.
"If we can help people train and acquire new skill sets in jail, who knows — maybe they could get an entry-level coding job fairly quickly," said Peter Callstrom, president and CEO of the San Diego Workforce Partnership.
Participants must be within 180 days of being released, and participants can't have a sexual offense conviction (other than prostitution).
The career center is building on a similar program that debuted last year at East Mesa Reentry Facility.
In the next two years, the two programs will serve more than 1,000 inmates with pre-release workforce development services, with 200 of those receiving post-release case management.
"If we really want to empower people to succeed after incarceration, then, give people that chance to prove themselves," Callstrom said.