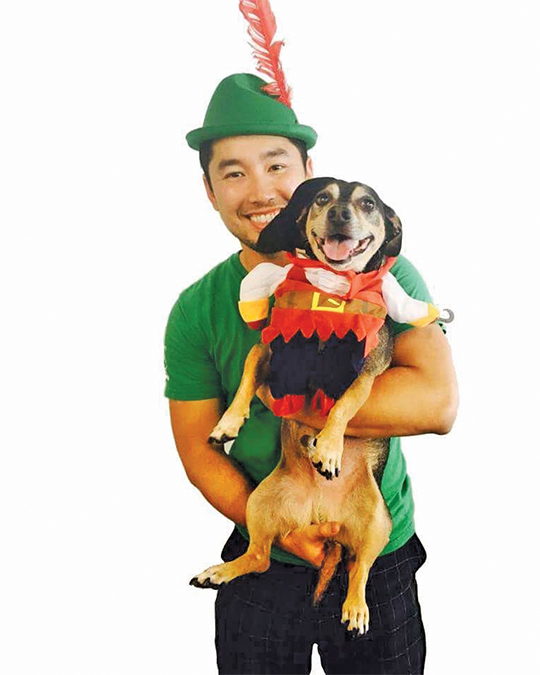 When Tien Nguyen and his three partners formed CPC Strategy — a digital marketing service in downtown San Diego — they invited the people they hired to bring their dogs to work.
"Our idea from day one was to create a work environment that people would want to come in and enjoy," said Nguyen, who usually brings his own dog to work, a Jack Russell mix named Pip.
"Having dogs come to the office is another extension of that mindset we have of being a young company that people enjoy," Nguyen said. "It brings a positive energy and improves morale."
A growing number of companies and commercial building owners in San Diego and across the country are allowing dogs in the workplace, and fancy dog parks have become almost a mandatory amenity in new apartment buildings, including the pricey downtown apartment towers.
'Cool Perk'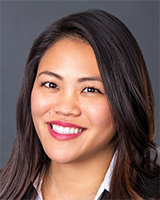 Nguyen said clients see dogs in the office as "a cool perk" when they come to CPC Strategy.
"They're greeted by a dog, one of our brand ambassadors so to speak," Nguyen said. "It gives them confidence that they're working with a company where employees enjoy being there."
Emmes Realty Services, which owns several downtown office buildings, promotes its building at 707 Broadway as dog friendly.
As part of renovating the building, the company built a dog park between the lobby and an adjacent parking garage.
On any given day, there are anywhere from five to 20 dogs in the building, said Christine Takara, Emmes director of customer experience.
Part of the New Culture
She said that being dog friendly sets 707 Broadway apart from some other high-rise downtown office buildings.
"We repositioned the building at 707 Broadway to appeal to the creative, tech, millennial-focused firms who may see it as a benefit for their employees," Takara said. "We understand that dogs are sometimes a big part of a company's culture and can support camaraderie, culture and recruitment efforts."
Inconic Industry Inc., which leases space in 707 Broadway, limits the number of dogs on site to four at a time and requires that dogs are vaccinated, well-behaved and potty-trained to roam freely in the office, said Kyle Towndrow, a project manager.
Setting Limits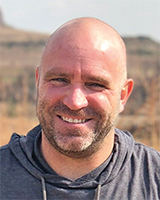 "If a dog's presence is a distraction or disrupts workflow, we ask the owner to train that behavior out of their dog or they won't be allowed to be in the office till the behavior is corrected," Towndrow said.
Overall, he said the dogs are a welcome addition.
"We've introduced our dogs to the VR (virtual reality) games we have in the office and their reactions are priceless," Towndrow said. "One of the longest running traditions we have with some of the dogs is to howl with them as emergency vehicles pass by the office."
Allowing dogs in the workplace is a growing trend nationally, especially among companies with a younger workforce, said Reggie Ferreira, who specializes in studying the interaction of people and their pets as director of the Disaster Resilience Leadership Academy of Tulane University.
Recruiting Tool
"Most millennials put off having kids, and that dog is essentially the family member that they take care of," Ferreira said.
Offering a dog friendly environment is an amenity that can help companies recruit and retain younger workers.
The number of companies that allow people to bring their dogs to work has grown from 5 percent in 2013 to 10 percent as of 2017, Ferreira said.
"The health benefits are great," Ferreira said. "When you're able to pet your dog, it increases your relaxation."
Studies have shown that pets at work reduce stress, increase productivity and lead to a more congenial workplace, he said.
"It's a conversation starter," Ferreira said.
Human to Human Bonds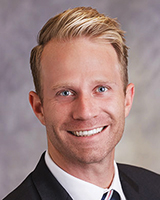 People who may not have talked to each other before will strike up a conversation about a pet.
Evan Knudson, a senior associate at CBRE, said that he's seeing more tenants looking for buildings where their workers can bring dogs to work.
"I've definitely represented companies where that's been an absolute deal breaker if they could not have dogs," Knudson said. "It's not one time it happened."
Ten years ago, no one was talking about bringing dogs to work, Knudson said, but he started to notice the trend take hold about four years ago.
"It seems like the trend is not slowing down any time soon," Knudson said. "I've got to think there's a good amount of people that would take their dog to work, given the chance."
Bess Wakeman, an executive vice president of JLL in San Diego, said it's pretty common to see dogs in office buildings because many are listed as service animals and can't legally be kept out.
"However, finding landlords that whole heartedly embrace a dog friendly work environment is relatively unusual in San Diego," Wakeman said.
Her own offices in UTC's Aventine allow pets.
She said her experience has been that pet owners act responsibly when they bring their dogs to work.
"More often than not, it is the non-pet owner cooing and playing with the dog that has been brought into the building as the pet owner tries to make their way into the office," Wakeman said. "It generally makes for a livelier, friendlier environment for everyone."
Getting Used to Dogs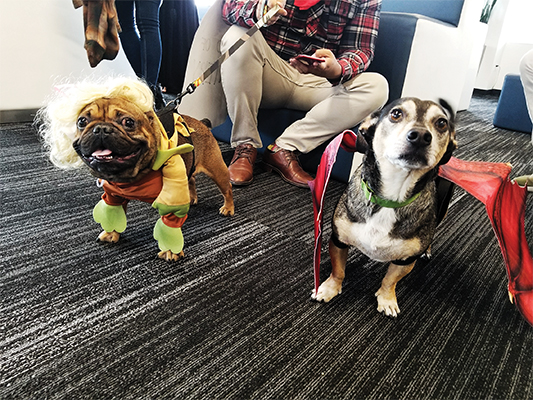 Although he's a fan of bringing dogs to work, Ferreira of Tulane University cautioned that companies might introduce the practice gradually so people who don't have dogs of their own can get used to having them around.
Pet owners also need to be made aware of what's expected of them in taking care of their dogs and ensuring they're not disruptive.
"At the end of the day, the responsibility comes down to the pet owner," Ferreira said. "You can't expect your fellow employees to take responsibility."
Takara of Emmes said the company includes lease provisions at 707 Broadway that require tenants that allow dogs in the office to keep the canines under control.
"This hasn't been an issue for us, and I think employees and companies are really good at self-regulating," Takara said. "No one wants to be the co-worker with the poorly behaved pooch."
Super Important Apartment Amenity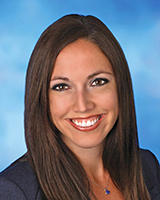 Just as companies are accommodating dogs in the office, developers are doing the same in downtown apartment towers and suburban apartment complexes.
"If you're a Class A facility, and you don't have a pet facility, you're kind of at a disadvantage," said Rachel Parsons, a first vice president at CBRE specializing in multifamily projects.
"I would say in every project I work on, a good percentage of the tenants have pets," Parsons said.
Not only do the newer projects have dog parks, some have doggie drinking fountains, places to wash pets and even pet playgrounds.
"It's way more popular than you would think," Parsons said.
She said the first downtown apartment project to have a dog park was EV Lofts, built in 2015.
Since then, it's become the norm.
"It's a super important amenity," Parsons said.