Douglas Manchester was not commenting officially on May 16, regarding President Donald Trump's announcement that he plans to nominate the longtime San Diego developer to be the next U.S. ambassador to the Bahamas.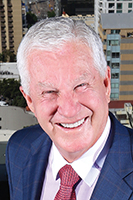 A spokesman for the developer's San Diego company, Manchester Financial Group, said via email that Manchester had not issued a formal response but may release a statement soon. He noted that the U.S. Senate would need to approve the appointment before it is final, "and that may not be until sometime in June."
Known frequently as "Papa Doug," Manchester is a La Jolla resident who developed local projects including downtown's Manchester Grand Hyatt and Marriott Marquis San Diego Marina hotels – since sold to Host Hotels & Resorts – as well as the Carmel Valley resort now known as Fairmont Grand Del Mar. He is also the former owner and publisher of the San Diego Union-Tribune.
His company is currently at work on Manchester Pacific Gateway, the $1.3 billion mixed-use redevelopment of the Navy Broadway Complex in downtown San Diego, where demolition of older current buildings recently began.
A San Diego State University graduate, Manchester also leads the Manchester Charitable Foundation and serves on the board of trustees of the Sanford Burnham Medical Research Institute.
"Mr. Manchester is a leading industrialist with accomplishments on a national and international scale in telecommunications, radio broadcast, medical instrumentation, publishing, and real estate development," Trump said in a May 15 White House statement.
Long active in conservative Republican circles, Manchester campaigned for Trump during his 2016 presidential run. According to the Union-Tribune, he and wife Geniya each gave $454,800 to Trump's political committee and Trump-supporting Super PACS, representing the largest donations in the San Diego region.