Demolition work has begun on Manchester Financial Group's long-delayed, $1.3 billion redevelopment of the Navy Broadway Complex in downtown San Diego.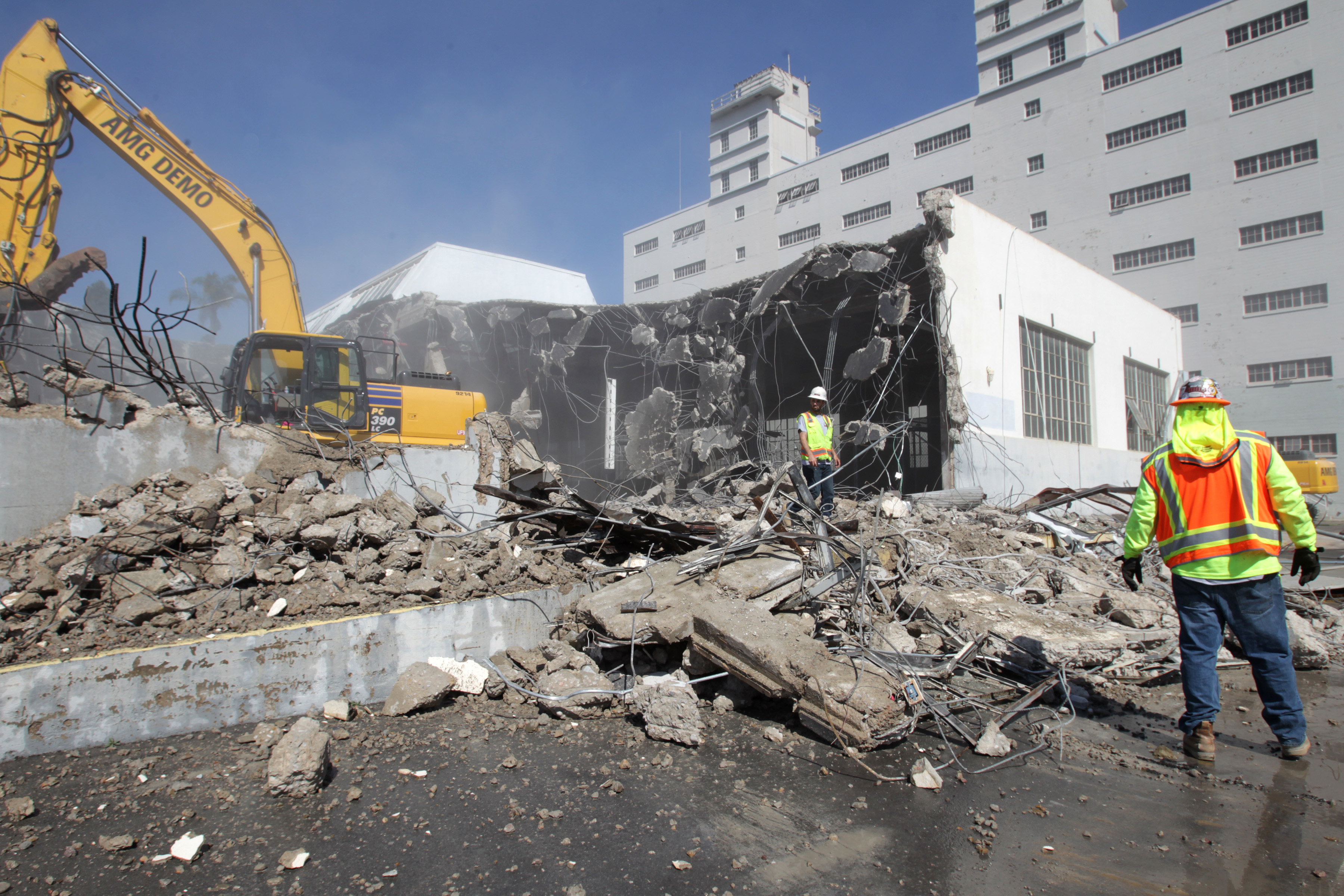 The company led by developer Douglas "Papa Doug" Manchester started demolition April 4 on a small ancillary building, Bldg. 8, which had primarily been used for warehouse space, storage and occasional official ceremonies and gatherings at the 12-acre campus housing the U.S. Navy's southwest regional headquarters.
Plans for the mixed-use Manchester Pacific Gateway call for eventually replacing the entire campus with a new 17-story Navy office building, plus commercial offices and other elements including hotels, retail and public gathering spaces. The redevelopment is expected to be completed over the course of about three years.
In planning for nearly 11 years but delayed by legal and other challenges, the project spans four blocks bounded by Broadway, Pacific Highway and Harbor Drive. Commercial tenants have not been announced.
"I view this as an opportunity to recruit the best talent, businesses, retail and hospitality to San Diego and to positively impact our economic growth and create new jobs," Manchester said in a statement announcing the start of the project.
The U.S. Navy selected Manchester's company for the project in 2006, but the project encountered a series of legal, environmental, financing and other challenges related to the overall economy. Rear Admiral Yancy B. Lindsey, commander of Navy Region Southwest, said the development marks "another important chapter" in a Navy relationship with San Diego spanning more than a century.
"The Navy is very excited to have reached this phase of the Manchester Pacific Gateway project," Lindsey said. "The transformation of this property is a big win for both the Navy and the city of San Diego."
The downtown campus dates back to 1920, when it was approved for development as a Navy supply center. At full build-out, Manchester Pacific Gateway is expected to include a 29-story commercial office tower, and three other non-Navy office buildings with six, seven and eight stories.
Plans call for a 1,100-room convention center hotel, a 260-room boutique hotel, nearly 300,000 square feet of retail and 2,500 parking spaces. There will also be more than 4 acres of parks and other open spaces, plus a 40,000-square-foot museum, possibly military-related.
Manchester Financial Group has projected that the development at full build-out will generate $12 million in annual hotel tax revenue, $10 million in property taxes and $15 million in sales taxes. It is expected to create more than 2,400 construction jobs and nearly 3,000 permanent jobs.