Photo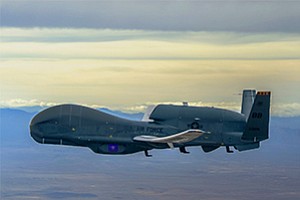 The U.S. Air Force flies the Global Hawk unmanned aircraft. Northrop Grumman runs its Global Hawk program in Rancho Bernardo. Photo courtesy of Northrop Grumman Corp.

Stories this photo appears in:
Northrop Grumman Corp.'s Global Hawk high-altitude spy aircraft recently made its first flight carrying a UTC Aerospace Systems MS-177 long-range multispectral imaging sensor. The high-tech sensor is a derivative of the powerful camera carried on the U-2 spy aircraft. The test flight, out of Palmdale, was Feb. 8, but UTC kept the wraps on the announcement until mid-April.