Photo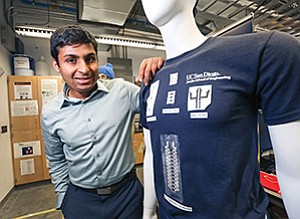 Rajan Kumar, a UC San Diego doctoral student and founder of Ocella, stands with a mannequin in the university's nanobioelectronics lab. The mannequin's T-shirt carries a variety of sensors.
Stories this photo appears in:
TECH: Elastic Polymer Gives Cells Their Snap; Invention Is 'Dirt Cheap'
Batteries and Spandex go together like ….