Photo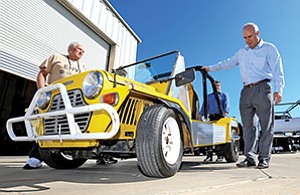 Volunteer mentors recently worked with students to install an electric drive system in this gasoline-powered vehicle, a British-designed Moke. The conversion was a project at the Electric & Networked Vehicle Institute at Coleman University. Shown are mentor Dan Wolfson (left), Coleman University administrator Rod Weiss, and mentor James Burns.
Stories this photo appears in:
TECH: Technological, Mechanical Abilities Shaped Off College Track
Behind a big roll-up door, in warehouse space at the back of Coleman University on Balboa Avenue, Rod Weiss, James Burns and several other technologically inclined people have put together a space called ENVI.