Photo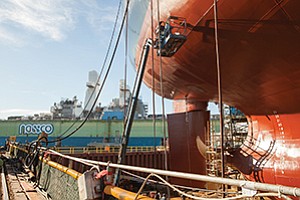 The NASSCO unit of General Dynamics Corp. is experiencing a slowdown though in the years ahead it will build two commercial ships for Matson Navigation Co. Inc. and six U.S. Navy oilers — possibly more.

Stories this photo appears in:
Economic Trends: Defense
The defense world is like an aircraft carrier. It can't turn on a dime. November's election, however, might signal a big, slow turn. The 2016 election will soon put a new set of decision-makers in charge of the Pentagon. President-elect Donald Trump says he's for a strong defense. That would seem to please a Republican-controlled Congress — the entity that holds the Pentagon's purse strings.