Photo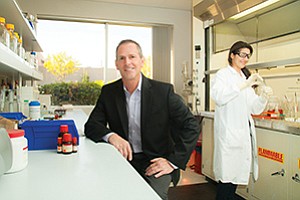 Craig Audet, senior vice president of operations at Arena Pharmaceuticals Inc., says the company is developing a pain reliever that's not addictive and has only minor side effects. Associate Scientist Michelle Kasem, right, is part of the team working on new therapies.

Stories this photo appears in:
PHARMA: New Painkiller And Other Drugs Being Tested
It's been a rocky year for Arena Pharmaceuticals Inc., but things are looking up with its latest experimental drug: a painkiller that mimics cannabis without the head high.