Photo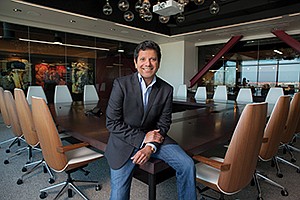 Faheem Hasnain, the president and CEO of Receptos, said he wants the biotech company to be a place where people are clamoring to work.
Stories this photo appears in:
As Faheem Hasnain walks me through rooms of glass and metal, I can't help but compare the Receptos headquarters to pictures I've seen of the Google complex. Pingpong tables and shuffleboard tournaments are held frequently in the biotech's break-room, and a king-sized chalkboard stands in the corner with winners and losers scratched in white chalk.