Photo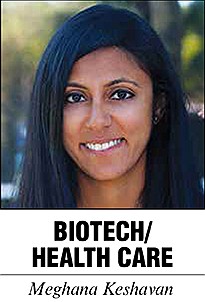 Stories this photo appears in:
(Editor's note: This is the final column on biotechnology and health care from Meghana Keshavan, who leaves the San Diego Business Journal as of this issue to join a national online publication focused on innovation in the health care industry.)
I chatted recently with Paul Cleveland, a veteran biotech finance guy who has recently been brought on as president and chief financial officer for the newly public gene therapy company Celladon Corp. Cleveland most recently was CFO of Aragon Pharmaceuticals Inc., a San Diego drugmaker sold to Johnson & Johnson last August for $1 billion.
I have the hazy outlines of a scoop for you, my dear readers: Two more companies have been born out of Avalon Ventures' unconventional, $495 million alliance with British pharma giant GlaxoSmithKline PLC, according to Douglas Downs, a managing partner and chief financial officer at Avalon Ventures.
Privately held San Diego cancer vaccine maker MabVax Inc. has merged with Palo Alto-based Telik Inc. — a once high-flying drugmaker whose reputation and stock value tumbled after drug failures and an ethics controversy.