Photo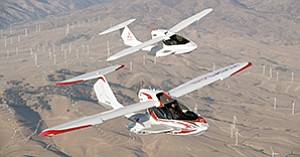 Edge-Tech's parts are used in Icon's sporty little amphibious plane that has two seats and folding wings. It can be towed on a trailer behind a pickup truck like a boat.
Stories this photo appears in:
AVIATION: Edge-Tech Supplies Molds and Parts
Edge-Tech Design and Manufacturing has a seat on Icon Aircraft Inc.'s sporty little A5 aircraft — and it hopes to see revenue take off if aircraft sales do.