Photo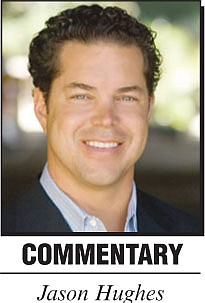 Stories this photo appears in:
The general election, in which our various elected leaders hop through a political game of musical chairs, is but a couple of weeks away.
The passage of Proposition B pension reform initiative by a healthy majority of San Diego voters sent a clear message that taxpayers have had it with runaway costs involved in the care and feeding of public employees, especially those who have retired
By Jason Hughes
August 13, 2012
With local redevelopment agencies having fallen prey to the governor's budget axe last year, cities and other local jurisdictions are left with precious few tools to revitalize their local economies and create employment centers.
By Jason Hughes
May 14, 2012
Productivity isn't all that it's cracked up to be sometimes, especially when trying to figure out what affects it in today's workforce. All too often, productivity measurements are confined to the use of gadgetry and programs designed to get more work out of fewer people in a shorter time frame.
By Jason Hughes
April 2, 2012
We like to talk about San Diego as a world-class city. To a certain extent, we have become a global metropolis, given our tourism amenities, a major port and naval presence, a revitalized and exciting central business district, our reputation as a international hub in the wireless technology industry, and home to UC San Diego.
By Jason Hughes
February 6, 2012
For the most part, developers and other companies get along. After all, companies create the demand for developers to design, develop and build facilities that employ people. Developers, in turn, patronize other companies by purchasing goods and services.
For as long as most of us can remember, we've taken pride in the high number of small businesses in our community, heralding them collectively as the progenitors of new economy and indicative of the spirit of the American business enterprise.
By Jason Hughes
October 10, 2011