Photo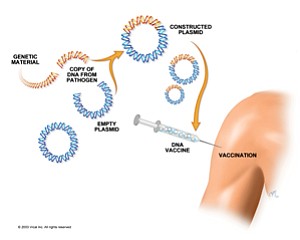 Vical's proprietary core technology is based on plasmid DNA, or pDNA, closed loops of DNA that encode any protein of interest. When injected into tissues such as skeletal muscle or the skin, cells take up pDNA and produce the encoded protein, allowing for pDNA to be used as the basis for a broad range of biopharmaceutical products, including infectious disease vaccines.
Stories this photo appears in:
BIOTECH: Process Puts Body's Immune System on High Alert For Introduction of the Virus
With the award of a third patent for its advances in developing a vaccine for the herpes simplex virus, Vical Inc. and its collaborators take a step closer to winning the race to immunize people against the pervasive virus — a step that moves them closer to clinical trials.