The San Diego Military Advisory Council has become a role model.
Officials interested in the futures of military bases around the state have discussed creating an organization modeled after the nonprofit San Diego group, known for short as SDMAC. In its 14 years, SDMAC has become a hub for local business, political and military leaders.
Planning for a similar California group is in the early stages and crucial details — such as how the group would be funded — have yet to be determined, said Randy Bogle, outgoing executive director at SDMAC.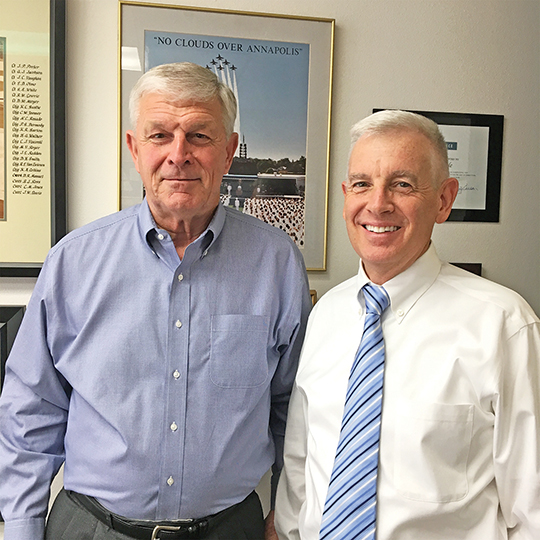 2016 SDMAC Revenue: $365,871
Membership meetings, membership dues, an economic impact study and fundraising events gave SDMAC the bulk of its $365,871 in revenue in 2016, the nonprofit said in its federal tax filing.
Officials attending meetings with the Washington, D.C.-based Association of Defense Communities and the Sacramento-based Governor's Military Council expressed interest in creating something like SDMAC to advocate on behalf of the military in California, said Bogle and Mark Balmert, who will take over as SDMAC's executive director on Oct. 1.
$25.2 Billion in Direct Spending
Documenting the Pentagon's economic impact in detail is a major part of what SDMAC does. While contractors such as General Dynamics NASSCO and General Atomics Aeronautical Systems Inc. fabricate big-ticket hardware for the military, purchases actually accounted for about 37 percent of the Defense Department's $25.2 billion in direct spending in the San Diego County in 2017. The U.S. military created and sustained some 338,000 jobs in the county that year, according to an annual study commissioned by SDMAC and produced by economists at Point Loma Nazarene University. Corporate donations help pay for the study.
The economic story is part of a wider mission of telling the military's story to a civilian and civic audience in San Diego, Bogle said in an interview Sept. 18, prior to his retirement. Frequently military leaders can't speak directly about issues of concern, such as the encroachment of commercial or residential development on military bases.
Both Bogle and Balmert said military training ranges and other facilities are "fragile" because of demands placed on them by other stakeholders in the community.
SPAWAR'S Future
A looming local issue is the future of the Navy's information technology command, SPAWAR, short for Space and Naval Warfare Systems Command. The command's headquarters building, a former World War II aircraft factory next to San Diego International Airport, will need to be replaced soon. If SPAWAR can't find a new space in San Diego, it might decide to move its headquarters to Charleston, South Carolina, Bogle said. Charleston is home to another SPAWAR facility.
SDMAC has also pushed for a tax break for veterans, recently commissioning a study on the topic. California is one of nine states that tax military pensions at 100 percent, Bogle said. Compared with other workers, veterans retire early; they collect their pensions and go on to second careers. Exempting military pensions from state taxes would benefit business by keeping more talent in California, said Dennis DuBard, chairman of the SDMAC executive committee.
The Governor's Military Council has already taken a page from SDMAC's playbook.
It used the SDMAC report and San Diego Regional Economic Development Corp. research as models when drawing up its own report about the Pentagon's impact on California. The state released its report in August. California communities asked for such a document, said Andreas Mueller, executive director for the Governor's Military Council.
Mueller called the SDMAC document "the crème de la crème impact report in the state." The San Diego authors do a comprehensive job, said Mueller.
The new report from the governor's office shows that San Diego County is the top recipient of Pentagon dollars in the state; Los Angeles County is in second place.
SDMAC's New Leader
Balmert, the incoming executive director at SDMAC, said he wants to continue to "educate and advocate" for the military in his new job. He retired from the Navy in 2008 as a rear admiral. Since then he held management jobs at AMSEC LLC and BAE Systems Ship Repair San Diego. He is currently president of the SDMAC board. Balmert's Navy career included commanding the destroyer USS Chandler.
Bogle, a retired Navy captain, has been executive director of SDMAC since late 2015. He said his accomplishments during that time included continuing the economic study project, moving the organization to a better office and improving SDMAC's online presence. He also helped to form the Propel San Diego coalition to distribute funds from the Pentagon's Office of Economic Adjustment to small local contractors. Bogle served as a Navy helicopter pilot and after retirement, worked for D.P. Associates Inc. and L-3 Communications.
Bogle served as commanding officer of Naval Air Station Pensacola in Florida. During that time, he had to address neighbors' concerns about aircraft noise. It's similar to what he did in SDMAC, being an intermediary between the military and the wider community.
SDMAC's monthly breakfast meetings have been described as part Rotary Club and part military conference. By drawing hundreds of defense contracting executives, political figures and military officers, the meetings offer a chance for high-level networking. Frequently the meetings feature a speech from a major military leader; Gen. Robert Neller, commandant of the U.S. Marine Corps, spoke at SDMAC's Sept. 12 breakfast.