BlockLAB, a new lab at the University of California San Diego, will study how blockchain can be used by corporations and governmental entities.
ENERGY: Co. to Serve Other Customers; It May Hurt Facility Construction
The Chinese government's new schedule of tariffs should be no concern for San Diego's Sempra Energy, according to at least one industry analyst.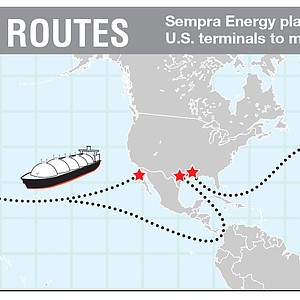 TECH: Cases for Phones, Laptops Address Concerns Over Radiation Exposure
Cary Subel and Alaey Kumar have built a business on the foundation of technology — specifically, public unease over technology.
Tourmaline Labs, which collects data through drivers' mobile phones, closed on $2 million in funding from two San Diego firms.
Cohu Inc., the Poway company that makes equipment for semiconductor factories, announced on Oct. 1 that it has completed its acquisition of Massachusetts-based Xcerra Corp. for about $800 million.
The Series B funding round was led by Microsoft Corp.'s venture arm, M12.
Judge Thomas Pender issued his final determination on Sept. 28, stating that banning the import of iPhones would be against the public interest.
Carlsbad's Ra Medical Systems became a public company on Sept. 27, raising $66.3 million.
NASA has awarded General Atomics a $38.5 million contract to host a NASA instrument on a GA Electromagnetic Systems Group satellite, which is scheduled for launch in 2022.
PSemi, the business formerly known as Peregrine Semiconductor, announced that former CEO Jim Cable will take the role of pro tem CEO. He succeeds Stefan Wolff, who will remain as a strategic adviser until December.
Mitchell International Inc. has entered a definitive merger agreement with Wayne, Pennsylvania-based Genex Services.
Viasat announced new customers for its in-flight satellite internet service, which provides Wi-Fi to airline passengers.
Continuing a winning streak in transportation, Cubic Corp. received a $394 million contract to provide the fare collection system for the San Francisco Bay Area's transit providers. The deal runs through 2032.
The top 10 finalists have been named for the John G. Watson Quick Pitch Competition, including a range of companies from biotechnology, social platforms and software-as-a-service.
Carlsbad-based GigaIO Networks Inc., which is developing a novel computer architecture, received $4.5 million in its series A round. Mark IV Capital led the round, announced on Sept. 25.