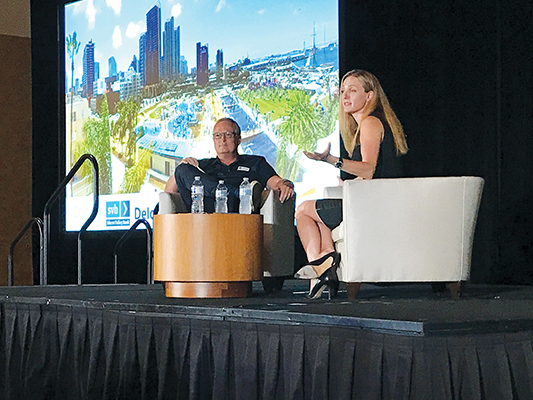 Earlier this month, an oft-heard refrain in San Diego startup circles — "there aren't enough venture capitalists in town!" — rang false, at least for a couple of days.
The San Diego Venture Group's 16th annual Venture Summit was a two-day affair which kicked off Aug. 15 with an invite-only get together at Petco Park where about two dozen early-stage companies made their pitches for Series A investment to dozens of investors.
Afterward, investors watched the Padres ballgame with 20 CEOs of local startups that have already raised venture funding.
Mike Krenn, who heads SDVG, estimated 90 venture capitalists from outside San Diego attended, plus about 30 local investors.
The following day roughly 600 people turned out for the public portion of the yearly event, held at the Hilton Bayfront in downtown San Diego, for a half-day series of talks by 10 VCs.
Three addressed what VCs are looking for: Accomplice's Jayni Shah shared how she views the term sheet process; Susan Liu of Scale Venture Partners addressed the metrics she considers when deciding whether to invest in a software-as-a-service company; and Victor Echevarria, of Jackson Square Ventures, talked about what he wishes he had known about venture capital as a founder.
Three others discussed topics related to life sciences: Heather Behanna, with Sofinnova, talked about how to get a life science VC's attention; Megan Blewett, of Venrock , discussed how to know when academic research is ready to be commercialized; and Anna Fokina, of DCVC Bio, talked about how blockchain is impacting health care and agtech.
Upfront Ventures' Chang Xu demonstrated ways in which computer vision is impacting business; Christina Ku, of NTT Docomo Ventures, talked about international venture capital; and Shasta Ventures' Natalie Sandman explained the product milestones that matter most when raising money.
Dafina Toncheva, a partner at U.S. Venture Partners, gave the event's keynote address. She spoke with Mark Bowles, the San Diego entrepreneur and investor who founded ecoATM, which makes self-service kiosks for recycling or reselling cellphones and other electronics and was acquired five years ago for $350 million.
Toncheva recently led USVP's investment into construction technology company Raken, a SaaS firm based in Carlsbad.
She said while entrepreneurs in San Diego may feel at a disadvantage compared with founders in Silicon Valley, where funding and talent is more plentiful, there are also advantages.
Being surrounded by competitors can be distracting and demotivating, she said.
"I think being close to the Valley but not in the Valley is a big advantage," she said.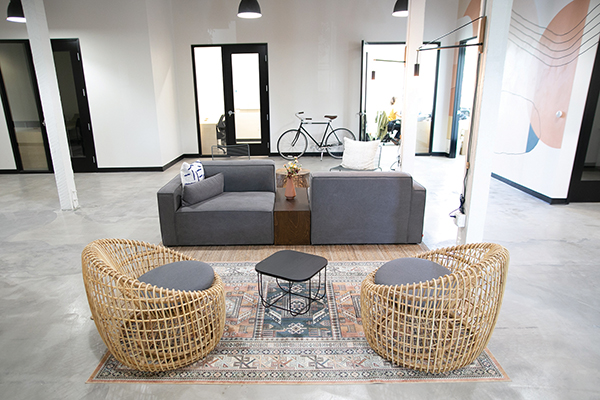 Moniker Puts Its Name On More Coworking Space
A coworking space at Liberty Station, Moniker Commons, recently expanded, adding 4,000 additional square feet of coworking space.
Moniker Commons, a brand of Moniker Group, launched in 2017 in an 8,800 square foot space.
Moniker Group has leased a 9,000-square-foot building adjacent to the Moniker Commons space. In addition to 4,000 square feet of new coworking space, the space houses the company's headquarters.
Owners Ryan Sisson and Nathan Cadieux have dubbed the new property Moniker Commons II.
Common desks at Moniker Commons cost $300 monthly; private desks, $500. Private offices start at
$1,500.
Hamilton Made Impact on Investors
Arlan Hamilton, the founder and managing partner of Los Angeles-based Backstage Capital, headlined San Diego Startup Week in June.
Backstage, a venture fund formed in 2015 to back what Hamilton likes to call "underestimated" founders, has invested more than $4 million in 100 companies started by women, people of color and LGBT founders.
The firm's fund is closed, but since Hamilton's talk, more than a dozen San Diego-based investors have pumped more than $100,000 into Backstage Studio, a venture studio within the Backstage organization formed to build and scale startups.
Among the local backers of the effort: Tech Coast Angels' Ashok Kamal, Caitlin Wege, Victoria Lakers and Daniel Grosu; Wharton Angels' Amy Chang and Ellen Chang; Startup San Diego's Neal Bloom and Al Bsharah; DeskHub CEO Jay Chernikoff; and BAM Communications CEO Beck Bamberger.
"The diversity and eclectic mix of our syndicate reflects the mission of Backstage to fund diverse and underestimated founders," said Kamal, who landed Hamilton as SDSW's keynote.