ALL THINGS UBE FIND SUCCESS USING PURPLE YAM
Violet-colored Desserts Make for a Bright Future
Tuesday, May 31, 2022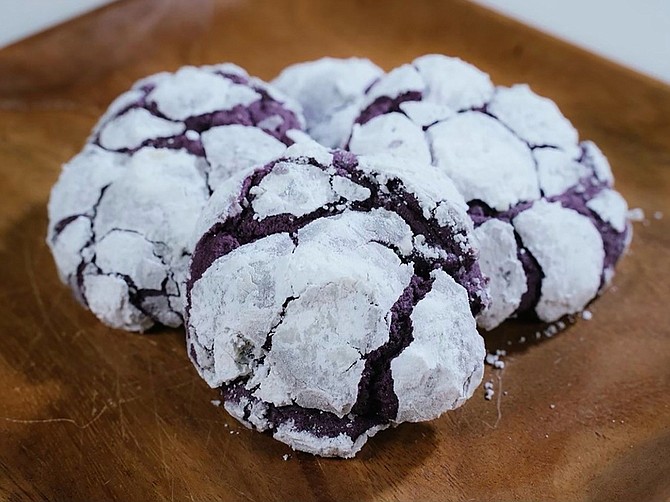 The purple yam and a recipe using it that was handed down by her father, a native of the Philippines, has turned into a success story for San Diego baker Daphne Daung.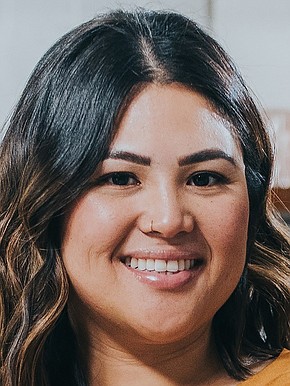 Daung, 34, and her husband, Dennis Daung, 39, own and operate 
All Things Ube
, a dessert company that makes delicious use of the purple yam known as ube (pronounced ooh-beh).

Grayish on the outside, when cut, the ube's dark purple color on the inside and sweet taste have won the eyes, hearts and palates of many in the Philippines, where the majority of the tubers are grown.

The ube has become a big hit in San Diego for the Daungs, who met in 2009, married in 2013 and started their company in 2018.

The company began in 2018 with a concept of baking a few different types of cookies and cheesecakes, different takes on Daphne's father's recipe using the ube.

"The recipe he gave me was for a delicacy he offered me often growing up," Daphne Daung said.

Daphne Daung has been a baker for as long as she can remember, creating cakes from scratch for friends' birthdays and other special occasions. It wasn't until she was older that she realized that using the ube as a focus would help lead her to success as a small business owner.

Daphne Daung says she is the baking part of the venture while Dennis Daung "pushes it on the business side. If not for him, I'd still be giving out free cakes."

Dennis Daung, whose family originally hails from Cambodia, is a businessman at his core.

He said he saw his wife's talent in full force when she made an elaborate cake for her grandmother and said he wanted to promote and advertise her baked goods.

"I told her, 'You've got talent. I'll bet you can sell these,'" he said.
Sweet Success After Failing with Cake Pops and Ice Cream

Dennis Daung said that before the couple started All Things Ube, they tried other business ventures, making cake pops and selling macaroon ice cream, which he documented and shared on social media.

"After trial and error, those didn't turn out," Dennis Daung said.

But, Daphne Daung noted" "The third time was the charm."

Dennis Daung said that less than a year after the launched the business, his wife's desserts found a huge fan base in 2019. They knew they were onto something when they sold out all 500 dessert items at the San Diego Night Market at Qualcomm Stadium.

"The Night Market opened doors to different avenues," Daphne Daung said. "More orders started rolling in and in 2019 we were booking event after event. We were regulars at the weekly farmer's market in Otay Ranch."

The couple was on a roll until the COVID-19 pandemic hit in March 2020, ending All Things Ube's farmers market run and halting existing pop-up spots around the county.

But the two were quick to pivot All Things Ube's business model once they saw the proverbial doors closing. The Daungs launched an online website and there the response for deliveries of their baked goods was nearly overwhelming.

They offered contactless delivery, door-to-door service using a van they had leased the previous year. But they ran into a new challenge - keeping up with the demand.

"We had 60 deliveries one day," Daphne Daung said. "My stepfather had been an Uber driver so we offered to pay him to deliver for us. And that felt good to help put money in his pocket, too."

Daphne Daung said that while the pandemic was challenging, it proved to be a positive experience for their business, actually helping it grow.

The couple, who live with their two children in Escondido, opened a kitchen in a small spot in Mira Mesa to bake their items.
Purple Changes Coming

They are currently "ube-izing" traditional American desserts like cinnamon rolls and Mexican sweets like churros. They also make ube coconut lemonade and ube hot chocolate, and among their items are vegan versions of some and sugar-free options of others.

The Mira Mesa venue hasn't been open for full walk-in business yet.
 The Daungs post days and hours of operation on their Instagram page (
instagram.com/allthingsubedesserts/
) when they are open. This lets people know when they can pop by to purchase some fresh goodies in person.

Daphne Daung said the couple is hoping to continue to grow. And while they have a plan to expand All Things Ube, they're considering satellite locations, possibly putting up booths at various shopping malls. They are also considering a future café down the road where they will serve brunch-style food.

Dennis Daung said the couple also is hoping to expand beyond desserts and use the ube in more savory items.

Doing more with the ube would mean needing more ube, and since it needs a certain type of soil and high humidity, growing their own is not a possibility in San Diego. Currently the couple buys their ube from a distributor in Los Angeles.
 
"We'd like All Things Ube to be accessible in different parts of San Diego," Daphne Daung said. "We also want to see about harvesting our own ube, possibly going to  the Philippines and buying land, providing jobs for people."
All Things Ube

FOUNDED: 2018
FOUNDERS/OWNERS: Daphne Daung and Dennis Daung
HEADQUARTERS: 8680 Miralani Drive, Mira Mesa
BUSINESS: Desserts made with ube, a purple yam
EMPLOYEES: 2
WEBSITE: 
allthingsubedesserts.com

CONTACT: allthingsubedesserts@gmail.com
NOTABLE: Ube is a word from the Tagalog language of the Philippines that means "purple yam."