IT'S ALL HEALTHY AT A R3FRESHING SPOT IN KEARNY MESA
Cold-pressed Juices Quench Thirst of Fans in San Diego
Monday, May 30, 2022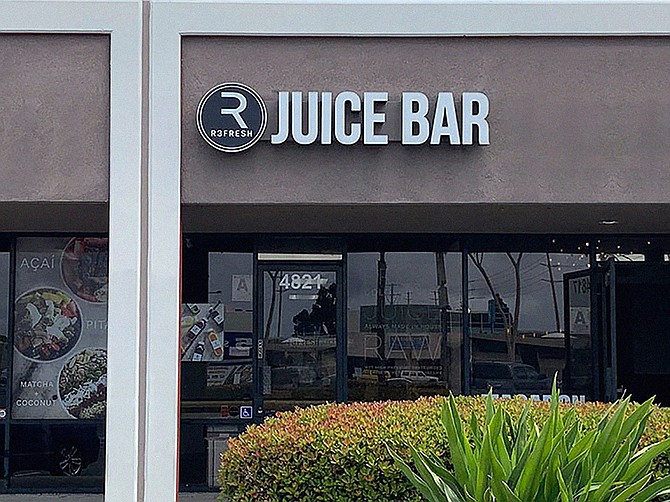 When Joe Kao's grandfather, David, was diagnosed with Parkinson's disease in his late 60s, Kao's mother, Sharon, pulled out all the stops to ensure that her father's physical health was as well as could be.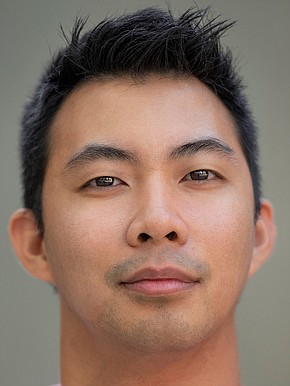 Always attentive to ingredients and food that were high in nutrients when she was a young girl growing up in Taiwan, Kao's mother decided to take health matters literally into her own hands.

"She didn't want to see him taking experimental drugs or taking one clear path of treatment," Kao said, "so she decided she would go holistic, with medical supervision… but not a new medicine very two months."

As part of the healing process, his mother bought a durable, high-quality juicer for the family's San Bernardino County area kitchen and used it daily to blend fresh fruit and vegetables for her father.
 
The rest of her family, including sons Joe and Ben, and daughter Edie, also reaped the juicing benefits. Joe Kao said he turned to plant-based eating for several years in support of his grandfather.

While his grandfather's symptoms never went away, "Over the last seven years of his life, my grandfather was as healthy as he could possibly be," Kao said.
Health Benefits

"It was all really clean food he ate - and we ate," he said. "My mom made fresh juice multiple times a day and prepped all his meals. She made sure he had incredible nutrition."

After his grandfather passed away, Kao started thinking more seriously about the health benefits he and his family had seen with the fresh juices and starting thinking about plans to start his own business.

Kao left his home in 2016 and drove south, eventually finding a spot to open what would be 
R3FRESH Superfood Café + Juice Bar
 in the Kearny Mesa area of San Diego.

Originally, he considered opening a boba shop or a restaurant that featured acai in the spot, but Kao, now 27, said there already were a plethora of those businesses around. "I wanted to do something a little different," he said.
 
Realizing he still had the very same juicer his mother had purchased for his grandfather, Kao knew the answer was literally close at hand. "I took the ideas about the juice we drank in the past, did some trial runs and tests and started off with four signature items at R3FRESH," he said.

Those items were Sunshine (carrot, turmeric, apple, and orange); Jade (apple, celery, kale, mint, cucumber); Fire (pineapple, ginger, apple, carrot, celery, turmeric) and Earth (beet, cucumber kale, carrot apple).

Six years later, those signature items – along with other seasonal offerings, smoothies, acai bowls and coffee beverages – remain at R3FRESH.
 
Kao's company uses a cold pressing process for its juices, which locks in more vitamins and minerals than other types of juicing.

R3FRESH was faring well and on a steady climb through its first few years of business but the COVID-19 pandemic and related mandated shutdowns starting in 2020 led to some financial struggles.

Kao also said that the uncertainty of procuring needed inventory during supply chain disruptions that also defined the pandemic were challenging as well. "We made it through, but a lot of my friends' businesses didn't," Kao said.

R3FRESH, Kao said, has persevered through its devoted clientele of loyal customers who have continued to frequent the shop -- despite seeing some higher prices related to fluctuating costs of vegetables and fruits
 
"When we've had to increase the prices, the regulars who support you, about 99 percent of them understand," Kao said. "We communicate with them regularly so they know what is going on. In the food business your profit margins are already so slim. You have to really watch it."
Second Spot Opens During COVID-19

His mother, who works in real estate and home renovation, helped R3FRESH secure a second location in Orange County. That R3FRESH Juice bar, run by Kao's younger brother, Ben, opened in March 2020 in Fullerton – at about the same time COVID-19 was first being reported locally.

Initially, Joe Kao said the plan he and his brother talked about along with their mom was to open up "10 of these in the next couple of years."
 
But since the pandemic "and the state of the world today," he said his goals have been shifting away from expansion.

Kao said that while he has learned "so much from the business and wouldn't trade it for the world," the goal is not to open 10 more, especially with mainstream nationwide establishments offering similar fare.

"I don't know if I have to compete with them if I could do it," he said.
 "I'm happy being a mom-and-pop, or rather mom-and-two-brothers shop."

Kao said his heart has been shifting a little more in the direction of the hospitality industry. He has another job working at a Gaslamp area hotel as a food and beverage manager.

"I have fallen in love with hotels, which is still the food and beverage business," he said. "I have a blast at work. I like being part of a big team and I am looking at that for the next direction in my career. But I still want to manage R3FRESH from afar."
R3FRESH Superfood Café + Juice Bar

FOUNDED: 2016
FOUNDER: Joe Kao
HEADQUARTERS: Kearny Mesa
BUSINESS: Healthy drinks
EMPLOYEES: 3
WEBSITE: 
r3fresh.com/san-diego

CONTACT: (858) 384-6111
NOTABLE: The second location of R3FRESH in Fullerton is run by Kao's brother, Ben, with help from their sister, Edie.