SMALL BUSINESS: YOUNG ENTREPRENEUR PART OF MAJOR SNEAKER LAUNCH
Developing Some Art and Sole
Tuesday, May 24, 2022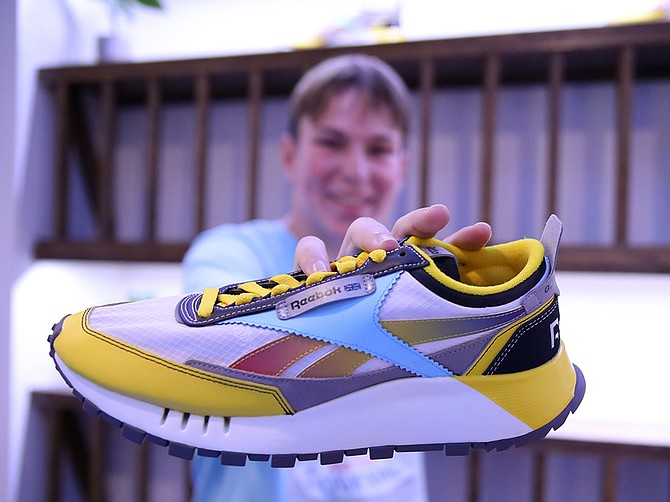 Creating a sneaker for a major company has been a goal of San Diego native Ben Gass for several years.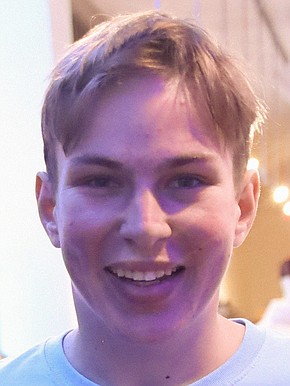 The University of Oregon freshman and 2021 Scripps Ranch High School graduate said when he started high school, he made a bucket list.

"The first thing on my bucket list was to create a clothing brand, which I did my senior year of high school with a brand called Lightning DB," Gass said. "The second goal included working with a major company on a sneaker to drop a shoe."

Earlier this year, Gass's shoe dropped – with a major fitness footwear and clothing manufacturer.

The 19-year-old and two other young entrepreneurs – Isaac Reeves and Ashley Hamilton – launched a new sneaker for Reebok and fashion retailer APB Store. Gass, Reeves and Hamilton together created and marketed the line of limited-edition sneakers called the APB X Yellowbrick CL Legacy "Duality."

Gass said the 150 pairs of the sneakers manufactured by Reebok and sold by APB – at APBStore.com and in-store at five APB locations in the Southeast – were all gone four hours after they went on sale.

Gass said he was at an APB store in South Carolina the day shoes debuted as part of a pop-up sale. "I got to the store early and there were people waiting outside," he said. "I didn't realize they were waiting for the shoe. It was surreal. I just kept thinking, 'I've wanted to do this my entire life.'"

Gass said he struck up a conversation with a man waiting for the store to open and told him that he helped design one of the Reebok shoes inside.

"The guy went in and bought three pairs of them," he recalled.
"People were coming out of the store asking me to sign the sneaker. It was just crazy."

Gass said Reeves' mother went into APB to purchase a pair of Duality sneakers for his grandmother, but they were already gone. They checked online, and there were none to be found.
Mentorship Program
 
Gass, Reeves and Hamilton were part of a collaborative online education and mentorship program for students that partnered Reebok and APB with Yellowbrick and Jobs for the Future.

Yellowbrick is an online education platform that offers university-affiliated courses and focuses on the "creator economy" and career exploration in the arts, media, sports and entertainment industries.
 Jobs for the Future is a national education and workforce nonprofit.

Launched last spring, the program worked with 36 individuals from ages 17 to 20, to develop the relevant knowledge, skills and experience needed to make inroads into the sneaker industry.

Gass and the other 35 were chosen through a national submissions process that began in the spring of 2021. Once selected, the students engaged with online instruction that was held every Saturday for three months.
 
The pro bono instruction combined content from Yellowbrick's "Sneaker Essentials" course with live mentorship from leaders at Reebok and APB, and covered sneaker development from concept to market, including design, sales, marketing and the customer-to-customer retail market.

Gass and the other participants produced a final project that included a unique sneaker design, production and retail and marketing strategies.

As part of the instruction, three students who submitted the most compelling designs and plans were invited to collaborate on developing a shoe for production and sale through APB.
 
The selected design came from Reeves, a creative director and artist from Lafayette, Indiana. Hamilton, of Colleyville, Texas, and Gass were selected for their additional talents, partnering to execute the production and marketing behind the shoe.
'Duality' Message

The shoe has alternating day and night color schemes and is yellow, blue, black and white with a gradient component that represents a sunset. The sneaker was made with nylon and reflective upper materials, a lace closure, glow-in-the-dark leather overlays, a die-cut ethylene vinyl acetate foam midsole and a signature Reebok imprint on the bottom.

Gass said that while Reeves did the majority of the design, he worked on more "details-oriented" things like putting an extra lace color in, changing up the stitching and doing the insole artwork.

Gass said it was his suggestion that the team number their shoes, much like many artists do with their original artwork, to give the shoes a more personal touch.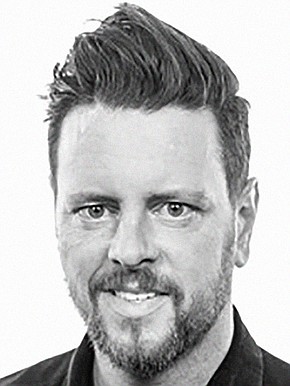 "Ben was able to interact directly with Reebok and APB experts representing all facets of the industry, and we're immensely proud of what he accomplished," said Michael Godshall, chief creative director at Yellowbrick.

He said all of the students who were part of the program impressed him.

"These students quickly understood the curriculum, which gave them accelerated knowledge," Godshall said. "Sitting with them for 12 weeks, seeing that they understand what is needed to do makes me feel good about this generation. I felt like, look at these kids, they are in school, working part-time jobs and they're making a sneaker. That's great."

Godshall said that Yellowbrick's Sneakers Essentials course was elevated through the work that was done on the Duality shoe, along with Reebok, APB and JFF. Net proceeds from the purchases of the Duality shoe provided additional funding for the program.

Gass said he next wants to work on creating his own shoe from scratch, and more.

"I'm finally learning how to screen print so I can make my own clothing," he said. "I want to be the next Stussy brand. My thing is to be about building long-term connections, creating a loyal fan base and consistent growth."

He said he is inspired by Bape, a Japanese streetwear brand, and said that once he is finished with college, his long-range goal is to move to Japan and "do this all out there."