APPROXIMATELY $106 MILLION OF WORK TO BE PERFORMED IN SAN DIEGO
Raytheon Supports DDG 1000 Ships
Friday, May 13, 2022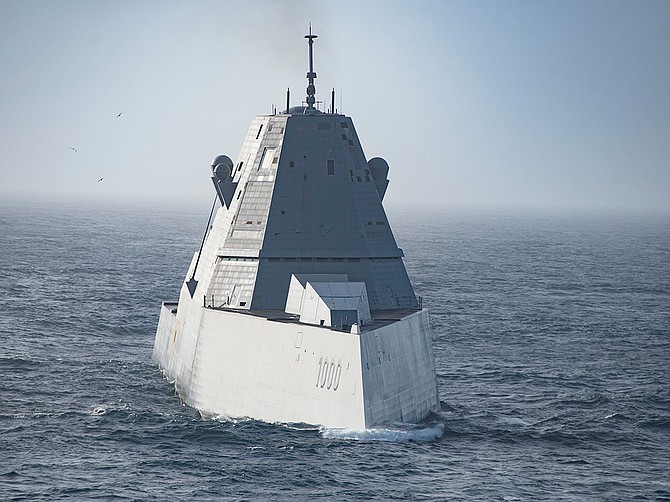 The U.S. Navy awarded the Raytheon Missiles & Defense segment of Raytheon Technologies Corporation (NYSE: RTX) a one-year, $482.7 million contract for work on its Zumwalt-class destroyers.
 Some 22% of the work, estimated at $106.2 million, will be performed in San Diego, where the ships are based.

The Navy will eventually have three so-called DDG 1000 destroyers, which have an unconventional design and carry unconventional technologies. The Navy describes the ships as "a bridge from current needs to future capabilities, adding space and power accommodating systems not yet imagined." At one point, the service contemplated putting an electromagnetic railgun on one of the ships.

The recently announced deal covers DDG 1000 Class Combat System activation, sustainment and modernization support for Mission Systems and Total Ship Computing Environment infrastructure (TSCEi) hardware/equipment, in addition to non-recurring engineering services supporting combat system installation, integration, development, testing, correction, maintenance and modernization of Zumwalt-class Mission Systems and Mission System equipment.

Work will continue through April 2023. The contract includes options which, if exercised, would bring the cumulative value of this contract to $1.68 billion. If all options are exercised, work will continue through April 2027. This contract was not competitively procured, as the government determined there is only one responsible source for the services, and no other supplies or services will satisfy agency requirements. The Naval Sea Systems Command of Washington, D.C., awarded the contract, announced on April 20.
Pacific West Builders Gets Work in Nevada

The U.S. Army awarded Patricia I. Romero dba Pacific West Builders, a small business based in National City, a $9.2 million contract to repair Airman Leadership School Building 324 at Nellis Air Force Base. Bids were solicited via the internet with eight received. Work will be performed at Nellis Air Force Base, Nevada, with an estimated completion date of May 2, 2024. The U.S. Army Corps of Engineers in Los Angeles awarded the contract, announced on April 14.
Genasys Tallies $3.2M in Product Orders

Genasys Inc. (NASDAQ: GNSS) announced the first shipments of its LRAD 950NXT, billed as the company's most advanced integrated communication, surveillance, security and response system to date.

The acoustic hailing device is able to send very loud, very clear voice messages over great distances. The 950NXT is able to communicate over 3,000 meters, or almost two miles.

"$1.8 million in previously announced LRAD 950RXL orders received from the French Navy instigated the development of our next generation 950NXT," said Richard Danforth, CEO of Genasys. "In addition to the French Navy's order change to 950NXT systems, the Spanish Navy placed a $1.4 million 950NXT order last month."

Danforth said his company is seeing strong interest and order demand for the system, citing order commitments for super-yachts and critical infrastructure facilities, including ports, utilities and dams.

The company bills its 950NXT as a major advance in its remotely operated LRAD systems. Compared with previous LRAD-RX models, the electronics enclosure is now on top of the 950NXT to provide more accessory mounting capacity. In addition to the standard HD camera, optional accessories include a high-intensity searchlight, laser range finder, laser dazzler, and infrared or night vision camera.

The 950NXT is operated using LRAD Controller software with heightened cybersecurity. The field upgradeable software has comprehensive functionality with easy-to-use controls that enable operators to identify possible threats on the live video feed, position the 950NXT's IP-addressable full pan and tilt to target the threat, and then broadcast attention-commanding warning tones and voice messages with exceptional clarity from the safety of a command and control center. The manufacturer said that integrations with third-party systems are easy with the 950NXT's application programming interface.
Forward Slope Opens Office in Guam

Mission Valley-based Forward Slope Inc. announced in mid-April that it opened an office in Guam on March 21 to support the U.S. Department of Defense command structure on the Pacific island.
 The new office is centrally located in Tamuning, approximately 20 minutes from Anderson Air Force Base, Naval Base Guam and Marine Corps Base Camp Blaz. Operating from its Guam location as well as its Honolulu office, Forward Slope is supporting the Naval Information Warfare Center (NIWC) Pacific in the development of C4I systems for the Defense Policy Review Initiative (DPRI) Guam Military Buildup program. C4I stands for Command, Control, Communications, Computers and Intelligence.
 
In a statement, Forward Slope said that opening the new office represents the latest expansion of its efforts to provide timely and professional support to the DoD and U.S. coalition partners worldwide and within the Asia Pacific Theater specifically.
In January, the U.S. Navy awarded Forward Slope a $9.9 million contract option to provide planning and design services in support of shore install projects. Work will be split between San Diego and Hawaii. The period of performance is from January 2022 through January 2023. NIWC Pacific in San Diego awarded the contract.