CUSTOM CONTENT
Feeding San Diego Leads the Way Working with Local Businesses to Rescue Food and Turn it into Food Assistance
Thursday, March 31, 2022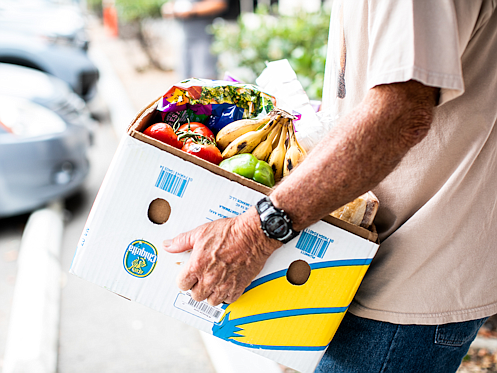 Feeding San Diego is committed to feeding people, not landfills to fulfill its mission of ending hunger through food rescue. The non-profit organization provides much-needed food assistance to San Diegans facing hunger, including kids, seniors, college students, and military families, through an innovative business model. By rescuing surplus or imperfect food from food donors, Feeding San Diego has established itself as the county's leading food rescue organization, working directly with food donors to divert millions of pounds of food from the landfill every year. Last year alone, it rescued more than 27.2 million pounds of food to protect both people and the planet.
The non-profit relies on its nearly 300-member strong network of community partners, which includes schools, faith-based organizations, and other non-profits, and over 400 food donors, including national grocers like Sprouts, Albertsons, Food 4 Less, Ralphs, Costco, and Trader Joe's. This powerful network ensures that unwanted food can get into the hands of someone who needs a meal in as little as a few hours, and has enabled the distribution of over 308 million meals since Feeding San Diego was founded in 2007
"By working with farms up and down California, as well as local grocery stores, food manufacturers and distributors, and even event venues, Feeding San Diego sources edible food for San Diegans facing hunger," said Patty O'Connor, Chief Supply Chain Officer at Feeding San Diego. "Our organization has nearly 15 years of experience in building relationships with local food donors and other hunger relief organizations to create a solid, interconnected network that fights hunger."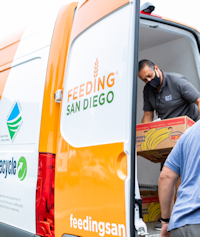 This work is now in the spotlight as the state of California implements Senate Bill 1383, a law passed in 2016 that went into effect this past January. The law aims to cut down on short-lived climate pollutants by keeping organic waste out of landfills, where it creates methane gas–a leading contributor to climate change. Since the law went into effect, Feeding San Diego has seen a 25% increase in the amount of food being donated and an uptick in the number of food donors. By leading the food rescue charge in San Diego County, the hunger relief organization is effectively redistributing excess food and making sure it gets to the people who need it.
 No one should go hungry when there is enough food to feed everyone. With record-high gas prices and a soaring inflation rate, the need for food assistance continues for the hundreds of thousands of San Diegans facing hunger across the county. Feeding San Diego encourages all businesses that need to comply with SB 1383 to join the organization as a food donor to make a difference in their community. The organization also welcomes corporate partners as part of its Good Neighbors program, a community of companies, many of which are San Diego-based, that make philanthropy a part of their culture.
To get involved, visit
www.feedingsandiego.org
. To watch a video on how the food rescue process works, visit
youtube.com/feedingsd
.