$21.9 MILLION OF CONTRACT DIRECTED TO SAN DIEGO; DEAL LASTS THROUGH 2023
Northrop to Sustain Navy's Triton Aircraft
Friday, March 25, 2022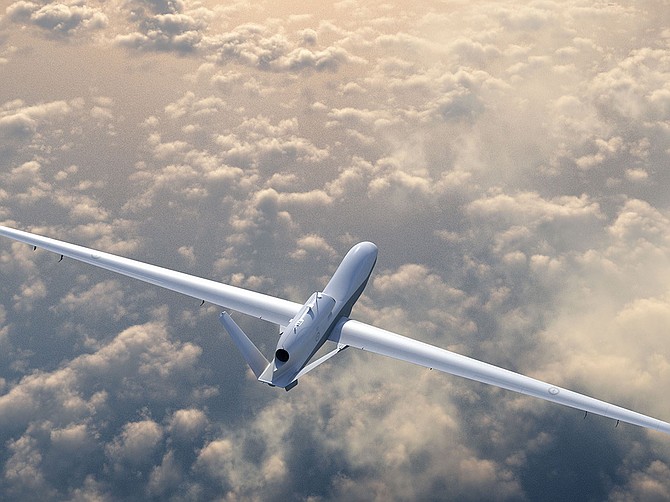 The U.S. Navy awarded Northrop Grumman Corp. (NYSE: NOC) a $97.3 million contract modification, exercising options to provide continued test, maintenance, logistics and sustainment engineering support for MQ-4C Triton air vehicles, mission control and operator training systems.

The MQ-4C Triton is an unmanned aerial system (UAS) based on the RQ-4B Global Hawk, which Northrop Grumman builds for the U.S. Air Force. Triton is built for intelligence, surveillance and reconnaissance (ISR) and carries an electronics package optimized for work over the ocean.

The recently awarded deal also provides continued field service representative's technical support to ensure that MQ-4C Triton aircraft are mission-capable for ISR missions supporting aircraft early operational capability and initial operating capability. Additionally, the deal provides continued reach-back engineering support for both the Navy and the government of Australia MQ-4C Triton UAS assets. Some 22.5% of the work, valued at $21.9 million, will be performed in San Diego, where the program is based. Another 36.5% will be performed at Patuxent River, Maryland.

Work is expected to be completed in March 2023.
 
The Naval Air Systems Command at Patuxent River, Maryland awarded the contract, which was announced on March 8.

In other news related to the Global Hawk family of unmanned aircraft, Northrop Grumman announced that it delivered one of three Global Hawks to the government of Japan. It arrived March 12 at Misawa Air Base after an 18.7 hour ferry flight from Palmdale, where the aircraft are built.
Navy IT Work Goes to KOAM
 
The U.S. Navy awarded KOAM Engineering Systems Inc., a small business based in San Diego, an $18.7 million modification to a previously awarded, indefinite-delivery/indefinite-quantity, cost-plus-fixed-fee contract to provide continuing program management and engineering support services for the Naval Information Warfare Center Pacific's Network Integration Engineering Facility. No funds were obligated at the time of the award.

This modification increases the estimated value of the contract from $130.6 million to $149.3 million. Work will be performed in San Diego. The period of performance of the current option period is from April 16, 2021, to April 15, 2022, and is not being extended by this modification. The Naval Information Warfare Center Pacific in San Diego awarded the contract, announced on March 10.
Saab Supports Camp Pendleton Training

The Department of the Navy awarded Saab Inc. a $68.9 million modification to a previously awarded undefinitized contract for Force on Force Training Systems-Next (FoFTS-Next). Some 5.7% of the work, worth an estimated $3.9 million, will be performed at Camp Pendleton.

The U.S. Marine Corps uses FoFTS-Next for training. FoFTS-Next is the next generation of Instrumented – Tactical Engagement Simulation System (I-TESS) for the Marines. The FoFTS-Next Increment 1 consists of instrumentation systems for people, vehicles, buildings and weapons. FoFTS-Next Increment 1 also encompasses the command and control and network systems required to transport, process and display data from the instrumentation. The contract contains 52 option contract line item numbers, which if exercised would increase the cumulative contract value to $248 million. Work is expected to be completed by June 2025. The Marine Corps Systems Command of Quantico, Virginia, awarded the contract, announced on March 9.
Space Micro Pursues Optical Communication

Voyager Space Inc. and Space Micro, Inc. announced an award from the Space Development Agency (SDA) for a 24-month development contract for advanced one-to-many optical communications using Managed Optical Communication Array (MOCA) technology to support Low Earth Orbit (LEO) satellite constellations.

The deal is worth $1.73 million.

The businesses announced the win on Feb. 23. Space Micro partnered with BridgeComm Inc., a global leader in optical wireless communications solutions and services.

"We are thrilled that SDA has selected Space Micro, along with our outstanding partners at BridgeComm," said David Strobel, executive chair of Space Micro.
 "We are looking forward to further testing our technology to enhance the overall architecture in LEO."

Laser communications are resistant to electromagnetic and radio frequency interference, making this type of optical communication ideal for Optical Inter-Satellite Links, as well as for high data rate backhaul links from spacecraft to ground stations and spacecraft to drone links.
 
"When we combine Space Micro's current space-based optical communications products with data rates up to 100 gigabits per second, MOCA will provide enhanced LEO constellation capability for One-to-Many or Point-to-Multipoint secure communications," said David R. Czajkowski, Space Micro's CEO.

Space Micro is a provider of digital, electro-optic and communications systems for satellites, deep space exploration and other space equipment. Denver-based Voyager Space recently bought a majority stake in Space Micro, completing the purchase on Jan. 5.