BREAKTHROUGH PROPERTIES OFFERS 'INSPIRATIONAL SPACES' FOR GROWING FIRMS
Plug-and-Play Lab and Office Space Opens
Thursday, March 24, 2022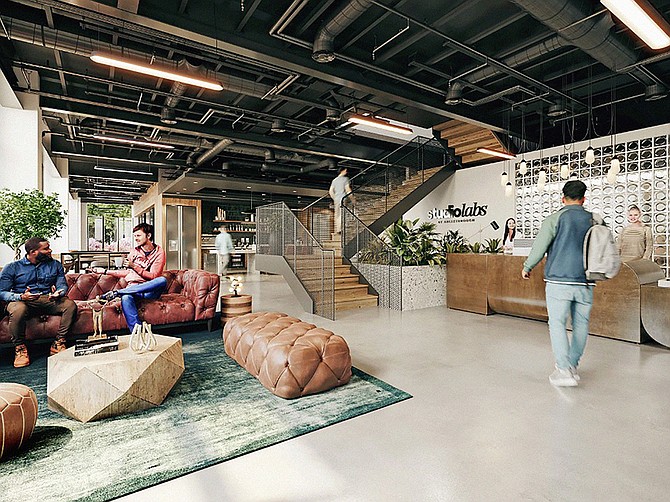 Breakthrough Properties
, based in Los Angeles, has formed StudioLabs to offer plug-in ready lab and office space in San Diego to new and growing life science and biotech companies.

The company has fully leased its inaugural StudioLabs location in 28,000 square feet of a Torrey Plaza building on Vista Sorrento Parkway that Breakthrough Properties acquired in 2021.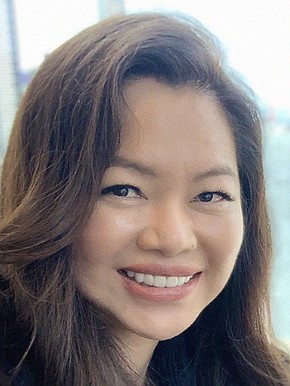 "We have conceived, designed and programmed StudioLabs as a best-in-class life sciences environment where promising companies are able to conduct science on day one," said Susie Harborth, executive vice president for business operations at Breakthrough Properties.

"We're seeing companies establish roots and grow here, which is exciting for San Diego and I think that trend will continue," Harborth said.

The StudioLabs venture is backed by Tishman Speyer and Bellco Capital. The two companies formed Breakthrough Properties in 2019 to acquire, develop and operate life science property.
Hotel Inspired

The four-story Torrey Plaza building that is StudioLabs' initial offering is 80,000 square feet with part of the ground floor and all of the second floor set aside for StudioLabs.

"We're renovating those floors for StudioLabs," Harborth said.

The ground floor includes a courtyard and patio for outdoor work.

"Our first floor is really a welcome center where people can meet and greet people," Harborth said.

The second floor includes about 23,000 square feet of office suites and labs.

"The furniture's there. The WiFi's there, even the coffee and the snacks," Harborth said. "We have a dedicated onsite team as a resource for these companies. We work with them collaboratively as a real estate partner to get them into the space."

She said that Breakthrough Properties modeled the project after hospitality projects.

"We were inspired by some of the best boutique hotels and lounge spaces that we saw and luxury resorts," Harborth said.
Maturing

Harborth said StudioLabs is designed for "companies in all stages of development."

"Some of the needs we're seeing in the market are for early stage companies that are in hyper-growth, I would call it. They're needing more space than typical coworking incubators provide," Harborth said. "We see a strong demand in San Diego, especially because there's so many new companies being formed in San Diego. People are recognizing the talent pool here."

Some of the companies in the market for space could have as few as two or three employees.

"They might start out small but they're looking to grow their footprint in their market," Harborth said. "They're either just launching themselves or have been in another coworking space where they've outgrown the space. It's really a maturing of the market, how early stage companies are maturing in San Diego."

Typical leases run for two to three years
.

Leasing the space in the Torrey Plaza StudioLabs are Protego Biopharma, Velia, Inc. and Actio Biosciences.

The three firms have collectively raised more than $120 million, according to Breakthrough Properties.

StudioLabs offers fully furnished private lab and office suites ranging from 4,000 square feet to 15,000 square feet.

The suites include offices and what Breakthrough calls "huddle spaces," wet labs with lab support rooms, lab utilities and lab starter lab equipment.

"It's really meant to allow for both private focused work as well as collaboration and peer learning spaces," Harborth said. "We have engaged architects and interior designers to really think about creating inspirational spaces."

Breakthrough Properties late last year leased a 220,000-square-foot building to BD Biosciences in the 10-acre Torrey View life science campus that Breakthrough Properties is developing at the corner of El Camino Real and Carmel Mountain Road.

Although the San Diego StudioLabs is the company's first, "We hope to be able to roll it out in other markets," Harborth said. "They may be in San Diego, they may be in other cities."
Breakthrough Properties

Founded: 2019
CEO and Co-founder: Dan Belldegrun
Headquarters: Los Angeles
Business: Life science real estate investment firm
Employees: 28
Website: 
www.btprop.com

Contact: 424-313-1550
Notable:  Breakthrough Properties is backed by a joint venture between Tishman Speyer and Bellco Capital