RESTAURANTS: 19-ACRE FARM IS 'DREAM COME TRUE'
Food As Medicine Finds a Home in Bonsall
Wednesday, March 23, 2022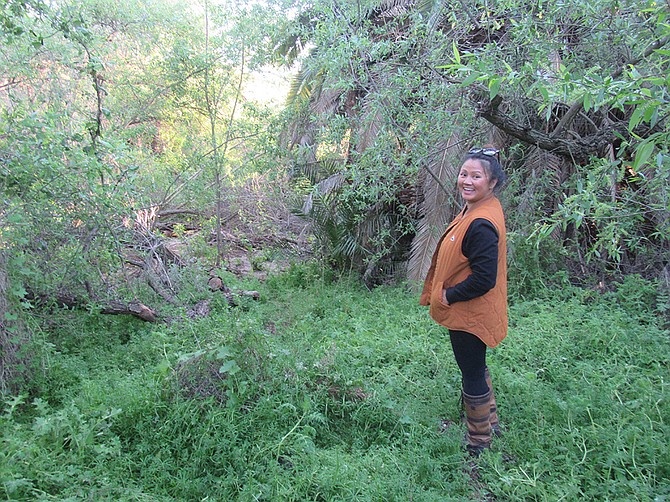 On a sunny spring afternoon, Lan Thai, founder-chef-owner of three local 
Enclave
 eating establishments, sat at a picnic table with her 5-month-old Golden doodle puppy, Ziggy.

Looking out at a vast stretch of lush North County land that she calls her own, a variety of fully loaded citrus fruit trees dotting the foreground in her view, Thai says she has big plans for the property she bought late last year.

The regenerative 19-acre farm in rural Bonsall, just 30 minutes north of Thai's flagship café at Juneshine Ranch in Scripps Ranch, is the latest step on her path toward helping heal the community –and the world.

"Sometimes I can't believe this is mine," Thai said looking over the property. "This farm is really a dream come true."

Recent rainfall revived a creek and thriving waterfall – dubbed "Avocado Falls" by one of her friends –on a downhill slope on the far end of the property, leading to a canyon with large boulders and larger palm trees.
 
Laurel sumac shrubs, bright purple status, wildflowers and a lot of greenery fill an adjacent area that Thai refers to as "an enchanted garden." Steps away, a foursome of Shetland ponies roam in a neighbor's large yard.

It is a scene that Thai, who is in her 40s, said allows her senses to come alive, to be meditative, and even make her feel like a young girl again.

Thai is working to bridge the gap between the healthcare and culinary industries by providing functional foods and services for longevity and optimal well-being.

The farm, she says, will be a place where sustainable food is grown and where people will come for educational seminars, classes and retreats in cabins she will have built on the land.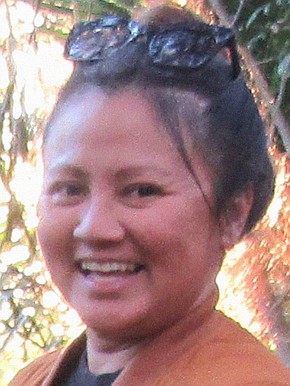 "I want this to be an educational center where people can come nationwide, and something everyone is going to hear about," Thai said. "I want to get people to understand their food choices, and to understand that the (current) food system is based on money and profit, not on health."
'Food As Medicine'

Thai wants to educate people about "sourcism" and the concept of "food as medicine (FAM)."

Sourcism, Thai said, is knowing exactly where your food comes from, while the FAM ideology is about mindful heart-healthy, nutrient-rich dishes that build strong immune systems, increase blood circulation and allow for better digestion.

The Enclave menu offerings back that educational mindset –and include nutrient-dense salads, "breakfast all day" burritos and tacos, several items made with local regenerative farmed chicken, vegan dishes like maitake mushroom sourdough toast and coconut "bakon," and ginger turmeric bone broth.

Thai's plan is for the farm to provide at least 80 percent of the fresh produce and fruit to all of Enclave's restaurants – the Juneshine cafe as well as two other Enclave sites, one near University Towne Center and the other in Torrey Hills/Del Mar Heights.

She is also firmly focused on becoming a provider of meals to hospitals –where people most in need of healthy fare would be served food that they need most – ones that are most dense in nutrients.

"My ultimate dream is soil-to-hospital," Thai said. "That would be amazing."
Thai's farm is currently producing huge amounts of grapefruit, kumquats, lemons and oranges. Soon, macadamia nuts will start to flourish and avocados growing on 40 trees will appear.
 
An herb garden is thriving and there are bee boxes on the property where honey is being harvested. There will be chickens on site at some point in the future for fresh eggs, and edible flowers like nasturtiums.

She said there will be greenhouses built on the land and that she will hire a farm manager to run it all.
 
The farm will produce tomatoes, cucumbers, peppers, squash, berries, bok choy, cabbages, pumpkins, spring lettuce and more. Exotic fruit will be grown as well – including cherimoya, lychee, dragonfruit, passion fruit vines and key lime trees.

A big sourdough bread fan, she also has plans for a small bakery on the premises as well.

Thai has already begun to team up with Ivo Fedak of Mindful Mushrooms out of Spring Valley to grow several kinds of fungi on the property, mushrooms that will also to be used at the Enclave establishments.
No Stranger to Farm Life
 
Thai is the youngest daughter of Vietnamese immigrants who landed first in Clairemont in the late 1970s, then settled in Lakeside, where they owned and kept up a farm on the property.
 
Living off the land, family-style meals seven days a week, and a love of preparation and cooking with fresh foods was something her parents brought with them from Vietnam, and was a large part of her home life in the rural part of East County, Thai said.

But after she graduated from El Capitan High school, Thai said she purposely strayed from the farm life for a while.
 
She said she even went as far as attending college at Cal Poly San Luis Obispo, widely known for its top agriculture, food and environmental sciences program, and instead chose to study architecture and graphic communication.

During college, she said she began to realize what "an incredible support system I had… and how lucky I was to have my mom cooking every day, with fresh food, rotating meals and family style. As I get older, I feel incredibly lucky to have had a great family."

A job for Adobe as a quality engineer and user interface designer taught her lessons about how successful companies are run and how to keep workers engaged and happy. But after two years she left the corporate world and traveled.

"I ended up in Hawaii and I would always visit farmers markets, eating street food and checking out vintage markets," Thai said. "That's how you understand culture, by the food, the spices. And the vintage shops help you see the history in a unique way."

She said she fell into catering on Oahu and was established as a go-to wedding caterer on the North Shore in 2008 and stayed with it until her mother, a non-smoker, was diagnosed with Stage IV lung cancer in 2012 and was expected to live only two months.

She moved back home and helped her dad and five older siblings take care of her mom. She said she was disappointed in the medicines and food offerings during her mother's hospital stays.
 
Thai favored healthy foods and natural medications, including cannabis, and said that she is certain that the combination of those helped prolong her mother's life.

Her mother ultimately passed away not two months later, but two years later, in 2014.
Happy Homecoming
 
Before she died, Thai was able to arrange for her mom to visit her childhood home in Vietnam.

"My mom got to be in her happy place," Thai said, tears in her eyes.

In 2019 Thai opened the first Enclave inside Juneshine Ranch, seeking to elevate food through nutrition. The Torrey Pines/Del Mar Heights site followed in November 2021, and soon closed but then reopened in March. The University City site also opened in March.

"The food choices we make will solve so many things on this planet," she said. "We have to be healthy to have a better planet, and the food choices we make every day will go a long way."

She said she still senses her mother around her, and that the farm and her goals for helping craft a healthy future for as many people she can are based on leaving a legacy of life for her mother.

"I want to save the community," Thai said. "It's something I can do in my mom's honor."
Enclave

FOUNDED: 2019
FOUNDER, OWNER AND CHEF: Lan Thai
HEADQUARTERS: Bonsall
BUSINESS: Restaurant and Farm
EMPLOYEES: 30
WEBSITE: 
https://adventuroussuperfood.com/

NOTABLE: Chef Lan Thai has done some fun and informative YouTube videos, including one that breaks down how to make Wonder Bread, another recreating McDonald's French fries.